Britain's Labour Party Suspends Councillor For Jews 'Drink Blood' Facebook Post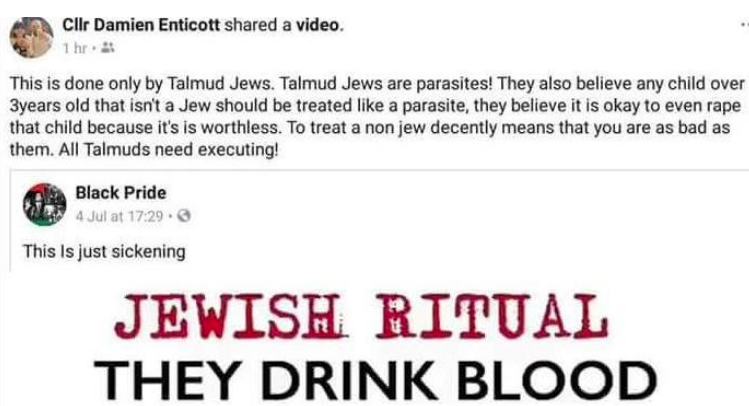 Britain's Labour Party suspended councillor Damien Enticott after a Facebook post from earlier this month, in which he suggested "Jews are parasites" that "drink blood" and perform sexual acts on children, surfaced.
A screenshot of Enticott's July 4 Facebook comment and post was tweeted out by former councillor and Jewish Labor Movement member Adam Langleben Friday with the remark, "Ladies and Gentleman. A Labour Councillor in 2018. But yeah. All just a smear."
Enticott is a councillor in the town of Bognor Regis on England's south coast and a member of the Labour Party, the center-left U.K. political party led by Jeremy Corbyn. The party has been mired in controversy over anti-Semitism in recent months, with several incidents making headlines, and some members of the party declaring the accusations unfair.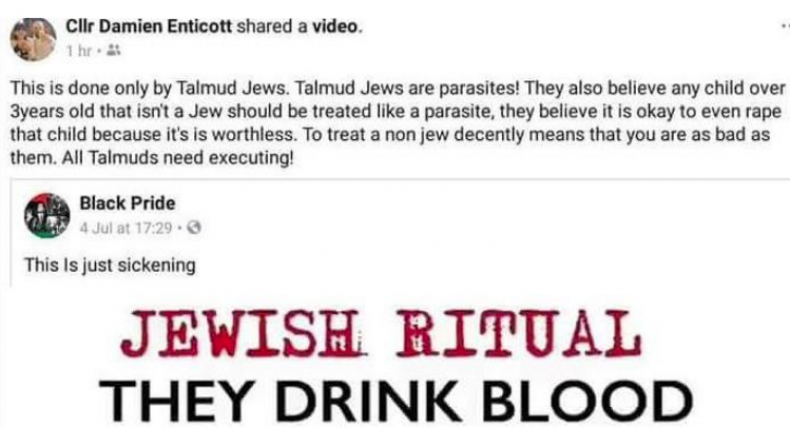 The Cllr Damien Enticott Facebook account shared the video with the caption, "This is done only by Talmud Jews. Talmud Jews are parasites! They also believe any child over 3years [sic] old that isn't a Jew should be treated like a parasite, they believe it is okay to even rape that child because it's is [sic] worthless. To treat a non jew decently means that you are as bad as them. All Talmuds need executing!"
A West Sussex member of the Bognor Regis town council, Enticott denied posting or sharing the image that shows the words "Jewish Ritual They Drink Blood And Suck Baby's D****" in a large-lettered meme posted by the Facebook group "Black Pride." Enticott told the London-based Jewish Chronicle newspaper, "The statement that was made wasn't by myself. I don't actually share antisemitic views at all."
Enticott added to the Jewish Chronicle he lives in a shared house and has since removed his automatically saved passwords from his computer. He suggested a roommate could have logged on and posted the anti-Semitic Facebook content through his account.
The Labour Party spokesperson told the Forward: The Labour Party takes all complaints of antisemitism extremely seriously and we are committed to challenging and campaigning against it in all its forms. Complaints about antisemitism are fully investigated in line with our rules and procedures and any appropriate disciplinary action is taken."
Enticott has since been accused of posting several other anti-Semitic comments, specifically in response to news articles from Russia Today, a Kremlin-backed Russian news outlet that has been accused of seeking to foment hate in the West.
In one comment from March, Enticott's Facebook account is shown posting, "Hitler would have had a solution to the Israel problem." Another post shows a picture depicting Israel as a spider extending its web across the globe. The former councillor that initially posted the screenshot, Adam Langleben, has been a very public critic of Corbyn and has reiterated his belief that anti-Semitism is on the rise in the party.
Enticott told the Jewish Chronicle he plans to issue a formal statement about the incident soon.