Labour Leader Keir Starmer 'Doesn't Have Any' Policies, Party Activists Say
Less than five months into Sir Keir Starmer's leadership of the U.K.'s official opposition The Labour Party, #StarmerOut trended across social media.
Writing in the right-wing Mail on Sunday newspaper, Starmer was busy outlining his opposition to the "shambles" of the government response to A-level grades, roundly criticized for being unfair after being decided by an algorithm rather than exams, and accusing Prime Minister Boris Johnson of "flailing around blaming everybody else and refusing to take any responsibility or show any leadership".
Labour's left-wing took this as a betrayal, with the Daily Mail having a long history of being less than complimentary about former leaders.
But in his first months as Labour leader, Sir Keir managed to reach a level of popularity in the polls higher than Gordon Brown, Ed Miliband and Jeremy Corbyn, the leaders before him, had reached across their entire terms.
Labour has now been out of power for 10 years, seeing three Conservative prime ministers cross the threshold of Downing Street since Labour last had one.
But just as Boris Johnson's ability to win elections might not mean his Conservative Party remains allied to him, Starmer's early popularity has not warmed him to some wings of Labour.
"We don't necessarily think he's the right person for the job, certainly in the current crisis," Andrew Scattergood, co-chair of left-wing Labour grassroots movement Momentum, tells Newsweek.
"He's done a lot of things that we're not comfortable or happy with but new leaders do come in and have to tackle things in the way they need to.
"That benefit of the doubt that we might be clinging on to right now might evaporate."
At the moment, this popularity with the public (and seeming unpopularity with the Left of his party) has been helped/hindered by Starmer's careful calculation of not pinning his colors to the mast too soon.
For example, neither he nor the Labour press team have responded to numerous requests for comment for this piece and others.
"He hasn't got an argument of his own and he can't get away with that forever," Steven Fielding, professor of political history at the University of Nottingham, tells Newsweek.
"The COVID crisis, in a way has been a useful thing for him because it's parked all those questions about the future direction of the Labour party.
"He has kept things vague for as long as possible and that might last for a bit longer. He'll have to clarify his position at some point but he has transformed the leadership remarkably quickly."
Activists in the party see this "useful thing" very differently: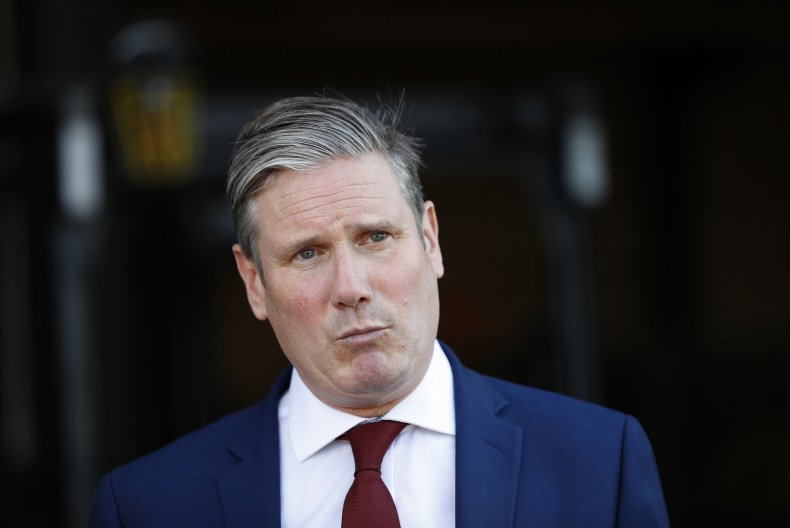 "Starmer stood on this platform of unity, bringing everyone together and ending factionalism but yet his approach so far has not necessarily been in-line with that ethos," Scattergood says.
"I think Starmer is playing it safe—you can't be criticized for policies if you don't have any."
So far, in Newsweek's conversations with various prominent left-wing members of the Labour Party, all were willing to see where Starmer leads the party first before making a judgment.
In Starmer's leadership campaign, he laid out 10 pledges, from economic, climate and social justice to a radical devolution of power, but clarity and precise details have been thin on the ground so far.
The one thing Starmer has been clear on is "no tolerance" for any anti-semitism, a problem for Corbyn that ended up with an investigation into whether the party was anti-Semitic.
Left-wing MP Rebecca Long-Bailey, a former Labour shadow minister who did not respond to Newsweek's request for an interview, was sacked from Starmer's cabinet because she refused to remove a tweet she posted which was seen as anti-Semitic.
This had some on the left saying it was an over-reaction and a "purge" of Labour's left.
"The left talk big but, so far at least, have acted small," Prof Fielding says.
"That could be because he hasn't really revealed his hand and they're waiting."
The trade unions, however, including the largest individual donor to the Labour Party, have warned Starmer he shouldn't take their support for granted.
"[Starmer] has to recognize that the ship he is sailing, if it lists too much to the right, then it will go under," Unite union leader Len McCluskey, who did not respond to Newsweek's interview request, told The Observer.
"It would be a mistake if anybody took Unite for granted. I think that would be a mistake."
Momentum is widely credited with former leader Corbyn's success and ability to perform above expectations at the 2017 General Election (opinion is split in the party as to whether a hung parliament, with no party winning enough seats to form a majority government, was a victory or loss).
But following Corbyn's disastrous 2019 election performance, ending with the Conservative Party winning a large majority and his resignation as leader, there is still a bitter taste in the mouth for some about the way it was handled.
"Denial after four successive defeats is a route to more defeats and we learned that after 1992, we got out of denial and we won in 1997, and actually three elections on the trot," former Labour politician David Miliband, who writes for Newsweek and is currently CEO of the International Rescue Committee, has said.
"If we don't understand that when people got a look in Labour in 2017, we couldn't beat the worst Tory campaign in history, 750,000 [votes] we were behind and, when people got a full measure of Corbyn in 2019, he led us to the worst election defeat since the 1930s."
The risk is, Labour Party activists say, is that all these members who joined the "cause" of Labour to try and get Corbyn elected will now leave the party and not engage with the political process.
"Not to get into the reasons we lost [in 2019] but it certainly wasn't from a lack of Labour party members," Scattergood says.
"You need those traditional ways of campaigning to get into government. If you're going to rely on pure aesthetics, [he's] not going to win and people want to see an active party. You have to give them something to be inspired by and to campaign for.
"With no policies and no real desire to engage with that side of the party, they'll soon drift away or not campaign. You'll be left with the archaic party of old where the average age was a pensioner and it was very difficult to get anything done.
"Unless Starmer can inspire people and give people hope, then the future of his leadership looks very bleak indeed. There's a very real risk of many people ending up politically homeless again."
There is anecdotal evidence of young left-wing members tearing up their Labour membership and leaving but no hard data, at least for now. Labour, in its last report in January 2020, has 580,000 members, the "largest membership of any party in Europe", it says.
"People are suggesting that members of the left in the Labour Party are leaving in their droves but I have no insight on that," Scattergood says.
"There are lots of people being very vocal about it but social media is not a great barometer on these issues."
And those familiar with how politics works in practice say that Starmer is playing a clever game.
"There is method to Starmer's mystery," Eunice Goes, a professor of politics at Richmond University, has written.
"In truth, this method can be translated in the formula 'Reassure First, Transform (Much) Later' and is informed by the realization... that Labour has no chance of winning a general election if it is perceived to be incompetent, unprofessional, too radical and out of touch with voters.
"Labour under Starmer will be spending quite some more time reassuring and winning back the trust of ordinary voters (and disappointing ardent Labour supporters) before it moves on to the business of transformative politics."
The question of whether Sir Keir can win an election, given that he would have to find a swing from Conservatives to Labour that has never been managed before, is obviously an important one.
"I don't think anybody would think that it's likely that Starmer could win the next election," Prof Fielding says.
"A 20-point lead for the Conservatives on who is best to lead the economy shows there is a lot of work to be done. We don't know how COVID will turn out, we don't know how Brexit will turn out so it would be very foolish for anyone to say he could [win the next election] but it would be equally unwise to say he definitely can't.
"The biggest thing, and this helped [Tony] Blair, is that Labour and trade union members get fed up with losing elections and not getting anything. In the end, they can have the most perfect policies for them but, if they can't get elected, they start to become more flexible.
"If he [Starmer] continues to look like someone who can win the next election then his power within the party means unions become more flexible and members become more accepting of policy changes than they would have been months ago."
While there is still a long way to go until the next General Election, currently scheduled for May 2024, Labour is still five points behind the Conservatives in the poll of polls, further behind than they were in 2017, an election nobody thought they could win.
For Starmer, he will hope that the gap decreases, both between his party and the Conservatives and the left of the Labour party and him.
Survey and polling data
The Ipsos MORI poll about Starmer's popularity "interviewed a representative sample of 1,059 adults aged 18+ across Great Britain. Interviews were conducted by telephone 5th – 10th June 2020. Data are weighted to the profile of the population. All polls are subject to a wide range of potential sources of error. On the basis of the historical record of the polls at recent general elections, there is a 9 in 10 chance that the true value of a party's support lies within 4 points of the estimates provided by this poll, and a 2 in 3 chance that they lie within 2 points." It can be read in full here