Labrador Caught Being 'Unbothered' by Brother Using Her Leg as a Chew Bone
A hilarious video of a dog chewing his sibling's leg has gone viral on TikTok. In the video, a seven-month-old golden Labrador puppy called Gus can be seen munching on his sister's leg, a nine month old black Labrador puppy called Billie.
The caption reads: "Billie is unbothered." The video has been viewed over 120,000 times and the text explains: "When your sister takes the toy bone... so you chew on her bone instead."
One user commented, "Both my dogs do that to each other," while another agreed and wrote: "My 2-year-old black lab does that to my 8-year-old yellow all of the time."
Newsweek spoke to the duo's owner, Florida-based Anna, about the playful pair. "They have always got along and always do!" she said. "They are each other's best friends. We're very lucky. They take up a large percentage of my time, but luckily working remotely has allowed me to be present and there for them."
She explains the best thing about having two dogs is their ability to find so much comfort in each other. "When I have to work, they love to join me in my office and when I look down they are always cuddling and napping together," she told Newsweek.
Why Do Dogs Bite Their Legs?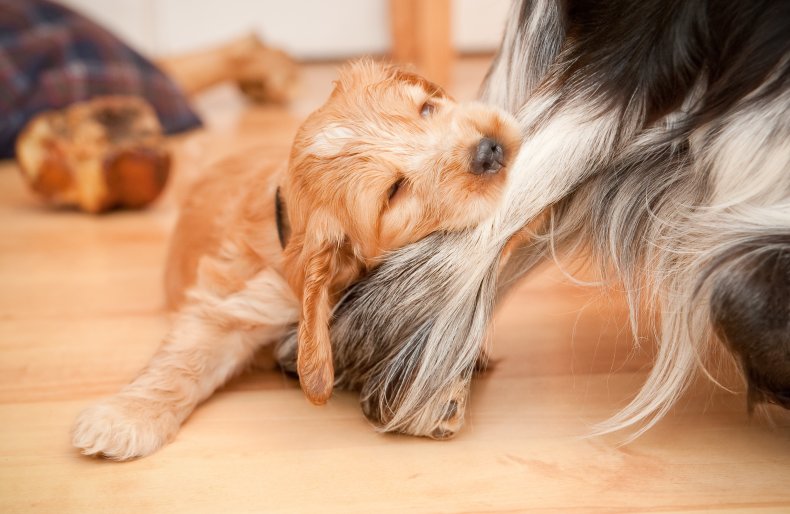 Their legs, their playmates' legs, chair legs, or your legs—why do dogs have an obsession with legs? The two pups in this video are clearly just playing. However, if you see your dog regularly chewing its own leg, you may want to keep an eye.
According to dog food brand Pedigree, "if your dog has become an obsessive chewer of his leg or paw, there may be a serious problem underlying his behavior, and an examination by his veterinarian could be necessary."
It's common for dogs to nibble or bite a part of their body when they have an itch. If you see your dog excessively biting a specific area, then it's possible your dog might be suffering from a skin allergy, a bug or insect bite, or maybe a fungal infection. Similarly, it could be a sign of anxiety.
Pedigree reports that if your dog is left alone for long periods, it might start licking or chewing an area on its body until it becomes raw and sore. "This is most common in pets with high energy levels that are bored, or that aren't getting enough exercise or attention. If this is your situation, perhaps you could ask a friend to walk or play with your dog in the middle of the day."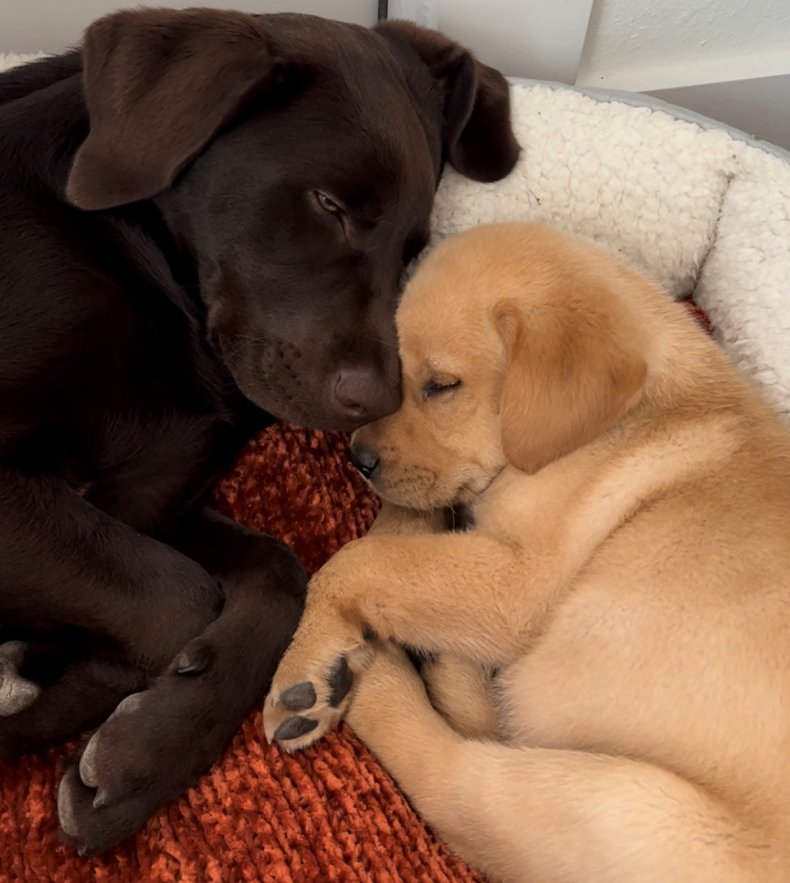 Pet resource website Wag Walking reports that cold and dry weather can cause your dog to develop dry skin in the winter which may irritate them. In the summer, pets are susceptible to fleas and ticks. According to the site, around 10 percent of dog allergies are related to their food.
"Common food and environmental triggers are things such as wheat, dairy, pollen, or mold thus your dog should stay clear of them but consult your dog's veterinarian in case of any concerns."
Do you have funny and adorable videos or pictures of your pet you want to share? Send them to life@newsweek.com with some details about your best friend and they could appear in our Pet of the Week lineup.
Update 02/17/23, 10:37 a.m. ET: This article was updated with comment from the original poster.