Lady Gaga visited the U.S. Capitol days after the January 6 riot seeking "evidence of the truth", she revealed in an interview that has resurfaced on the anniversary of the attack.
A violent mob of Donald Trump supporters stormed the building in Washington D.C. in an attempt to stop Congress certifying the result of the 2020 election and the victory of President Joe Biden.
The singer and actress—real name Stefani Germanotta—visited the site ahead of performing the national anthem at Biden's inauguration on January 20—and took the opportunity to launch a small investigation of her own.
During an interview with Bernice King on the web series Beloved Community Talks —The Power of Unlearning, Gaga, 35, discussed her experience at the Capitol, saying she "saw the white rage" as she looked at a broken window.
The hour-long interview originally aired in June 2021 and resurfaced on the riot's one-year anniversary this week.
Gaga told King: "The day before [the inauguration], I went to see where I was going to be standing, and I walked in with a bulletproof vest on, because we were nervous about being in the Capitol.
"Somebody said to me, 'Would you like to see the Capitol today?' I said no, because I wanted to get in and get out. And then I went in and saw where I was going to stand and sing and I was finished with the walkthrough of the show, which was a beautiful day.
"But as I was leaving, I stopped myself and I said, 'Why did you say no, that you don't want to see the Capitol today?' And it was because I didn't want to see the place where the insurrection had taken place. I went back to that woman that asked me and I said, 'My apologies, I'd like to see the Capitol.'"
Gaga's change of heart led to the singer and actress seeking out her own clues about the unrest on January 6.
"I walked through the Capitol like a detective," she said, "and I looked for evidence of the truth, because we see these things on screens. We witness these things on the news. But to be there in person, I was afraid."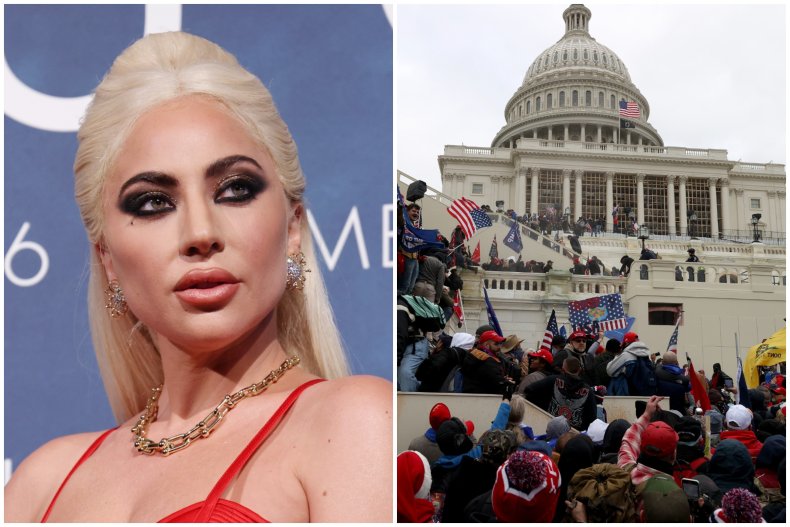 Gaga, who called for Trump to be impeached after the riot, went on: "I knew in that moment I was avoiding this issue and I stopped myself and I said, 'Don't avoid it, go look at it and go be with it.'
"And guess what I did? I just walked through and I searched until I found... They told me, 'You won't find much, we've cleaned up most of it.' But I found a window that had blunt force, that was cracked. And I went to that window and I stared at it and I saw the white rage. And I stared at it and I reflected and I thought about what I was about to do the next day.
"I thought about what a gift this unlearning was also to myself that I would take that moment to go there and see it for myself, because that day to me was not about Donald Trump. That day to me was about white supremacy and it was a day that we could all take our hands and point right at it, where it was crystal clear."
In an interview with British Vogue published in November, Gaga said the Schiaparelli gown she wore to Biden's inauguration was bulletproof.
Describing her participation in the event as "one of the proudest days of my whole life," the star told the magazine: "Like many people in America, I felt a deep fear when Trump was president, and ushering 45 out and 46 in is something I'll be able to tell my children all about.
"Singing in a Schiaparelli bulletproof dress. I don't know if people know this about me, but if I weren't who I am today, I would have been a combat journalist. That was one of my dreams. When I was at the Capitol, the day before the inauguration, I remember walking around and looking for evidence of the insurrection."
However, a representative for the fashion brand said in a statement: "The dress was not actually bulletproof. We cannot comment on what she may have worn underneath."