Officials Describe What Mysterious UFO They Shot Down Looked Like: Report
White House officials have given further details about the unidentified flying object (UFO) that was shot down by the military on Sunday.
Michigan Democrat Representative Elissa Slotkin confirmed that on Sunday the U.S. Air Force shot down an unidentified object near Lake Huron.
In a Sunday CNN report, White House correspondent Arlette Saenz gave an update on information authorities had released about the incident.
Saenz said: " A senior administration official has provided new details to myself.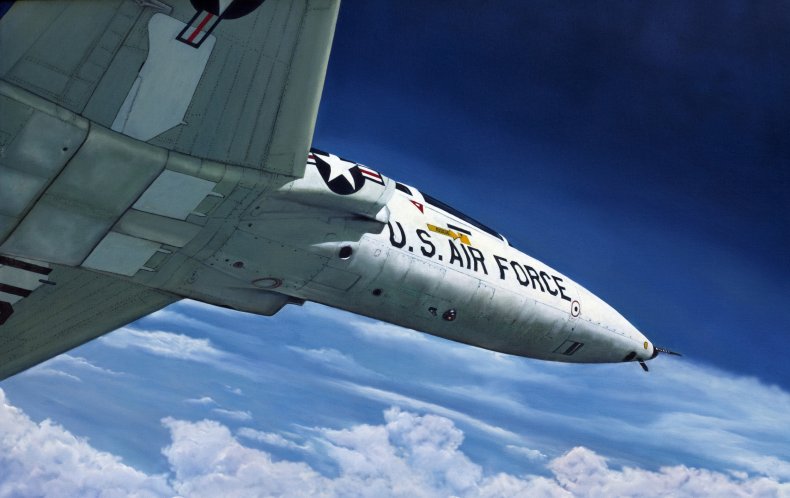 "[They were] detailing what exactly this unidentified object looked like.
"It was flying at about 20,000 feet when it was shot down. It had been flying over a part of Michigan's upper peninsula and was nearing Lake Huron.
"It was ultimately taken down by fighter aircraft…a senior administration official described it as having an octagonal shape and there were strings hanging from it with no discernible payload.
"Another source that was briefed on the matter also shared that description."
The White House has not given further details regarding what the object was but the latest developments come after a number of other UFOs have been shot down across the country in the last two weeks, including a Chinese spy balloon off the coast of South Carolina.
Speaking about the latest incident on Sunday, Slotkin tweeted: "The object has been downed by pilots from the US Air Force and National Guard.
"Great work by all who carried out this mission both in the air and back at headquarters.
"We're all interested in exactly what this object was and it's purpose."
This was in response to her initial tweet that announced she had been informed of the unidentified object flying over Michigan.
"Just got a call from @DeptofDefense—our military has an extremely close eye on the object above Lake Huron.
"We'll know more about what this was in the coming days, but for now, be assured that all parties have been laser-focused on it from the moment it traversed our waters."
In a follow up to her tweet detailing that the object had been shot down, Slotkin said she would "continue to ask Congress to get a full briefing based on our exploitation of the wreckage."
According to a Reuters report, U.S. officials declined to say whether the object resembled the large white Chinese balloon that was shot down in early February.
Days after the latter incident, during his State of the Union address, President Joe Biden insisted the U.S. would continue to protect the country from threats.
He said: "If China threatens our sovereignty, we will act to protect our country."
Newsweek has contacted the White House for comment.