Lake Mead Drought Exposes Creepy Long-Lost Boat Loaded With Artifacts
The Lake Mead drought has exposed a creepy long-lost boat loaded with artifacts, footage shows.
A video posted to YouTube channel Man + River shows scuba diver and treasure hunter Dallas Rowley discovering the shipwreck while exploring the Lake's shores. The full video can be viewed here.
Lake Mead, a reservoir formed by the Hoover Dam on the Colorado River, is drying up because of the ongoing drought in the western United States.
As the bottom of the Lake becomes exposed, some strange and interesting things are being revealed. Rowley and fellow explorers found the shipwreck lying on the shores of the Lake after 20 minutes of searching.
Rowley told Newsweek that he spent a total of two days exploring Lake Mead. He said the old, wooden boat was the creepiest thing he found.
"[...]It still had all the eating utensils, telephone, and plaques in the rubble. We couldn't take anything since it's within a national park, but it was cool to explore and film," he said. "I originally wanted to explore the lake for two reasons. One, normally I strap on a scuba tank and go search for this kind of stuff underwater. With the water levels being so low, it was like a day of scuba diving, but with unlimited air! 2, I wanted to spread awareness about the ongoing water issues in the American west."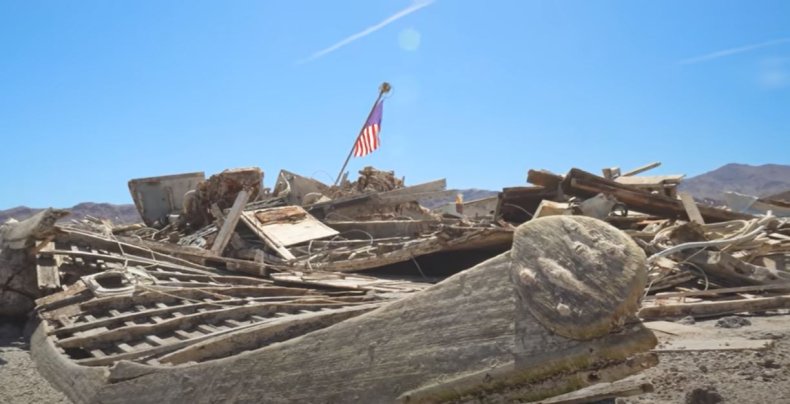 While searching in the rubble, Rowley found an old bottle of nail polish and showed it to the camera.
"How old is that?" he said.
The explorers also discover an old phone, a U.S Yachting flag and a sign reading: "On the order abandon ship, women and children first, follow your captain."
"What happened to the women and children, I want to know," Rowley says, as he holds it up to the camera. "That's crazy."
"This is all so old, it's already disappearing into the earth," Rowley says, as he explores further. "This is definitely recently exposed. We're only ten feet off the water line. And so this thing was underwater two months ago. And it's been underwater for decades.
Rowley said the boat is probably an old tourist barge, but that hasn't been confirmed.
It isn't clear when the shipwreck happened, but other finds across Lake Mead have dated back to the mid 1970s.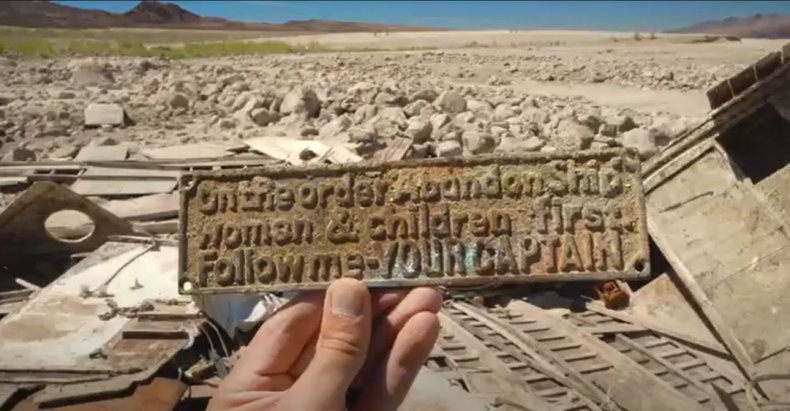 Creepier finds have been discovered in the drying reservoir in recent months. In May, as the Lake's bottom became exposed, human skeletal remains were discovered in a barrel, and since then, two more sets of human remains have been discovered. One was believed to be a shooting victim from the mid-1970s or 1980.
The last time Lake Mead's water levels were this low was in 1937.
The strange finds are not the only reason Lake Mead has gained attention recently.
The water moving through the Hoover Dam provides electricity for hundreds of thousands of people living in the area. Experts are concerned that if the drought continues, the lake will hurtle towards dead pool level. That will mean the dam's turbines will no longer be able to generate power.
"While megadroughts are long-lasting and usually slow-moving phenomena, once serious degradation begins like what we are seeing for Lake Mead, things can start to get real bad real fast," Auroop Ganguly, Professor of Civil and Environmental Engineering at Northeastern University told Newsweek. "From drinking water to food and energy security, this level of drying up of Lake Mead has serious implications for the western U.S. and beyond."
"Historical droughts in the region have statistically tended to last a couple of decades or slightly more, so if this were caused by natural climate variability alone, we would probably see an end to drought conditions in the next few years," he added. "However, with human-induced climate change loading the dice so to speak, all bets are off for the moment."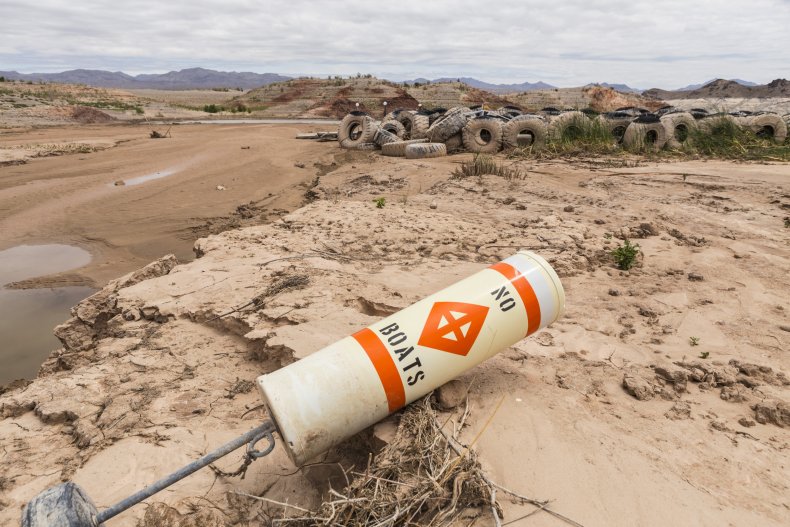 Update 07/27/22 at 3:15 a.m. EDT: This article was updated to include comment from Auroop Ganguly
Update 07/27/22 at 9:45 a.m. EDT: This article was updated to note Auroop Ganguly's role at Northeastern University