Lake Mead Update: More Human Bones Found as Water Level Rises
Another set of human remains has been discovered in Lake Mead, as the reservoir's water level rises.
The U.S.'s largest reservoir, which is in Nevada and Arizona, has been hurtling toward dead pool level due to the ongoing drought in the area. The lake, formed by the Hoover Dam, provides electricity for hundreds of thousands of people living in the area.
However that is not the only reason it has made headlines recently.
As the Lake continues to dry, more and more human skeletal remains are being discovered. Another set human remains was discovered at the Swim Beach area of Lake Mead National Recreation Area at 8 p.m. on August 15, the National Park Service said in a statement.
The remains were recovered with the help of Las Vegas police's dive team. An investigation into the remains is ongoing and it isn't yet clear how the person died.
It's the third set of remains to be discovered at this particular area of the lake, and fifth set to be discovered in the Lake as a whole.
The first remains were discovered in May. The body was found concealed within a barrel, and is likely the victim of a mob-related shooting.
Newsweek has contacted the NPS for an update.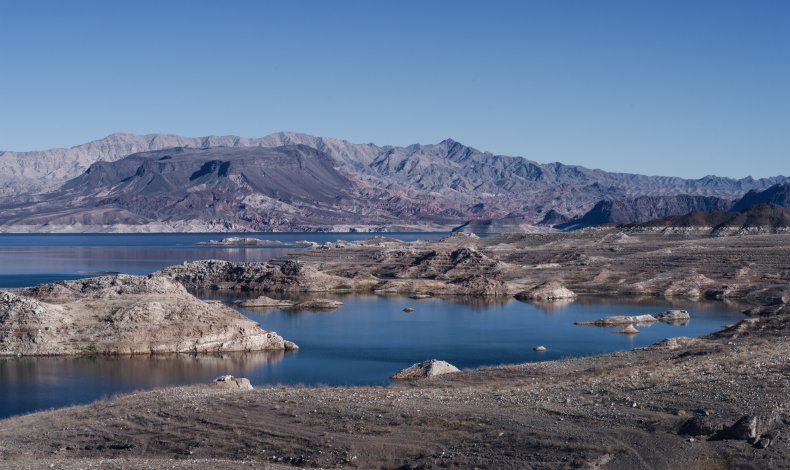 The discovery comes as Lake Mead's water levels rose slightly for the first time in three years. Levels have been declining due to an ongoing megadrought gripping the western United States.
On July 27, the lake's water levels were at 1,040.71 feet—the lowest they have been since the 1930s, not long after it was first built. The area was then hit by the wettest monsoon season the Las Vegas Valley has seen in a decade.
Water levels have now risen to 1,042.41 feet.
Footage posted to YouTube channel Sin City Outdoors showed flash flooding taking place in the areas around lake Mead, due to the heavy downpour.
As the rain continues, outdoor explorers have been spotting flash floods starting to form in parts of the dried up river.
Flash floods often occur when rain falls amid a drought. As the ground around Lake Mead is parched, the rainwater can fail to sink into the ground, meaning it will flood the area instead.
The footage shows water hurtling down dried up areas of ground, as the downpour continues.
Since 2000, around the time the drought began, the water levels have fallen by 170 feet.
A lack of rainfall isn't the only factor contributing to its declining water levels.
In normal circumstances, water levels would usually fluctuate seasonally due to winter snowpack flowing down from the Rocky Mountains. But due to climate change, seasonal weather patterns are becoming harder to predict.
Despite the recent rise in water levels, the lake is still only at 27 percent capacity.