Lake Mead Water Level Falls to 1,040ft, Dead-Pool Level Inches Closer
Lake Mead's water levels have fallen to 1,040 feet, inching ever closer to dead-pool level.
Lake Mead, a reservoir formed by the Hoover Dam on the Colorado River, has been drying up because of the ongoing drought in the western United States. It stretches across Nevada and Arizona.
According to new data from Lakes Online, as of July 28 at 4 a.m local time, Lake Mead had fallen to 1,040 feet. At the beginning of 2022, the Lake was at 1,066 feet.
The levels have rapidly decreased over the last couple years. In the beginning of 2020, levels were at 1,090, while at the beginning of 2021, levels were at 1,083.
The water moving through the Hoover Dam provides electricity for hundreds of thousands of people living around the area. However, as the drought continues and the water continues to dry up, there is a danger of the dam's turbines no longer being able to generate power.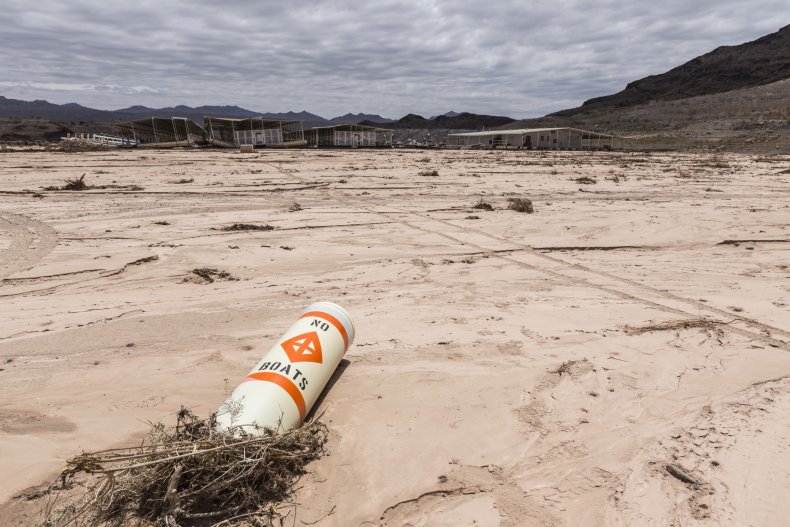 As the lake continues hurtling towards dead-pool level, experts remain concerned.
Steph McAfee an associate professor, and Nevada State climatologist at the University of Nevada, Reno, previously told Newsweek that if Lake Mead reached 895 feet, water wouldn't "flow past the dam anymore," which is considered dead-pool level.
"If it got to that point, water levels could still drop due to evaporation," McAfee said.
McAfee said also said "there's good evidence to suggest that climate change is playing a role."
"A number of scientific papers have found that rising temperatures are reducing the amount of water flowing down the Colorado River and into Lake Mead. There were a couple of papers by Parks Williams and colleagues suggesting that climate change is not quite half the contribution to this drought. That research noted that it would still have been a drought without higher temperatures, just not as bad," she said.
According to the U.S. Drought Monitor, more than 20 percent of land in the western U.S. was determined to be in an "extreme or exceptional drought," as of March 8, 2022. The last time Lake Mead's water levels were this low was in 1937.
While it is not the only body of water being affected, Lake Mead has caught global attention due to the mysterious discoveries being made, as the water continues to evaporate.
In May, as the Lake's bottom became exposed, human skeletal remains were discovered at the bottom of a barrel. The remains were believed to be a shooting victim from the mid-1970s or 1980s.
Another set of human remains were also discovered earlier this week.
Other finds such as shipwrecks have also been explored.
Newsweek has contacted Lakes Online.