Lamar Alexander Has 'Forever Shamed the United States Senate,' Former Bill Clinton Press Secretary Says
GOP Sen. Lamar Alexander sparked a backlash on social media on Thursday night after he said there was "no need for more evidence" at the impeachment trial, with a former press secretary for President Bill Clinton saying the congressman had "forever shamed" the Senate.
The Tennessee Republican, widely seen as a key swing vote on impeachment, dashed the hopes of Democrats wanting witnesses to be called before the upper chamber by releasing a lengthy statement last night that argued charges brought against President Donald Trump were not impeachable offenses.
"I worked with other senators to make sure that we have the right to ask for more documents and witnesses, but there is no need for more evidence to prove something that has already been proven and that does not meet the U.S. Constitution's high bar for an impeachable offense," Sen. Alexander said.
The congressman, who is retiring at the end of this year, published his statement ahead of Friday's votes to subpoena witnesses and documents, which are now likely to go the way of the Senate's GOP majority.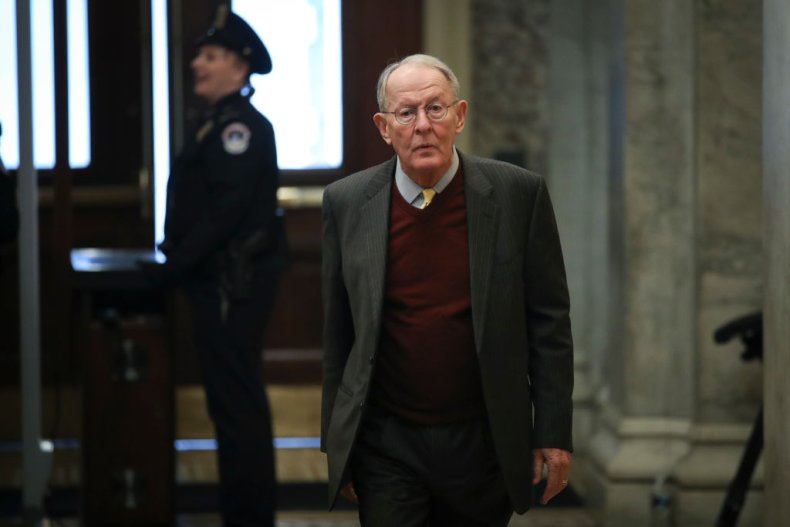 President Trump's acquittal is also almost certain following Sen. Alexander's decision to vote with his party, despite Republican Sens. Susan Collins and Mitt Romney signaling that they could vote with Democrats.
Reacting to Sen. Alexander's decision to oppose votes for further impeachment evidence, Clinton-era White House Press Secretary Joe Lockhart tweeted: "Lamar Alexander and his Republican colleagues have forever shamed the United States Senate. This is a very dark moment in our history."
"The verdict is in on Lamar Alexander. Party over country. No integrity. No courage. No moral core. This is his legacy," The Atlantic contributing editor Norman Ornstein posted.
Obama-era U.S. Attorney Joyce Vance predicted that Americans would "only hear from John Bolton during the impeachment trial" if he chose to do it on his own.
"Relying on CJ Roberts to break a tie if there are 3 other votes seems unduly optimistic," she added.
Lawfare Executive Editor Susan Hennessey also tweeted: "This is just shocking. Alexander openly saying Trump did it. That the House proved its case. He just doesn't care."
Hitting out at his own party, Republican 2020 presidential primary challenger Joe Walsh said: "This country was founded because we rebelled against a King. 244 years later, the Republican Party bows down to a King. What a damn shame."
Not all Republicans took a similar view to President Donald Trump's primary challenger. In the wake of Sen. Alexander's decision, Rep. Mark Meadows (R-NC) tweeted: "Bravo to the President's legal team. Bravo. They were tremendous this week."
Ryan Fournier, the founder and co-chairman of Trump Students, thanked Sen. Alexander in response to his post announcing that he would not vote for witness testimony.
Women for Trump co-founder Amy Kremer also tweeted: "Thank you @SenAlexander for doing the right thing and voting no on #Witnesses so we can end this #ImpeachmentHoax once and for all."
At the time of writing, Lamar Alexander was fourth in the U.S. Twitter trending charts, with more than 92,000 tweets discussing the senator.
Newsweek has contacted the office of Sen. Alexander for comment and will update this article with any response.