Lamar Jackson Says Coronavirus Vaccine Is 'Personal Decision' Despite Second Bout of COVID
Baltimore Ravens quarterback Lamar Jackson has said getting the coronavirus vaccine was a "personal decision" and declined to say whether he would get vaccinated, despite twice contracting COVID-19 over the last eight months.
The 2019 NFL regular season MVP was first diagnosed with coronavirus in November last year, missing the Week 12 game against the Pittsburgh Steelers, which was originally scheduled for Thanksgiving Night but had to be postponed three times after a coronavirus outbreak within the Ravens camp left the team without 18 players.
Jackson said he "wouldn't wish [coronavirus] on anybody" before making a swift recovery and returning to the field in Week 13.
Speaking to reporters on Monday, the Ravens quarterback revealed he had tested positive to COVID-19 again last month.
"I just got off the COVID list," Jackson was quoted as saying by ESPN.
"It was crazy. I was heartbroken. I wasn't looking forward to that at all. Right before camp [...] not again, not right now."
However, he remained noncommittal on whether he would get vaccinated.
"I got to talk to my team about this and see how they feel about it. Keep learning as much as I can about it [the vaccine]. We'll go from there," he continued.
"I feel it's a personal decision. I'm just going to keep my feelings to my family and myself. I'm focused on getting better right now. I can't dwell on that right now [...] how everybody else feels. Just trying to get back to the right routine."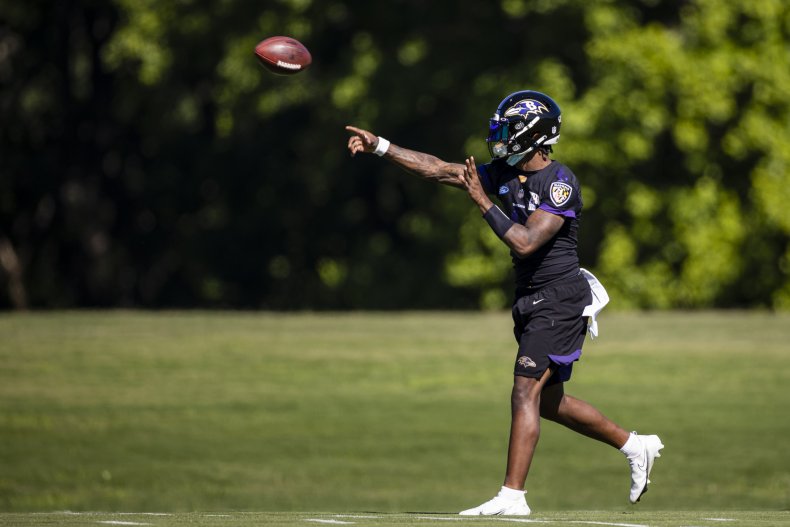 In a memorandum to all 32 franchises last month, NFL commissioner Roger Goodell said over 75 percent of players were at least partially vaccinated and over half of the 32 franchises had reported vaccination rates for players of above 80 percent.
Nevertheless, some high-profile players have vocally opposed the rollout. While Jackson was noncommittal on the vaccine, Buffalo Bills wide receiver Cole Beasley said he would get only get vaccinated if Pfizer gave him an earnings share.
In June, Beasley said he would be "out in public" and urged people to steer "clear of him" if they were scared.
The NFL's announcement last month that it won't delay or postpone games in the upcoming season to accommodate a coronavirus outbreak among unvaccinated players was also met with a firm pushback in some quarters.
Arizona Cardinals star wideout DeAndre Hopkins hinted he could question his future in the NFL because of the pressure being applied to players to take the vaccine.
"Never thought I would say this, but being in a position to hurt my team because I don't want to partake in the vaccine is making me question my future in the @nfl," Hopkins tweeted, before deleting the post.
Tampa Bay Buccaneers running back Leonard Fournette indicated he was unlikely to get jabbed. "Vaccine I can't do it...," the reigning Super Bowl champion wrote in a subsequently deleted tweet.
Los Angeles Rams cornerback Jalen Ramsey, meanwhile, noted players shouldn't feel under pressure to get vaccinated.
Last week, Chicago Bears tight end Jimmy Graham criticized the NFL Players Association's (NFLPA) plans to encourage all vaccinated players and staff to undergo daily PCR test at team facilities.
In a memo, the NFLPA said the decision to update safety protocols was taken to align the NFL with guidance from the Centers of Diseases Control and Prevention (CDC).
"In light of this new information as well as updated guidance by the CDC—and in order to successfully complete another season and keep everyone safe—we will be approaching the NFL to recommend increasing the frequency of testing for vaccinated staff and players," the union said in a statement.
Graham, however, criticized the NFLPA for backtracking on its plans, suggesting it would be a source of frustration for vaccinated players.
"I thought we also had a game plan going into this season, and now we're kind of redacting and retracting on that," he told reporters.
"So it's a bit frustrating for myself, who went out and got the vaccine just so I could, you know, do the same thing and have another successful healthy season."
Meanwhile, Minnesota Vikings quarterback Kirk Cousin said he's "at peace" with his decision not to get vaccinated, despite missing four practice sessions due to be a high-risk close contact.
Cousin even went as far as suggesting he would be happy to be surrounded by plexiglass to avoid being infected.
"I think the vaccination decision is a very private health matter for me, and I'm gonna keep it as such," Cousins said last week, as per USA Today.
"I'm going to be vigilant about avoiding a close contact. I've even thought about should I just set up literally plexiglass around where I sit, so that this can never happen again. I've thought about it, because I'm gonna do whatever it takes."
The Washington Post reported last week the Vikings' 64.5 percent rate for fully vaccinated players was the worst in the NFL.