LAPD Officers Pluck Disabled Driver to Safety Moments Before Car Bursts into Flames
A disabled driver had a lucky escape when he was plucked from his smoking car by police officers moments before it burst into flames.
Los Angeles Police Department (LAPD) has released bodycam footage of the dramatic rescue which took place on Friday.
Officers in Pacoima were out on patrol when they spotted a smoking car near Laurel Canyon Boulevard and Paxton Street at around 6 p.m.
The video, released on LAPD's Twitter feed, shows the officers near some traffic lights.
As they approach the car, thick clouds of smoke start billowing towards them.
They can be seen talking to a man before lifting the disabled driver out of the car and carrying him to safety placing him on a grass verge.
Seconds later, the car goes up in flames.
Although the man's wheelchair was burnt during the fire, an officer bought him a new one.
LAPD's Twitter post said: "It was another routine patrol shift.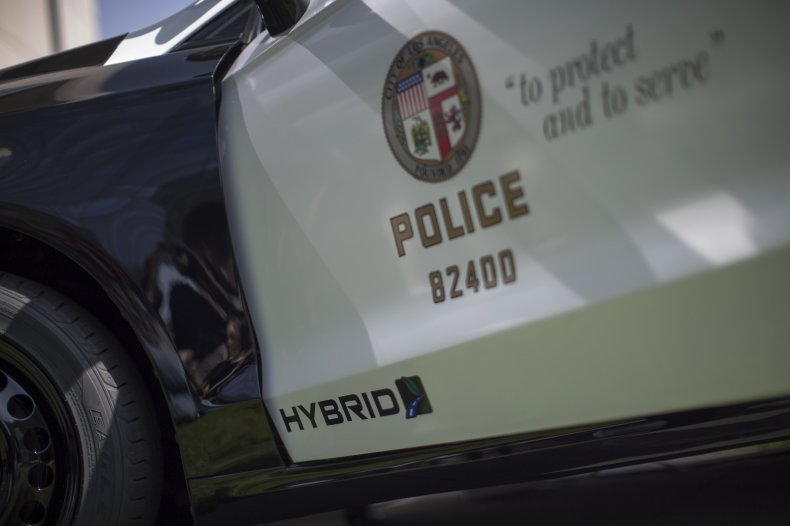 "Moments later, a car was engulfed in flames and @LAPDFoothill ofcrs had pulled a disabled man out.
"His wheelchair was lost in the burnt wreck, but quickly replaced by an officer's donation.
"When asked, they had few words—just doing our job."
The identity of the driver is unknown.
The rescue is not the only one to have made the headlines recently.
In June, a police officer in Oregon won accolades after rescuing a baby.
Astoria police officer Jason Robinson, was commended for his "heroic" actions, after he entered a burning building to rescue the tot.
Passerby and grateful resident Christine Lawler sent an email to the Astoria Police Department outlining her gratitude to Robinson who had documented the incident, but had not mentioned it to his team who were unaware of his "selfless act of bravery" until the commendation.
"Law enforcement and fire definitely deserve recognition that they still put their life on the line every single day," said Lawler in the thank you note.
Lawler was driving on W. Marine Drive when she noticed the home ablaze and pulled over to see if she could help. A woman and her children had already gotten to safety but police officer Robinson was helping a man get out of the house, before he went into the smoke to find a baby. Hearing the distress of the mother, Lawler also intended to help rescue the baby, but Robson was already on his way out of the building holding the infant in his arms.
"It was nothing short of a miracle," said Lawler. "With so much outrage about police officers who engage in unscrupulous behavior, this selfless act of bravery should not go unrecognized," she said.