LAPD Strike Lockdown Protesters with Batons Outside Mayor Garcetti's House in Viral Video
Los Angeles Police Department (LAPD) officers have sparked outrage after officers were filmed striking protesters with batons during demonstrations outside Mayor Eric Garcetti's house.
Footage posted to social media, that captured the LAPD officers responding to the protests, has gone viral and prompted widespread outrage amongst lawmakers.
It came during the 13th consecutive day of demonstrations outside the mayor's residence, where people have been protesting in a bid to stop President-elect Joe Biden appointing him to any position in his administration.
Black Lives Matter-Los Angeles and Ground Game LA, who are critical of the mayor's handling of homelessness and public transport among other issues, have been conducting protests every day over the past fortnight after reports of a potential Garcetti appointment emerged.
In the viral clip, police in riot gear can be seen lining the sidewalk before striding across the street and forcefully handling protesters.
One officer was filmed using a baton to strike several people, including one who had been helping up another who had fallen.
In a statement to several media outlets, the LAPD said that officers converged on protesters because one had sounded a bullhorn, which violated an L.A. municipal code against producing noise that carried more than 200 feet.
Capt. Stacy Spell, an LAPD spokesman, said in the statement: "After multiple warnings, four officers attempted to make an arrest for the above violation when the crowd moved in on the officers, punching, pushing and kicking.
"Officers used their baton to prevent the crowd from forcefully attempting to remove the suspect from police custody. However, the suspect ultimately got away."
Spell said an unlawful assembly was called after the protesters "physical response against the officers" resulted in an "officer needs help" call, adding that one sustained a possible concussion when his head struck the ground.
Spell told The LA Times that this statement is based on preliminary information, adding that police officers had been warning the group against using "amplified sound" for days.
The publication said that officers arrested Jamie Penn, who serves on the Wilshire Center-Koreatown Neighborhood Council, for "forcefully attempting" to remove the suspect who sounded the noise from police custody."
But Penn reportedly disputed LAPD's account about the protests, saying police rushed her after she reacted to an elderly protester being shoved to the ground.
Penn told The LA Times: "I ran over to try to help them because I didn't want them to be trampled.
"That then led to me being shoved on top of them by LAPD and a dogpile ensued. I was trying to use my body as a brake to keep weight off this elderly man that was on the ground."
Penn reportedly said she was detained for about five hours and released from Metropolitan Detention Center on Sunday afternoon.
BLM L.A. cofounder Melina Abdullah told KTLA the officers advanced on the crowd "without cause," adding: "They basically ambushed us, and swung their batons.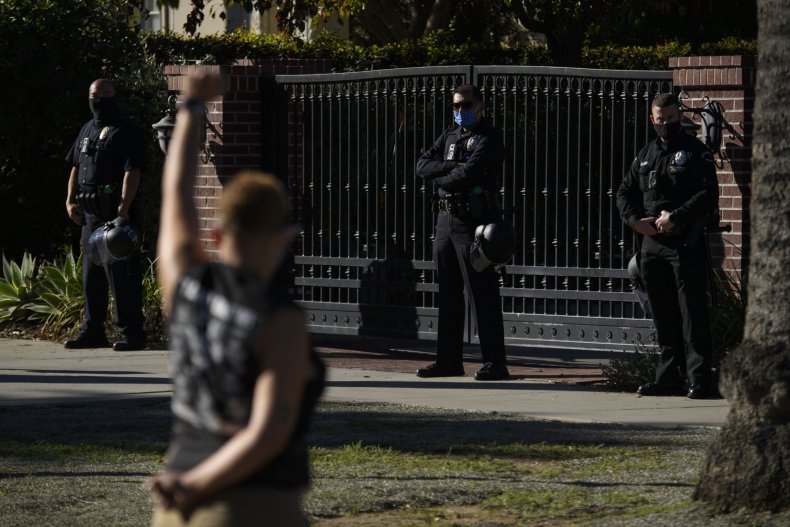 She told the broadcaster: "I don't know how the person could have been arrested for attempting to intervene in an arrest when no one was arrested, no one was doing anything that was illegal or violent."
Abdullah claimed that two protesters were hospitalized, one had her teeth knocked out and some people over 70 years old were "tackled and pinned on the ground."
The activist reportedly said the group still plans to show up for another protest outside Garcetti's house Monday.
Penn also wrote on social media on Sunday: "I am free. I have one request. Please, show up to 605 S Irving Blvd, Los Angeles, CA 90005. Tomorrow @ 9 AM."
Lawmakers condemn LAPD's response
A raft of California politicians came out to condemn the LAPD officers' actions at the protest after the footage went viral.
State assembly member Miguel Santiago tweeted: "LAPD's brutal actions this morning are unacceptable and must be denounced by everyone. I stand w/ you in denouncing police brutality demanding the immediate release of Jamie!"
Congressman Jimmy Gomez wrote: "In regards to @lapd response at Getty House today: Peaceful protestors deserve the space and protections to make their voices heard. Anything short of that is NOT acceptable. No exceptions. No excuses."
Nithya Raman, the council member-elect for the district where the protest took place Sunday, said: "Today, protesters outside the Mayor's residence were struck with batons. An elected member of the Wilshire Center-Ktown NC was arrested.
"There is no acceptable justification for LAPD to use force against Angelenos who are peacefully exercising their right to free speech."
Assembly member Wendy Carillo, released a statement saying: "The right to peacefully protest is a First Amendment Right that is sacred. I urge LAPD to restrain from use of force, practice de-escalation tactics and ultimately, protect the public.
Peaceful protests should not lead to police in riot gear making arrests amid COVID19. Although Jamie Penn has been released I have grave concerns with the circumstances and process of her arrest, including where she was detained and transferred to."
Newsweek has contacted the LAPD for comment.