LAPD Was Ready to Arrest Will Smith After Chris Rock Slap, Says Producer
Oscars producer Will Packer says police were "prepared" to arrest Will Smith after he slapped comedian Chris Rock on stage at the Academy Awards on Sunday.
In a clip of Packer's coming interview on Good Morning America, Packer gives more insight into what happened behind the scenes after the infamous slap. Although Packer said he didn't speak to Smith directly that night, he recalled officers with the Los Angeles Police Department spoke to Rock in his office.
"They were saying, you know, this is battery was the word they use in that moment," Packer said. "They said we will go get him; we are prepared. We're prepared to get him right now."
"You can press charges," Packer continued. "We can arrest him. They were laying out the options, and as they were talking, Chris was being very dismissive of those options. He was like, 'No, I'm fine.' He was like, 'No, no, no.'"
Packer said Rock was so adamant about not hearing what the officer had to say, that the producer pleaded with Rock to let LAPD finish giving him his options.
"The individual involved has declined to file a police report," the police department said in a statement. "If the involved party desires a police report at a later date, LAPD will be available to complete an investigative report."
For the first time, on Wednesday, Rock publicly addressed the slap at a sold-out comedy show in Boston, Massachusetts. The crowd greeted him with a standing ovation, but Rock said he didn't have much to say about the Oscars at the moment.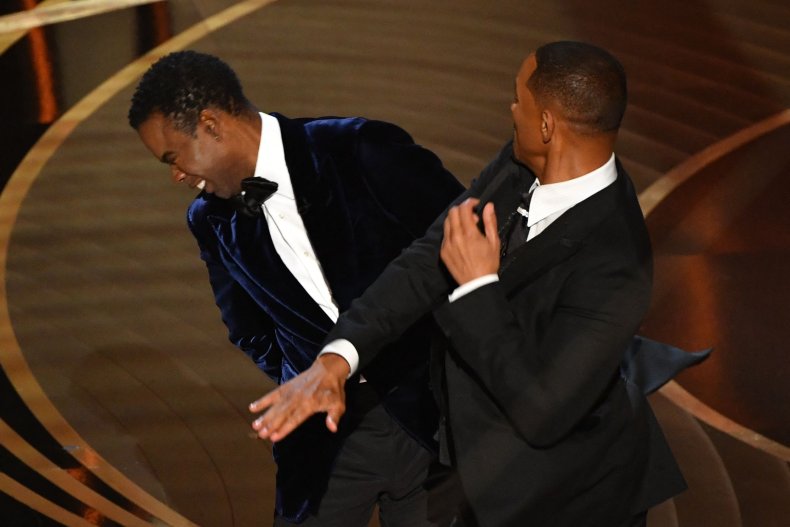 "I had written a whole show before this weekend. I'm still processing what happened, so at some point, I'll talk about that s**t," Rock said. "It'll be serious. It'll be funny."
At the Oscars, Rock made a joke about Smith's wife, Jada Pinkett Smith, taking a jab at her short haircut—which is due to alopecia.
"Jada, I love ya. G.I. Jane 2, can't wait to see ya," Rock said referencing the 1997 film G.I. Jane starring Demi Moore.
Smith got up from his seat and slapped Rock across the face. He then returned to his seat and yelled, "Keep my wife's name out your f***ing mouth."
On Wednesday, the Academy of Motion Pictures Arts and Sciences announced it "initiated disciplinary proceedings" against Smith for his violent outburst. The Academy did not go into detail about how it tried to remove the actor from the theater.
The Academy also claimed Smith was asked to leave the event after assaulting presenter Rock, but he "refused" to leave. However, there have been mixed reports about whether Smith was asked to leave.
Variety reported that what it called "sources close to the situation" claimed Smith was never asked to leave the awards show, although this has not been confirmed.
Packer's full interview will air on Good Morning America at 7 a.m. Friday.
Newsweek reached out to Packer for comment.