Lara Trump Confirms She is Eyeing Senate Seat, Promises Announcement 'Very Soon'
Former President Donald Trump's daughter-in-law Lara Trump has confirmed that she is "strongly considering" a bid for the Senate seat being vacated by Republican Sen. Richard Burr at the 2022 midterm elections.
Speaking to the conservative channel Newsmax over the weekend, Trump said she hoped to have "something to announce very soon" as she claimed that she was still weighing up a bid for the Senate with her family.
She added that it would be a "very big decision" to make and would force her family to "work things out" after her father-in-law hinted that the 38-year-old could run next year.
Appearing on Newsmax, Trump said: "I'm not ready to make an announcement about anything just yet, but it is something I'm still strongly considering. I'd love to represent the people in my home state North Carolina.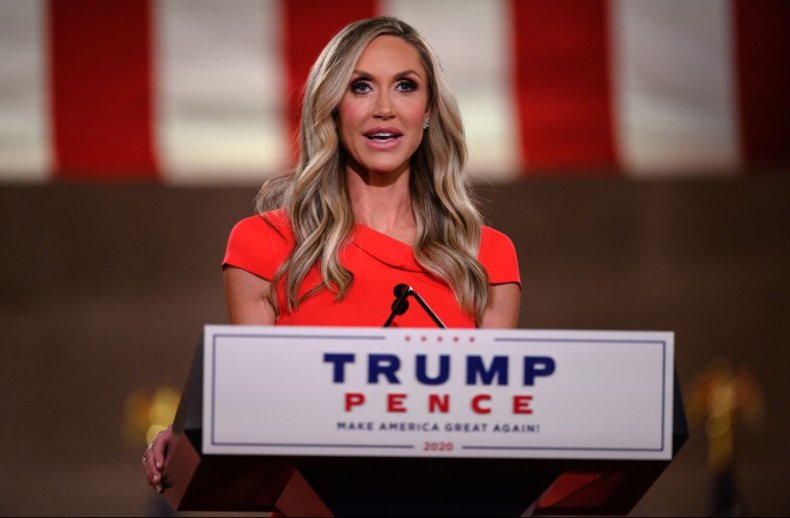 "But it is a very big decision. It means a lot of changes for our family, so we're sort of working things out, and I hope to have something to announce very soon."
She later said that her family life was her "number one priority" and said they were still discussing whether she should make a move for Burr's seat in the upper chamber.
Former President Trump said in a speech at his Mar-a-Lago resort earlier this month that Lara was going to run for the Senate while anonymous sources were briefing that she was considering a bid in North Carolina.
"I want to thank Lara, who's been so incredible," Trump on the stage at a fundraiser. "I don't know, you're running for the Senate. I hear she's going to run for the Senate. I'm with you 100 percent and we've had many meetings in the White House and the Oval Office."
Lara Trump has previously told Fox News viewers to "stay tuned" for news of a possible Senate campaign, and said she was open to the idea of running for the upper chamber.
Richard Burr announced in 2015 that he would not seek a fourth term in the Senate, where he has held a seat since 2005. He has since voted to convict former President Trump on impeachment charges and decried his actions ahead of the January 6 Capitol riots.
The North Carolina senator is one of five Republican lawmakers to announce retirement plans ahead of crucial midterm elections. Senators Richard Shelby of Alabama, Roy Blunt of Missouri, Rob Portman of Ohio and Pat Toomey of Pennsylvania have also unveiled plans to step down in 2022.
It is believed that the resignations of five key incumbents could impact the Republican Party's hopes of overturning the Democratic majority in the Senate next year—a key aim of conservative lawmakers on Capitol Hill seeking to block President Joe Biden's agenda.