Former President Donald Trump called Republican Senator Josh Hawley about the race for Roy Blunt's seat in the upper chamber at the all-important 2022 midterm elections.
Speaking to local TV station KY3, Sen. Hawley (R-MO) said Trump talked to him about the importance of keeping Sen. Blunt's Missouri seat in the "Republican column" as the GOP seeks to overturn the Democratic Senate majority.
He also said that he "absolutely" believed that Republicans would be able to hold on to the seat next year.
"I have talked to the former president about this, he called me about it in fact," Hawley told KY3. "And so we visited about the race and the importance of keeping Missouri in the Republican column. I told him I absolutely believe we will."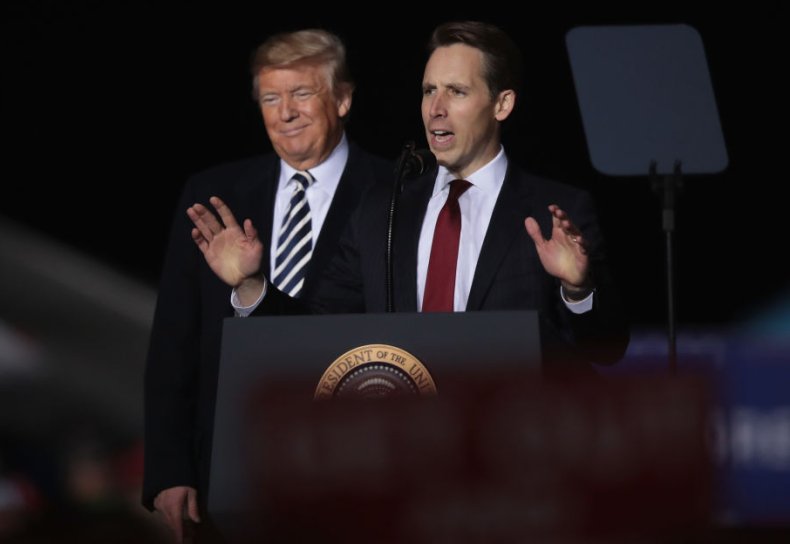 Asked about the potential make-up of the Republican primary field for the seat, the Missouri senator said he expected a "pretty broad array of folks from all different kinds of backgrounds" to bid for the post.
"It's a long time even until filing closes, almost a year," he added. "So we've got a long way to go here before the field really takes shape."
Sen. Blunt revealed earlier this month that he would not seek re-election in 2022, making him the fifth Republican lawmaker to announce retirement plans ahead of the midterm elections.
Issuing a video statement, the 71-year-old said: "After 14 general election victories—three to county office, seven to the United States House of Representatives, and four statewide elections—I won't be a candidate for re-election to the United States Senate next year."
The chairman of the Senate Republican Policy Committee also thanked locals "for the opportunity to work for you" and said he would see out his final term in the upper chamber.
Sen. Richard Shelby (R-AL) announced in February that he would also be retiring ahead of the 2022 elections. GOP senators Rob Portman of Ohio, Pat Toomey of Pennsylvania and Richard Burr of North Carolina have also made similar statements.
It is believed the raft of resignations could present some problems for the GOP at the midterm contests, as incumbents tend to be more difficult to beat than a fresh candidate for the seat.
However, a number of other factors, such as the political make-up of the states where the senators are retiring, could still play in favor of Republican candidates looking to hold onto the Senate seats as the party looks to gain a majority in the upper chamber and oppose President Joe Biden's policy agenda.