'Passive Enabler': Senator Roy Blunt Blasted by Hometown Paper for Bailing on 'Extremist' GOP
Retiring Republican Senator Roy Blunt was criticized by his hometown newspaper on Saturday for quietly leaving the "extremist" GOP after being a "passive enabler" of former President Donald Trump.
Blunt, 71, the No. 4 Senate Republican, on Monday said that he will not run for reelection next year in a surprise announcement. "After 14 general election victories—three to county office, seven to the United States House of Representatives, and four statewide elections—I won't be a candidate for reelection to the United States Senate next year," the Republican said in a video.
In an op-ed published Saturday, Kevin McDermott, a member of the St. Louis Post-Dispatch Editorial Board, said Bunt "personified what establishment Republican became during the Trump era: passive enablers to a chronically mendacious, constitutionally malicious, mentally unfit president."
"Blunt joins a growing list of mainstream Senate Republicans who have opted to bail," McDermott added. "Now Blunt is, once again, personifying the GOP establishment, this time by exiting the extremist bunker that his party has become—a trend that intensified under Trump, as Blunt and others at the grownups' table stared down at their plates in mute terror."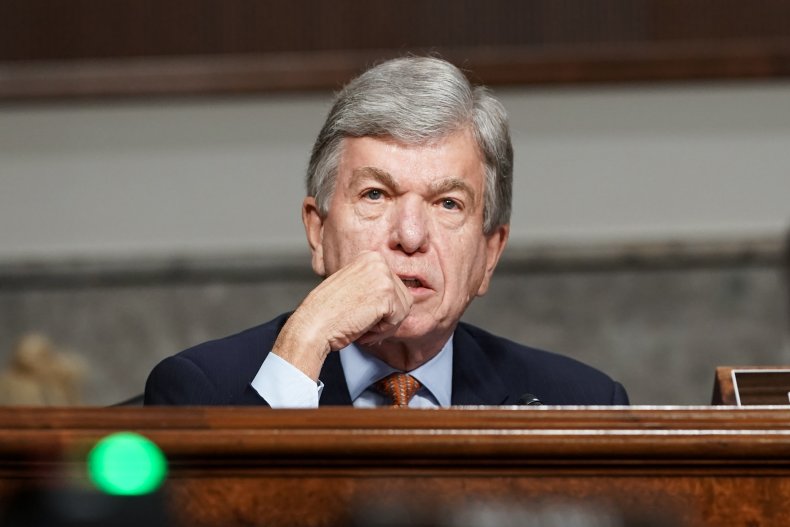 Blunt is the fourth Senate Republican to decide not to seek reelection in recent months. In 2010, he decisively defeated Democratic candidate Robin Carnahan by 13 points. Facing a tougher opponent in 2016, he won reelection by just three points. His retirement means that Democrats could fill his gap and flip the seat next year as open seats are typically easier to win than beating an incumbent.
"It [being an open seat] increases the chances of Democrats winning that seat, absolutely," Kelly Dietrich, CEO of the National Democratic Training Committee, told Newsweek on Monday. "It's another headache for the National Republican Senatorial Committee."
Blunt, who occasionally broke with Trump during his presidency, voted twice to acquit Trump in his Senate impeachment trials. His decision to retire comes as his state faces a messy GOP primary battle in 2022 and could suggest a level of unease with the direction of the party that has so far failed to prise the party from the ex-president's grip.
McDermott suggested that Blunt would be remembered not for what he's done for the party, but what he failed to do.
"Blunt could have walked up to any microphone in sight after some Trumpian outrage or other (the available choices were constant) and said what he knows is true: This isn't who we are. As a party, or as a country," he wrote. "Yes, he would have lost his Senate Republican leadership role and probably his seat—the same seat he is now leaving willingly anyway."
But instead, McDermott continued, "Blunt consistently backed a president who represented the most dire threat to constitutional democracy that we've seen in our lifetimes."
Newsweek reached out to Blunt's office for comment.