Nine Injured After Immigration Clashes in Germany
Nine people were injured after thousands marched in rival demonstrations in Germany on Saturday, following a fatal stabbing that has led to the arrest of an Iraqi and a Syrian immigrant.
Some 4,500 far-right protesters from the Alternative for Germany party (AFD) and the anti-Islam Pegida movement marched against immigration in the city of Chemnitz, according to police estimates, German broadcaster Deutsche Welle (DW) reported. But about 3,500 counter-demonstrators also came out in a bid to halt the anti-immigration protest.
At the end of the day, both sides were refusing to leave the area despite police orders. At least nine people were injured when police tried to disperse the crowds and far-right demonstrators began to clash with officers, according to The Independent.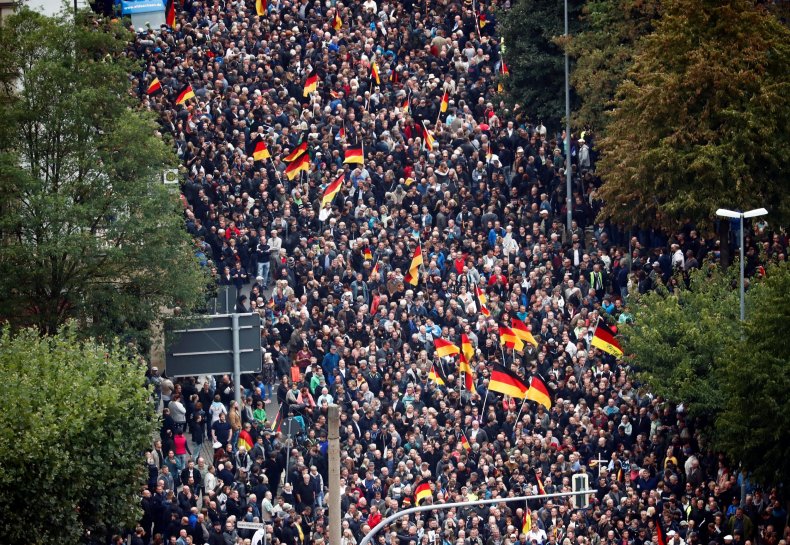 Some with the far-right chanted: "Merkel must go" and "We are the people," while waving German flags. A reporter for DW, who was on the scene, said that the far-right protesters also complained that the police failed to protect them.
"Our units were at times forced to use direct force," police said via Twitter. "We repeat our call, continue to refrain from violence."
Chancellor Angela Merkel's open doors policy has allowed well over a million refugees to enter Germany since 2015. With the dramatic rise in asylum seekers, far-right and neo-Nazi groups have played on xenophobic fears to grow their movements.
As the Trump administration has done in America, they have particularly focused on crimes allegedly committed by immigrants against white residents to imply that immigrants in general are threatening and dangerous.
In July, Merkel was forced to agree to a new deal on immigration as she faced backlash from within her own coalition government. Horst Seehofer, the government's interior minister, was pushing for greater restrictions along Germany's southern border with Austria and the expulsion of asylum seekers who had previously been registered in other European Union countries.
German leaders agreed to introduce transit procedures in police centers where asylum seekers can be held and processed. Under new regulations, refugees who have already registered in another EU country will be returned to that country if possible. If not, they will be sent back to Austria.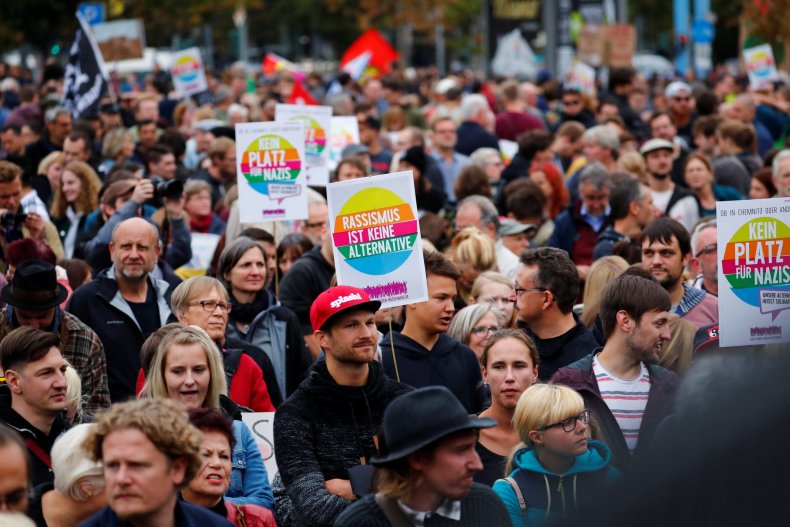 Despite increasing anti-immigrant sentiment, many in the government continue to defend the rights of refugees and asylum seekers.
Germany's Foreign Minister Heiko Maas tweeted his support for those marching against the far-right movement.
"The Second World War started 79 years ago. Germany caused unimaginable suffering in Europe. If once again people are parading today in the streets making Nazi salutes, our past history forces us to resolutely defend democracy," he wrote, according to Sky News.
Green MP Cem Özdemir shared a photo of himself via Twitter joining counter-demonstrators. He wrote: "We will not let right-wing extremists destroy our country and our democracy. Neither in Chemnitz nor in Saxony nor anywhere in Germany. Our constitution must prevail. We must defend it. Now!"