Gray Davis, California's only governor to be recalled, is still confident Governor Gavin Newsom will be victorious in Tuesday's recall election, in part because the leading Republican challenger doesn't have the same star power Arnold Schwarzenegger did in 2003.
After California voters opted to oust Davis from office less than a year into his term, Schwarzenegger became the next governor of California with nearly 49 percent of the vote. Davis believes the actor's fame, combined with a more even split of Democrats and Republicans and the White House's opposition sealed his fate in the recall, none of which are factors in Newsom's fight to remain in office.
"Celebrity is the currency of the Hollywood realm," Davis told Newsweek. "It was very hard to beat at the time."
Davis emphasized that he can't overstate the impact Schwarzenegger had on voters back in 2003. While conservative radio host Larry Elder has a following, Davis said whereas Schwarzenegger was a 10 on the Richter scale, Elder is only a one.
"Is he known? Yes but Arnold and even [former President Donald] Trump, people thought they knew him. People have this impression of a person and it's hard to change that impression," Davis said. "You could not convince people that Arnold would not be a good governor."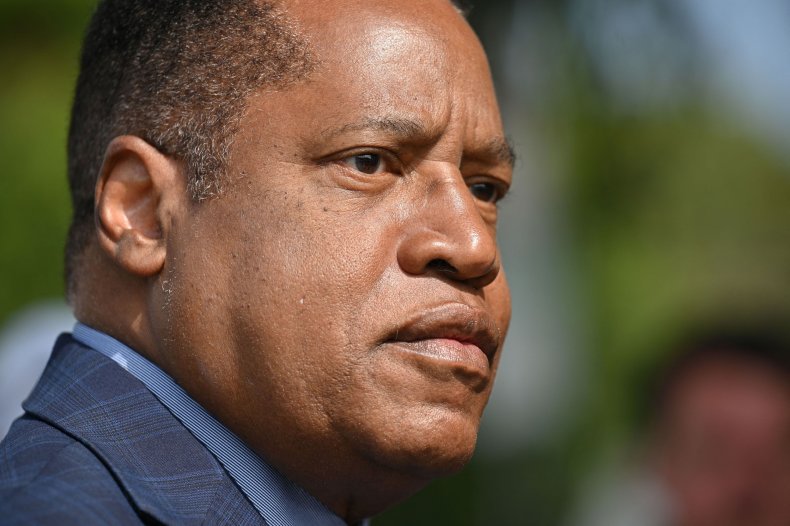 A key issue Davis has with Elder as a candidate is his stance on responding to the COVID-19 pandemic. Branding himself as the anti-Newsom, Elder told rally attendees in August he would immediately repeal mask and vaccine mandates if he won the recall election.
"I have been vaccinated. I am almost 70," Elder said. "I am in a high-risk category. I have a rare blood disease. My doctor strongly advised me to get vaccinated. But a lot of people feel very differently. Isn't this America?"
California has a high vaccination rate and was the first state in the nation to mandate vaccinations for health care workers. It also was among the first states to issue lockdown orders, a move that helped the recall movement against Newsom gain momentum. While some have been critical of Newsom's handling of the pandemic, Davis credited his "tough decisions" for helping increase vaccination rates.
"Larry Elder would be like raising the white flag of surrender, taking away two very important weapons," Davis said, referencing his advocacy for repealing mask and vaccine mandates. "You're not going to beat the virus unless you get people vaccinated. It's not just you and your life but all the people you touch."
Democrats have been hitting Elder and other Republican candidates for being anti-vaccine and Newsom's pandemic response earned accolades from Vice President Kamala Harris. The vice president, along with President Joe Biden and Senators Bernie Sanders and Elizabeth Warren have come out in support of Newsom.
Davis noted that when voters were trying to recall him, he didn't have the backing of the White House. While former President George W. Bush largely stayed out of the recall, days before the 2003 election, he appeared alongside Schwarzenegger.
Big-name Democrats vocally supporting Newsom puts a spotlight on the recall election, which could help boost voter turnout. It's always a challenge getting voters to actually cast their ballots and is even greater during a special election because there's often less awareness since it doesn't happen regularly.
Polls show Republicans are more confident than Democrats that they'll vote in Tuesday's recall election. Republicans will need a strong voter turnout to overcome the presence of registered Democrats, many of whom are likely to vote against recalling Newsom.
In 2003, Democrats outnumbered Republicans 43.7 percent to 35.3 percent, a split of about 1.2 million votes. Eighteen years later, there's a considerably greater divide, with Democrats accounting for 46.5 percent of registered voters, compared to Republicans at 24 percent. It's a difference of nearly 5 million votes and with the inclusion of mail in ballots, Davis noted Newsom has an edge in voter turnout that he didn't have when he was being recalled.
Polls indicate Newsom could have enough support to survive the recall and while that's step one, Davis is confident if he wins with at least a six point gap, it'll position him better than any other candidate for a victory in 2022.