Larry Elder Rallies at California Megachurch Ahead of Recall Election
Republican candidate Larry Elder on Sunday attended the prominent non-denominational Influence Church in Anaheim, California—one of his final stops on the campaign trail to become the state's next governor ahead of Tuesday's recall election.
Since announcing his candidacy in July, Elder, a 69-year-old talk radio host, courted his conservative base at several large evangelical churches across the Golden State. On Sunday, those same churches once again reminded congregants to cast their vote in what they see as a crucial election.
In his remarks, Elder addressed the state's rising homeless population, poor public school systems, water and fire management problems, rolling blackouts, and escalating and unaffordable cost of living, and followed a sermon by the church's pastor, Josh Hotsenpiller.
"People are leaving, crime is up, homelessness is up – there's no area where I believe this man has done a good job," said Elder of Democratic Governor Gavin Newsom, noting that the incumbent oversaw the release of 12,000 prisoners during his term.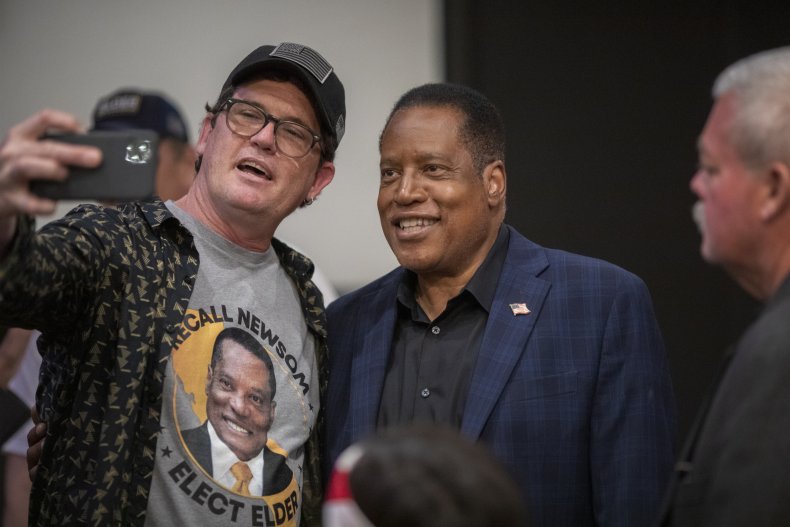 "Newsom said he'd clean up the homeless problem in 10 years. That was in 2014. Have you been to San Francisco lately?" he quipped.
Specifically, the Republican candidate pointed to the astronomical cost of living and dwindling prospect for many residents to buy a home as the overriding reasons residents are departing California. The price of homes in the state average close to $800,000.
"For the first time in our state's history people are leaving and the number one reason is because they can not afford the price of a home," said Elder.
"The average cost of living is 50 percent more than the national average, and it isn't just the middle-class people but businesses that are leaving," said Elder, citing that CEO Magazine for the last 17 years has deemed California the worst state to do business in the nation because of taxes and regulations. "The state income tax in the country is 13.3 percent, which is its largest source of revenue. So when a wealthy person leaves, he or she takes a lot with him."
Elder also addressed the state's low quality of education. "Who sends their kid to a school like that if they have an option not to?" he asked, noting his support of school choice. "The money should follow the child rather than the other way around..."
He again pointed to the rampant hypocrisy of state leaders.
"While Newsom was sitting at the French Laundry [restaurant] incurring a $12,000 wine tab with donors and the very people drafting the COVID-19 mandates, his own kids were enjoying an in-person private education while other kids were denied that."
"Have you noticed no one has said Gavin Newsom has done a good job in California?" Elder also asked. "All they say is that 'it's a Republican takeover.' They can't defend his record."
While Newsweek reached out to Newsom's office over the weekend to ask if the governor had any plans to address the recall election at events before Tuesday, the person who answered the phone said they "were not allowed to use state resources to discuss the recall or provide any further information."
"There's a difference between state and campaign and I will have to terminate this call," said the female voice on the other end of the line before promptly hanging up
For his part, Elder's visit to Influence Church occurred during a weekend of appearances. On Saturday, he attended a BBQ lunch with homeless and disabled veterans in Lake Forest and a 9/11 commemoration ceremony reception at the Reagan Presidential Library in Simi Valley.
On Sunday, he was scheduled to attend a press conference with actress Rose McGowan at the Luxe Hotel in Los Angeles. McGowan was expected to discuss allegations that the wife of the governor, Jennifer Siebel Newsom, tried to bribe McGowan to suppress the Harvey Weinstein sexual abuse scandal.
Later in the day, Elder was set to resume his bus tour on the "Recall Express" in which he was expected to make a stop at the Junkyard Café in Simi Valley, according to his campaign office.
"I never thought I'd be running for office," Elder told the congregants at Influence Church, before explaining that many figures he respected, including talk show host Dennis Prager and Pastor Jack Hibbs, had encouraged him to "save California."
"The more I thought about it—if not you, who, if not now, when? Now I'm on spiritual, moral and patriotic obligation to do it and I'm in it to win it," he added. "We've got a state to save."