Larry Elder Said He Didn't Have 'Temperament' to Be Calif. Gov, Now He's Leading GOP Field
California's GOP gubernatorial front-runner, Larry Elder, a conservative radio talk-show host, previously said he did not have the "temperament" or the "stomach" to serve as governor. Now, just months later, the right-wing contender is leading the GOP field.
Elder, who hails from Los Angeles, made the remarks during a February 4 episode of his program, The Larry Elder Show. On Friday, Media Matters for America, a politically left-leaning nonprofit that monitors conservative media, first reported and resurfaced the clip.
"I'd love to serve. I hate to have to run. I just don't believe I have the stomach, the temperament, the personality, the drive, the willingness to deal with these doofi in Sacramento for the next several years of my life," Elder said on the episode.
"Have I exhausted all of my excuses yet? Anyway, thank you very much for that. That's very flattering. But no, I'm not going to run. I would miss being on the radio as well," he said.
Elder announced his bid for governor in July, about five months later.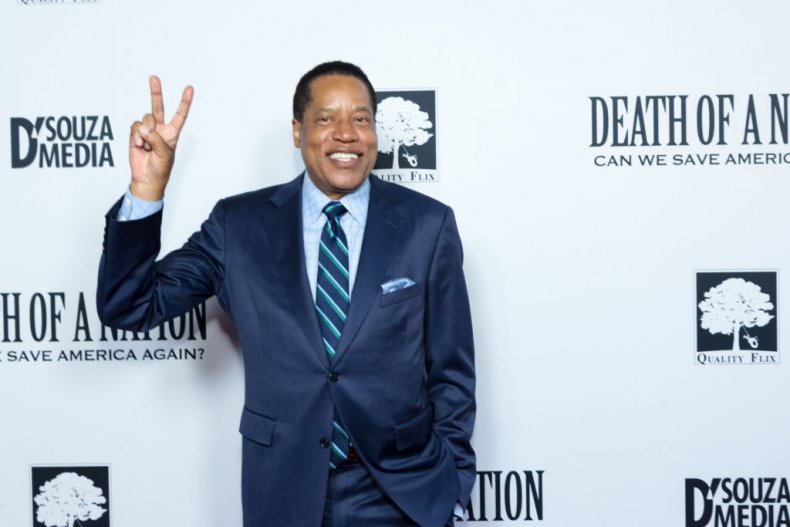 Newsweek reached out to Elder's California campaign for comment but did not hear back before publication.
Governor Gavin Newsom, a Democrat, is facing what appears to be a competitive recall campaign after more than 1.7 million state residents signed a petition promoted by conservative activists amid the coronavirus pandemic. That was substantially more than the just under 1.5 million required for the petition to be successful.
While Democrats outnumber Republicans by 2 to 1 in California, the unique recall structure could lead to a GOP victory.
When Californians go to the polls for the recall vote on September 14, they will be given the choice of keeping or removing Newsom from office. Those who want the governor removed will be able to vote for challengers. Recent polling shows Elder is leading the pack.
Polling averages compiled by FiveThirtyEight show that Elder is backed by approximately 21 percent of Californians—more than twice the amount of any competitor. Meanwhile, Newsom—once projected to easily survive the recall—has an average of just 50.6 percent of Californians who say they want to keep him in Sacramento.
If less than 50 percent of California voters choose to keep Newsom, the candidate with the next highest percentage of votes will become the state's next governor. Even though Elder appears to be backed by just over one-fifth of voters, the polling suggests he is within striking distance of winning.
Elder holds a variety of views out of the mainstream in deep-blue California. He previously denied the existence of climate change but now says he believes in it; he opposes women's reproductive rights; he is against the minimum wage; and he opposes mask and vaccine mandates. Also, he suggested in a 2019 Fox News interview that Black Americans had better lives during slavery.
Elder himself is Black. If the Republican manages to unseat Newsom, he would make history as the first Black governor of the state.