The ex-fiancee of Larry Elder, the leading Republican candidate running to replace California Governor Gavin Newsom in next month's statewide recall election, said she broke off her engagement with him in 2015, after he brandished a gun at her.
The allegations were first reported by Politico on Thursday afternoon.
Elder's ex-fiancee, Alexandra Datig said that during what Politico described as a "heated conversation" in 2015, Elder pulled a .45 pistol out of a nightstand. She claimed that Elder was high on marijuana at the time of the incident.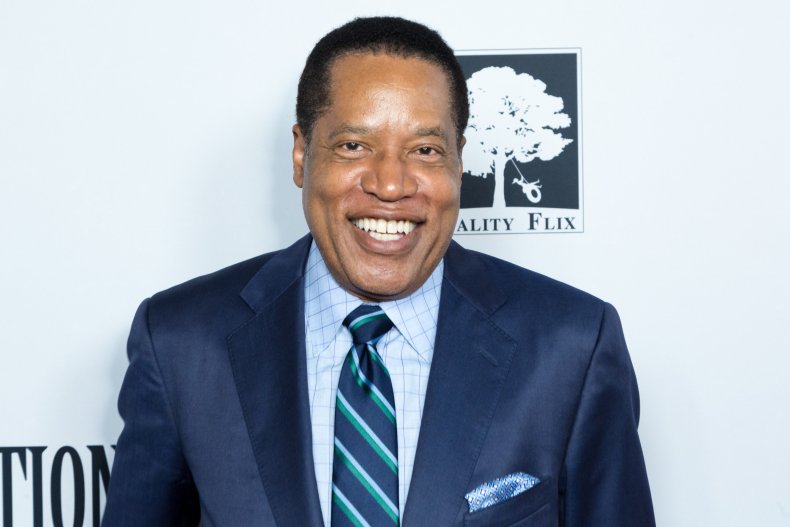 "And he checked if it was loaded—while I was talking," she said. "He wanted to make sure I saw that he had it," she told Politico. "It was an act of silent scorn—and anger."
"For a minute there...I thought it was a Phil Spector moment," Datig said, referring to the record producer who killed actress Lana Clarkson in 2003. "My fear was great, and I understood I needed to de-escalate."
She said Elder was threatening to throw her out on the street, and that she ended up locking herself into a downstairs bedroom.
In a statement to Newsweek, Elder said he's "never brandished a gun at anyone."
"I grew up in South Central; I know exactly how destructive this type of behavior is. It's not me, and everyone who knows me knows it's not me," Elder said.
"These are salacious allegations. People do not get into public life precisely because of this type of politics of personal destruction. I am not going to dignify this with a response—it's beneath me. While my opponents and the Newsom campaign would love to keep voters distracted, I am going to stay focused on the issues that inspired 1.7 million Californians to petition for this recall," he added.
Datig, who was engaged to Elder between 2013 and 2015, also told Politico he asked her to sign a non-disclosure agreement (NDA) and had been told by his assistant that "all Larry's girlfriends did."
She said she decided to speak with Politico, which said it obtained copies of the NDA, because she believed there is "too much at stake"in the upcoming recall election.
Speaking to Politico, Datig said that growing up in Switzerland around guns, she said she is a strong Second Amendment supporter.
"I was raised that you never use a gun in anger, and you don't use it when you're drunk or you're high to make a point in frustration—which is what he did," said Datig, who said Elder was a heavy consumer of marijuana and was under the influence.
Datig, who is conservative blogger and editor of the Front Page Index, has endorsed former San Diego Mayor Kevin Faulconer, a Republican, in the recall election, according to Politico.
Earlier this week, Elder came under fire for an article he wrote 21 years ago about women voters. In the article, Elder wrote that women know "less than men about political issues, economics, and current events."
"Good news for Democrats, bad news for Republicans. For the less one knows, the easier the manipulation," he wrote.
Elder, a conservative radio host, is leading the field of GOP candidates vying to replace Newsom, the incumbent Democrat, in the recall contest. Both Elder and Newsom are expected to skip a debate scheduled to take place Thursday evening in San Francisco.
Updated 08/19/2021, 6:40 p.m. ET: This story has been updated with a statement from Larry Elder.