Gavin Newsom, Top GOP Challenger to Skip Another California Recall Debate
California Governor Gavin Newsom and his top Republican challenger are both expected to skip a gubernatorial recall debate scheduled to take place Thursday evening in San Francisco.
The debate hosted by "Inside California Politics" is set to begin at 7 p.m. Debate organizers said three Republican candidates were confirmed as participants as of Thursday morning: businessman John Cox, former San Diego Mayor Kevin Faulconer and state lawmaker Kevin Kiley.
Neither Newsom nor Larry Elder, the conservative radio host who is leading the field of Republicans campaigning to replace the Democratic governor, have participated in earlier debates.
In late June, Newsom's campaign told Politico the governor did not intend on debating Republicans like Cox or reality television personality Caitlyn Jenner, both of whom are among the 46 candidates who appear on the California recall ballot.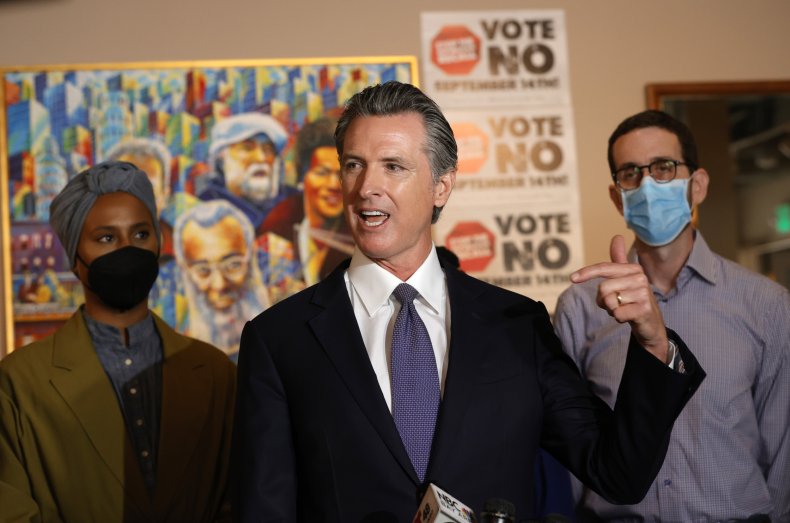 A spokesperson for Newsom's campaign reiterated those comments to Newsweek last month and said the governor would instead "be doing the job that Californians elected him to do—leading our economic recovery and tackling our state's most pressing challenges—like homelessness, disparities in education, and our aging infrastructure."
The first recall debate took place on August 4 at the Richard Nixon Presidential Library and Museum in Yorba Linda. It was attended by four GOP candidates: Cox, Faulconer, Kiley and former California congressman Doug Ose. Ose has since ended his gubernatorial campaign for health reasons.
Elder, who launched his campaign last month and quickly began leading in the polls among Republican candidates, did not participate in the August 4 debate. A spokesperson for Elder's campaign told Newsweek at the time Elder had a previous engagement and was unavailable to attend.
Ying Ma, Elder's communications director, added Elder wanted to debate Newsom but was not interested in debating his fellow Republicans.
"It makes no sense to have a circular firing squad among GOP contenders, where the only one who benefits is Gavin Newsom," Ma told Newsweek in late July.
Elder did not attend another debate hosted earlier this week by CapRadio, and his campaign confirmed with Newsweek Thursday morning that Elder would not be on the debate stage Thursday evening.
"As we've said before, this is an election about recalling Gavin Newsom, not a circular firing squad among the replacement candidates," Ma told Newsweek. "Larry would be glad to debate Newsom any time."
California voters have already begun receiving mail-in ballots for the recall election, which is scheduled for September 14. If more than 50 percent of voters decide to remove Newsom from office, the candidate who receives the greatest number of votes will replace him in office until the term Newsom is currently serving ends.
Thursday evening's debate will be broadcast by California stations KRON, KTLA, KSWB, KTXL, KSEE and KGET, according to "Inside California Politics." The debate is also expected to be live-streamed on each station's website.