Newsom, Jenner Out of First California GOP Recall Debate
Five Republicans vying to unseat California Governor Gavin Newsom in the state's upcoming recall election have agreed to participate in a debate at the Richard Nixon Presidential Library and Museum in Yorba Linda next month.
The debate will begin at 6 p.m. local time on August 4 and is expected to last 90 minutes, according to a press release distributed by The Richard Nixon Foundation, which is organizing the debate.
The foundation's president, Hugh Hewitt, will serve as the debate moderator. Former National Security Adviser Robert O'Brien will be a panelist, as will KTTV anchors Christine Devine and Elex Michaelson. Voters will be able to watch the televised event, which debate organizers said will be broadcast by KTTV.
Hewitt and the three panelists will decide which questions they want to ask but will not share those questions with participating candidates before the debate begins, according to the foundation.
Businessman John Cox, radio host Larry Elder, former San Diego Mayor Kevin Faulconer, state lawmaker Kevin Kiley and former U.S. Representative Doug Ose are the candidates set to participate. They are among 46 candidates included on the California secretary of state's certified list of individuals who qualified to run in the September 14 recall election.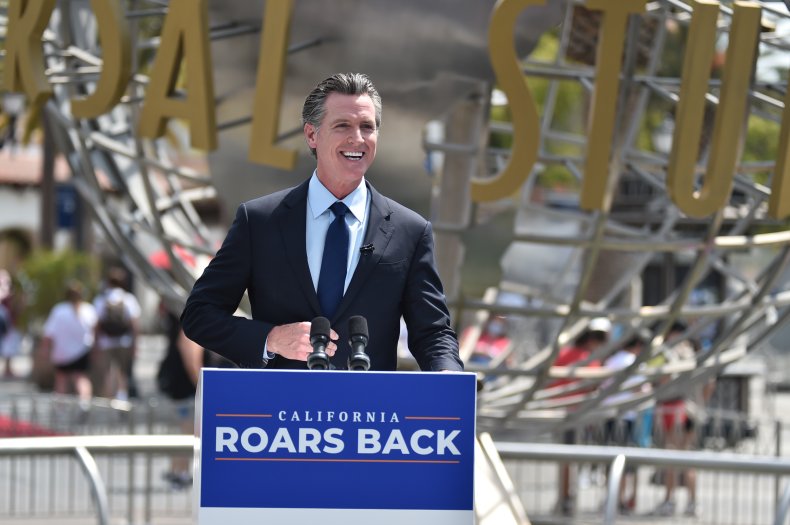 According to debate organizers, the debate participants were chosen "by applying the Richard Nixon Foundation's proprietary internal metrics that the Foundation has used to select speakers and debate participants at the Nixon Library for more than 30 years."
The foundation said it plans to host another debate for recall candidates on August 22. The same selection of candidates has been invited to that second event, debate organizers said.
Caitlyn Jenner, the reality television personality and former Olympian who announced her gubernatorial campaign this spring, was invited to join the list of debate participants but will be unavailable to do so, debate organizers said.
Jenner recently traveled to Australia for a work-related filming commitment and received criticism for proceeding with the trip amid the ongoing coronavirus pandemic. Her travel schedule also generated speculation about the status of her campaign, though she has said it is "in full operation."
"I am honoring a work commitment that I had made prior to even deciding to run for governor. There is no pause at all on this race to save CA," Jenner said in a series of tweets on July 16. "My campaign team is in full operation as am I. I am in this race to win for California, because it is worth fighting for."
Jenner's campaign later announced a bus tour slated to begin on August 12 in Venice, with additional details expected to be announced in the coming weeks.
An invitation for the August 4 debate was also extended to Newsom, but organizers said the Democrat did not provide a response.
Earlier this week, Faulconer told reporters he was interested in discussing the state's key issues in front of voters alongside fellow candidates and challenged Newsom to join him on a debate stage.
"I am prepared to stand on my record. And if Gavin Newsom wants to continue, he should not be afraid to stand up in front of you all on his record," Faulconer said Monday.
In response to Faulconer's challenge, Newsom's campaign pointed Newsweek to earlier comments made by campaign spokesperson Nathan Click.
"Instead of debating John Cox or Caitlyn Jenner's Trump-style climate or immigration ideas, Gov. Newsom will be doing the job that Californians elected him to do—leading our economic recovery and tackling our state's most pressing challenges—like homelessness, disparities in education, and our aging infrastructure," Click told Politico's California Playbook in late June.
A recent poll conducted by Emerson College for Inside California Politics found 48 percent of California voters surveyed preferred to keep Newsom in office, but 43 percent said they wanted Newsom removed—a 7 percent increase of support for the recall effort over polls conducted earlier this year.
Among the recall candidates, the poll said Elder was leading the field by 10 points, with Faulconer and Cox tied for second place at 6 percent. Kiely and Jenner were tied at 4 percent, with 8 percent of voters saying they intended to back another candidate and 53 percent saying they hadn't yet decided who to support.