A new poll released Wednesday suggests an increasing number of Californians intend to vote in favor of removing California Governor Gavin Newsom from office before his term officially ends.
Voters will make their decision during the recall election, which is scheduled to take place on September 14. If more than 50 percent of voters cast their ballots in favor of removing Newsom from office, the recall candidate who receives the greatest number of votes will become his successor.
While polls conducted earlier this year found a consistent 36 percent of registered voters in California supported removing Newsom from office, the new poll from Inside California Politics and Emerson College said that number has now jumped to 43 percent.
The earlier 36 percent held steady in polls conducted by the Berkeley Institute of Governmental Studies and SurveyUSA between late January and early May. Those polls found between 45 percent and 49 percent of respondents said they preferred to keep Newsom in office so he could complete his term. Between 15 percent and 19 percent of voters polled said they were undecided.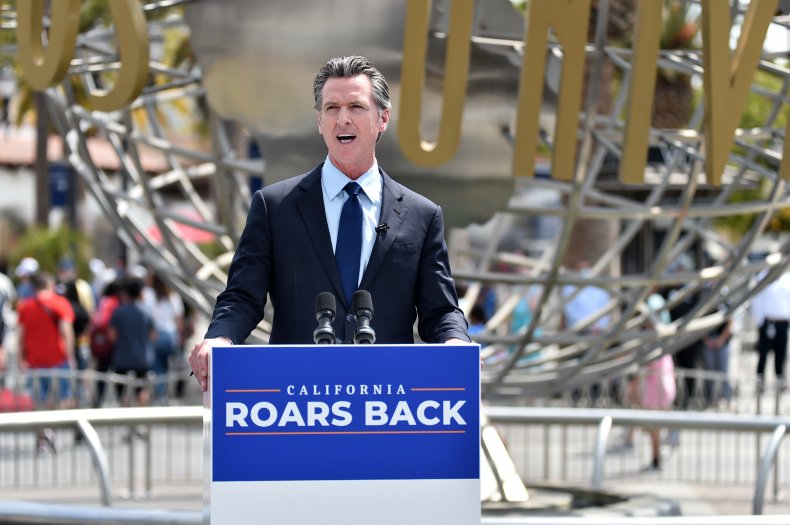 Though the new poll shows an uptick in support for recalling Newsom, 48 percent of respondents said they want him to remain in office, a number consistent with earlier polling. The remaining 9 percent of individuals polled said they were undecided.
A majority of voters said that if Newsom defeats the recall, they do not intend to vote him into a second term in office.
In addition to gauging support for the recall effort, voters were asked about Newsom's job performance on a handful of issues key among Californians. Newsom carried a 49 percent overall approval rating in the poll, though less than half of respondents said he did an "excellent" or "good" job handling the COVID-19 pandemic. More than half of respondents rated his handling of homelessness in California as "poor," and 36 percent of voters said he was similarly doing a "poor" job managing the state's wildfire response.
California's ongoing experiences with the pandemic, homelessness and wildfires have been hotly debated among Newsom and his recall challengers in recent months as the recall effort gained steam. After confirming recall organizers submitted the minimum number of valid signatures in support of the recall to California Secretary of State Shirley Weber this spring, the state's lieutenant governor set the recall election date earlier this month.
Weber's office on Wednesday released a certified list of 46 candidates who will challenge Newsom in the recall.
Wednesday's poll was conducted among 1,085 registered California voters on July 19 and July 20 with a 2.9 percent margin of error. Its results identified conservative radio host Larry Elder as the recall candidate leading the field with 16 percent of support from poll respondents. Fellow Republicans John Cox, a businessman who lost his earlier bid to become California's governor to Newsom in 2018, and Kevin Faulconer, the former mayor of San Diego, both garnered 6 percent of support from respondents. Reality television personality Caitlyn Jenner and state lawmaker Kevin Kiley were both polling at 4 percent, the poll said.
Newsom campaign spokesperson Nathan Click emphasized the importance of voting in the upcoming recall election when contacted for comment about the poll's results.
"Californians see this Republican recall for what it is—a blatant attempt by Trump supporters to grab power and impose their Republican agenda on California," Click told Newsweek. "Democrats can't get complacent—we have to vote. If Californians vote, we win."
Updated 7/22 at 4:41 p.m. ET: This article has been updated to include comments from Gavin Newsom's campaign spokesperson Nathan Click.