Larry Elder Leads Gavin Newsom Recall Challengers By 10 Points in New Poll
Conservative radio host Larry Elder is leading the field of candidates running to remove California Gov. Gavin Newsom from office by way of a recall election scheduled to take place on Sept. 14, according to a new poll released Wednesday.
The Inside California Politics and Emerson College poll found California voters favored Elder by 10 points when asked which of the recall candidates they planned to support.
Speaking with KRON-TV Wednesday evening, Elder said he announced his candidacy earlier this month, and has thus not been a candidate in the race to recall Newsom for long. Elder credited his public profile as a nationally syndicated radio host with his showing in the poll.
"I think the reason I've done so well is because I'm pretty well-known in this state," Elder said. "People know what I stand for and know what I believe."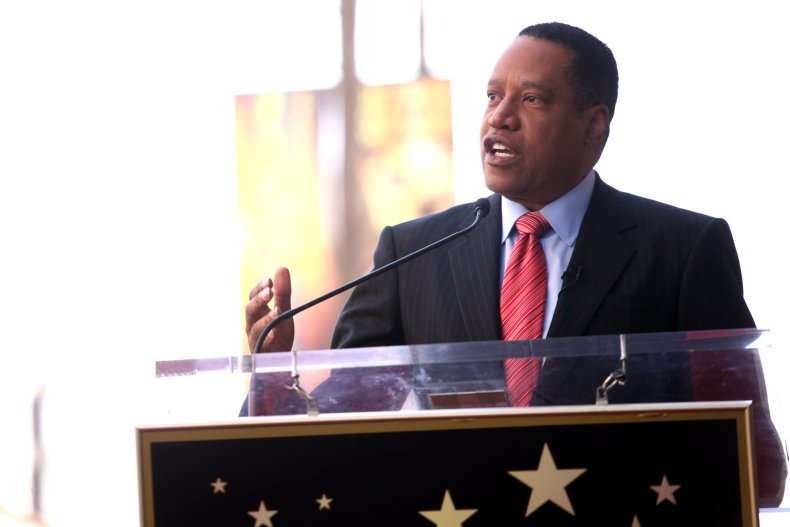 While 16 percent of poll respondents said they intended to vote for Elder, businessman John Cox and former San Diego Mayor Kevin Faulconer each received 6 percent of voter support in the poll. Earlier polls conducted in the spring before Elder announced his campaign found Cox and Faulconer, both Republicans, vying for the lead.
Reality television personality and Olympian Caitlyn Jenner garnered 4 percent of support from voters, as did state lawmaker Kevin Kiley. YouTube personality Kevin Paffrath polled at 2 percent, while an additional 8 percent of the polled voters said they intended to support another candidate. The remaining 53 percent of respondents said they weren't yet sure who they would support.
Though the poll showed Elder leading among the recall candidates by double digits, California voters first have to decide to remove Newsom from office before a decision can be made about who will replace him. The first of two questions on the recall ballot will ask voters if they want Newsom to leave office before his term officially ends next year. If more than 50 percent of voters say they do, the recall candidate who receives the greatest number of votes will be the one to replace him.
According to Wednesday's poll, 43 percent of respondents said they wanted Newsom recalled. An additional 9 percent said they were undecided, while 48 percent said they preferred to keep Newsom in office. The poll was conducted among 1,085 registered California voters on July 19 and July 20 with a 2.9 percent margin of error, according to Inside California Politics.
When reached for comment about the poll, Newsom campaign spokesperson Nathan Click emphasized the importance of voting in the upcoming recall election.
"Californians see this Republican recall for what it is—a blatant attempt by Trump supporters to grab power and impose their Republican agenda on California," Click told Newsweek. "Democrats can't get complacent—we have to vote. If Californians vote, we win."
California election officials released the state's certified recall candidate list on Wednesday evening, a few hours after the poll was released. The updated list includes 46 candidates who qualified to run in the recall election, five more than were on a preliminary list released last week.
Elder was one of the five candidates whose name was added. He sued California Secretary of State Shirley Weber's office on Monday contesting her decision to leave his name off the preliminary list, and a judge ruled in Elder's favor Wednesday afternoon.
Updated 7/22 at 4:37 p.m. ET: This article has been updated to include comments from Gavin Newsom's campaign spokesperson Nathan Click.