Gavin Newsom Faces Debate Challenge from Recall Rival Kevin Faulconer
California Gov. Gavin Newsom is facing calls from one of his top Republican rivals to participate in two debates ahead of the gubernatorial recall election scheduled to take place Sept. 14.
Kevin Faulconer, the former mayor of San Diego who announced his intent to run for governor in February, made his challenge to Newsom, a Democrat, during a Monday news conference in Los Angeles.
"I am prepared to stand on my record. And if Gavin Newsom wants to continue, he should not be afraid to stand up in front of you all on his record," Faulconer said.
One of the proposed debates would be televised on the Spanish-language network Univision, Faulconer said. The second would be aired on English-language television.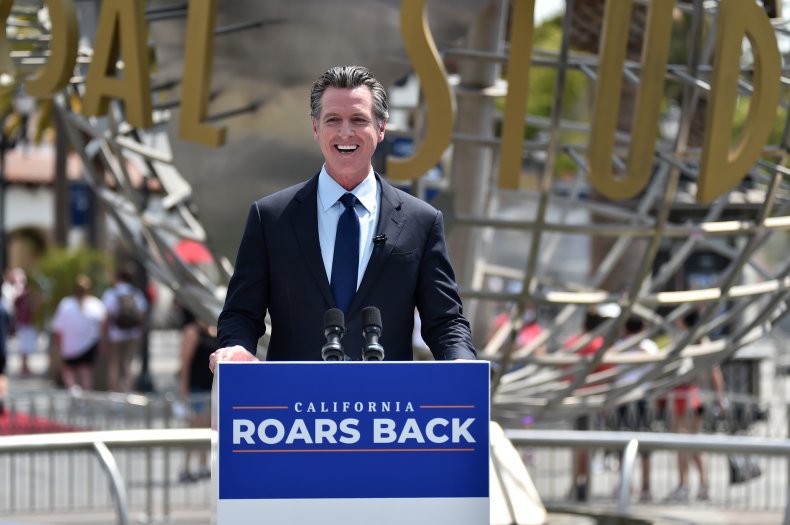 "I think that that's incredibly important that we reach the broadest spectrum of Californians, which is of course why we are here today out in front of Univision," Faulconer told reporters.
Faulconer said Newsom has "failed" California's Latino community through cost-of-living price increases and pandemic-related closures.
"With his failed response to this pandemic from school closures to lost jobs—this community is hurting and it's time to hold him accountable," Faulconer tweeted Monday afternoon.
Faulconer is one of 41 candidates who qualified for the recall election ballot. A final list of candidates is expected to be released by the California secretary of state's office on Wednesday.
Faulconer said he would "absolutely" consider participating in a debate against Newsom that involved other recall candidates.
"I'm happy to debate the governor anytime, anyplace," he added.
When contacted for comment, Newsom's campaign directed Newsweek to Politico's California Playbook for June 30, which assessed an earlier call for debates made by former California congressman Doug Ose, a Republican. At the time, Newsom campaign spokesperson Nathan Click told Politico Newsom would continue to perform his duties as governor instead of participating in debates ahead of the recall election.
"Instead of debating John Cox or Caitlyn Jenner's Trump-style climate or immigration ideas, Gov. Newsom will be doing the job that Californians elected him to do—leading our economic recovery and tackling our state's most pressing challenges—like homelessness, disparities in education, and our aging infrastructure," Click said.
Newsom is the second California governor in history to face a recall election, with the first such election succeeding in the removal of former Democratic Gov. Gray Davis in 2003. Of the 55 recall efforts aimed at removing a California governor from office, six have targeted Newsom, with only one qualifying for a recall election after the minimum number of valid voter signatures was submitted to state officials earlier this year.
California Lt. Gov. Eleni Kounalakis designated Sept. 14 as the date of the recall election earlier this month.
Polls conducted this spring identified Faulconer and businessman John Cox, whom Newsom defeated in his 2018 bid for governor, as two of the most competitive candidates involved in the recall effort. Also on the ballot will be Ose, Republican state assemblyman Kevin Kiley and former Olympian and television personality Caitlyn Jenner, among others.