California Lawmaker Kevin Kiley Enters Race to Recall Gavin Newsom
State Assemblyman Kevin Kiley announced on Tuesday he is joining the pool of candidates who plan to challenge California Governor Gavin Newsom in an upcoming recall election.
"It's official," Kiley tweeted Tuesday afternoon. "I'm running to replace Gavin Newsom as the Governor of California."
Kiley, a Republican who represents California's 6th Assembly District, has been critical of the Democratic governor's handling of the coronavirus pandemic, and said in a blog post announcing his campaign that his goal will be "renewing the meaning of We the People," which he added is "what the Recall has been about from the beginning."
"Over the next 70 days, I'll fight in every way I can to get our movement across the finish line," Kiley's blog post said. "We're in it to win."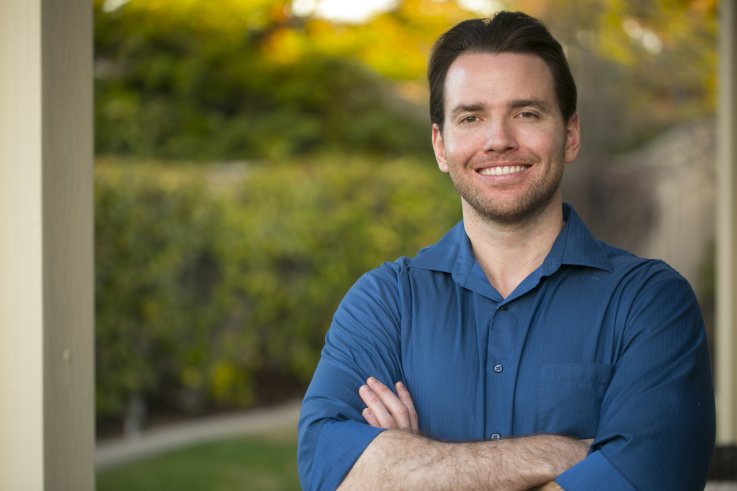 California State Assemblyman Kevin Kiley announced his campaign to challenge Governor Gavin Newsom in a recall election expected to take place this fall.
Kevin Kiley
Kiley began representing Californians in El Dorado, Placer and Sacramento counties in 2016. He serves as vice chair of the Education Committee and of the Privacy and Consumer Protection Committee, according to his district website.
Kiley mentioned in a post on his blog last month that he was considering entering the recall race. In it, Kiley said he did not initially imagine himself as a recall candidate, but was encouraged to consider running by Orrin Heatlie, Recall Gavin Newsom's lead proponent.
Heatlie "offered to organize a committee of Recall leaders to explore that question, whether my candidacy would best serve the goals of removing Newsom and bringing the fundamental change California needs," Kiley wrote.
Kiley is one of more than 50 people who has indicated an intention to challenge Newsom in the recall election, according to an early July Ballotpedia calculation. There is no limit on the number of candidates who can add their names to a recall ballot.
In California's last gubernatorial recall election, which resulted in former Governor Gray Davis' ouster and replacement with Arnold Schwarzenegger in 2003, a total of 135 challengers appeared on the ballot.
Davis is the only governor who has been recalled since California began allowing the procedure in the early 1900s, though the recall campaign targeting Newsom marks the 55th such attempt.
Newsom has faced recall efforts before, but the Recall Gavin Newsom campaign became the first to gather enough signatures to qualify for a ballot in March. California's lieutenant governor last week designated September 14 as the date of the recall election, after the results of the recall petition were certified by California Secretary of State Shirley Weber.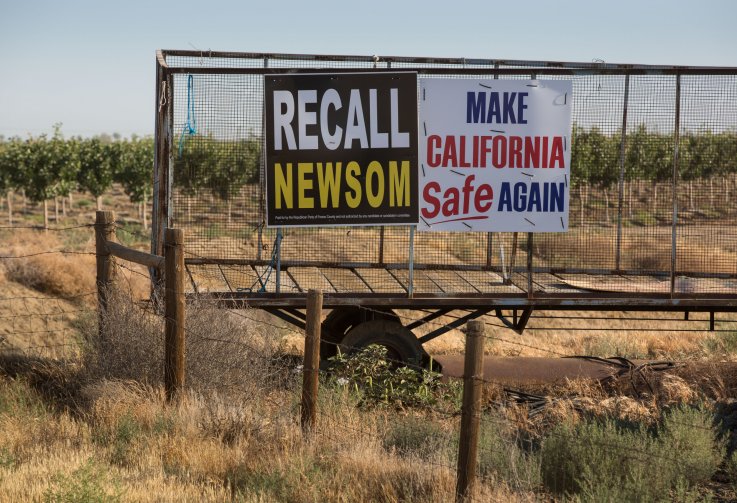 "Recall Newsom" and "Make California Safe Again" political signs are planted in a barren field along Interstate 5 as viewed on May 31, 2021, near Gustine, California.
George Rose/Getty Images
Recall organizers cite a wide range of reasons they believe Newsom should be recalled that include his policy positions on immigration, gun safety legislation and taxes. But Newsom's handling of the coronavirus pandemic energized their efforts, according to former recall spokesperson Randy Economy.
Newsom began battling the recall effort in March with the launch of his campaign, Stop the Republican Recall. The campaign website says the recall effort is driven by a "partisan, Republican coalition of national Republicans, anti-vaxxers, Q-Anon conspiracy theorists and anti-immigration Trump supporters," a message it reiterated in its first digital ads released last week.
One of those ads concludes with a narrator celebrating California's official June 15 reopening by saying, "Governor Newsom is just getting started—and so is our California comeback."
Kiley responded to the ad in a tweet that day describing its messaging as "ominous."
"A new anti-Recall ad ends with the six most ominous words I've ever heard: 'Governor Newsom is just getting started,'" Kiley wrote.