Larry Johnson Claims NFL and NBA of Having a 'Effeminate Agenda' in Bizarre Series of Tweets
Former NFL running back Larry Johnson said in a series of tweets on Thursday the NFL and the NBA have an "effeminate agenda" to indoctrinate professional sports with an inclusive message because of the buying power of the LGBTQ community.
The retired player argued that because of past instances where professional sports organizations participated in inclusive events promoting equality, this meant these organizations had an "effeminate agenda" but that "we" — presumably those in the professional sports organizations — are "not ready to have that conversation yet."
The tone of the tweets shifted wildly, suggesting the slim bodies of some players in the NBA is a sign of effeminacy. He also made light of two Tennessee Titans, linebacker Brian Orakpo and safety Michael Griffin, having an ownership stake in the Austin, Texas cupcake shop Gigi's Cupcakes as another example of the "effeminate" problem in professional sports. Additionally, he brings up the NBA's involvement in a Vogue fashion show and the NFL's apparent "feminine behavior" towards helmets.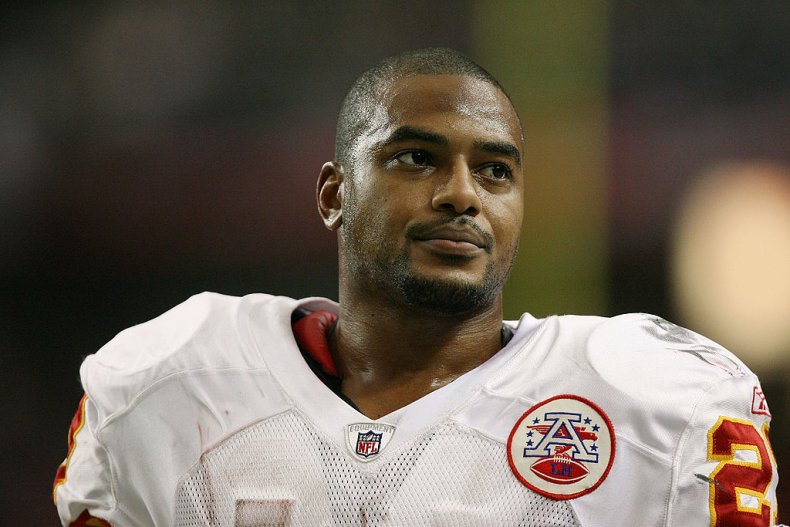 It's not clear what prompted the tweets, but the timing of the tweets coming so shortly after NFL veteran Ryan Russell came out as bisexual is suspect.
His tweets prompted the obvious response on Twitter: anger and confusion. One Twitter user replied, "Just say you hate gays and go. It doesn't need to be all this." Johnson shared that tweet, saying "Nothing said, said I hate gays."
In another response, he claims he's not being homophobic, but rather, warning how homophobic sports fans will respond to this "effeminate agenda."
Though one of Johnson's tweets appeared to criticize the NFL for treating some of its players' domestic violence issues lightly, Johnson himself has a criminal history of violence against women. His record shows multiple arrests for assaulting women.
Most recently, in 2012, Johnson was arrested in Las Vegas for allegedly assaulting an ex-girlfriend. He reportedly choked her to the point she blacked out. Johnson alleged he was trying to get the unidentified woman out of his hotel room when she started to attack him.
He reached a plea deal in the subsequent trial, and was sentenced to one year probation. Johnson was also sentenced to mandatory counseling, community service and a $345 fine.
In a 2017 interview with the Washington Post, Johnson said he believes he has chronic traumatic encephalopathy (CTE), a result of multiple head injuries. He attributes some of his bad behavior and memory loss to CTE in the interview.