Many of Las Vegas' iconic hotels and casinos were underwater on Thursday night and early Friday morning, as heavy rain caused a massive flash flood to hit the city, and the entire Las Vegas Strip was submerged.
It was the second night of stormy weather for the city, which is currently being hit by monsoonal weather.
Videos shared on social media show water rushing through Las Vegas Boulevard, with the rain being pushed in every direction by violent wind gusts.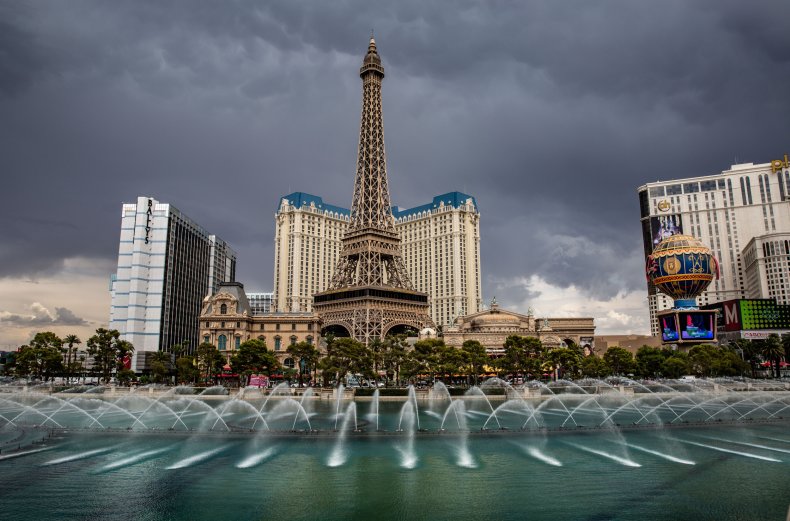 One video, posted by Perez Hilton on Twitter, showed cars stuck in the water which had completely submerged an underpass, the flooding up to cover the vehicles' tires.
The flooding didn't spare the shiny casinos the city is famous for.
A video filmed by journalist Mick Akers showed the staff at Circa Sportsbook, the largest sportsbook operator in the world founded by casino owner Derek Stevens in 2019, busy sweeping away the water from the facility's floors.
Another Twitter user captured the moment Freemont Street, the heart of downtown Vegas and home to many of its world-famous hotel-casinos and nightly shows, went dark as the rain hit the city.
Rain was pouring inside the famed Caesar's Palace, as shown by another video posted on Twitter, with water entering from holes in the ceiling.
Several locations in the valley received over an inch of rain in two hours. Winds were blowing at 40 to 50 mph speed, with a record gust of 71 mph recorded at Flamingo and Eastern, according to the Las Vegas Review Journal.
A Flash Flood and Severe Thunderstorm warning was issued on Thursday night for the Las Vegas Valley, with residents and visitors asked to watch out for heaving downpours, lightning and strong wind gusts and turn away from flooded roadways, seeking an alternate route or wait before heading out.
Around 10 p.m., NV Energy reported that over 7,000 of its customers, most of whom were in central and eastern parts of the valley, were without power.
There were no reported injuries in the city at the time of publication of this article.
The National Weather Service office in Las Vegas announced early on Friday that the rain has ended across most of the Vegas valley, but some areas were still flooded.
The warning remains in place until 2:45 a.m.
Las Vegas is not the only area in the United States that has been affected by extreme weather this week, with Kentucky being hit by massive flooding on Thursday. At least eight people were reported dead in the state, after flooding that Kentucky's governor Andy Beshear described as "devastating."
Thunderstorms also caused flash flooding in St. Louis, Missouri, and mudslides in western Virginia and southern West Virginia in recent days.