Las Vegas Mayor Pro Tem Involved with Coronavirus Response Believed Cancer Was a 'Fungus'
Las Vegas Mayor Pro Tem Michele Fiore said she believed cancer was a "fungus" that could be flushed with salt water or sodium carbonate back in 2015.
During the radio broadcast, Fiore told listeners of her show that there were unapproved procedures that were "very inexpensive" as she intended to introduce a bill allowing access to treatments not approved by the U.S. Food and Drug Administration.
Fiore, a Las Vegas Councilwoman, has been involved with the city's response to the novel coronavirus pandemic, uploading a more recent video to social media in which she drew comparisons between influenza and COVID-19 deaths.
Meanwhile, Las Vegas Mayor Carolyn Goodman has attracted national criticism in the last few days over her comments on the novel coronavirus and willingness to offer the city up the city as a "control group" for COVID-19 tests. In an interview with MSNBC on Tuesday, Goodman said she assumed that "everybody is a carrier" of the coronavirus, but wanted Las Vegas to be opened anyway.
Newsweek has contacted the mayor's office for comment and will update this article with any response.
In 2015, The Washington Post reported Fiore as saying: "If you have cancer, which I believe is a fungus, and we can put a pic line into your body and we're flushing with, say, salt water, sodium carbonate, through that line and flushing out the fungus. These are some procedures that are not FDA-approved in America that are very inexpensive, cost-effective."
The Nevada reporter Jon Ralston first covered the Mayor Pro Tem's comments, linking back to a radio show which now appears to have been removed from Councilwoman Fiore's website.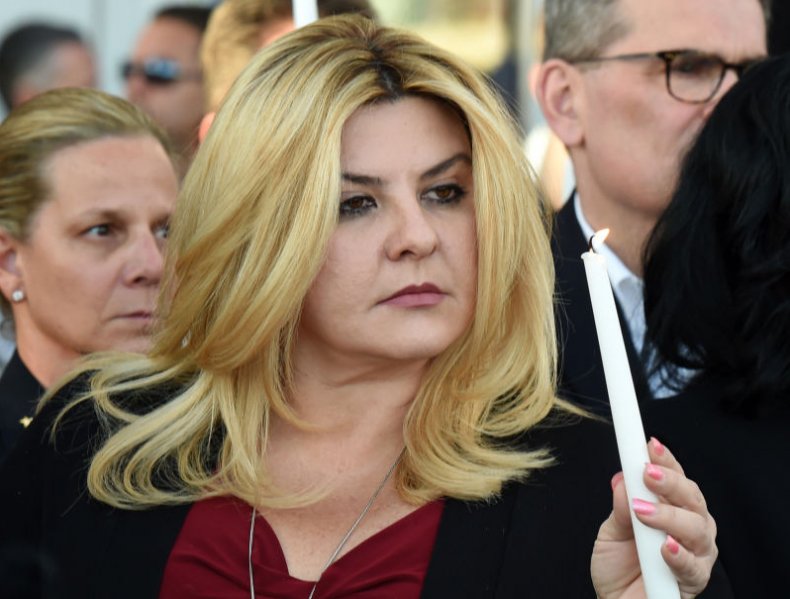 The false claim that cancer is a fungus that can be dealt with through salt water or sodium carbonate has been routinely debunked by experts on the disease.
Speaking to Salon about Fiore's claim in 2015, American Cancer Society's then-Director of Medical Content Ted Gansler said: "There is no scientific evidence I know of to support the idea that 'cancer is a fungus' or that cancer can be cured by sodium bicarbonate (which is not even an effective treatment for real fungal infections).
"Not only is there a lack of clinical evidence to support the claim that sodium bicarbonate causes cancers to shrink or helps patients with cancer to live longer, the idea that 'cancer is a fungus' is incompatible with a large body of scientific knowledge (based on epidemiologic studies and laboratory experiments) about the causes of cancer and the molecular changes that distinguish cancer cells from normal ones."
In a statement provided to Newsweek, Gansler, now the group's strategic director of pathology research, said: "As a pathologist who has examined thousands of specimens from cancers and fungal infections, I feel completely confident in saying that claims that cancer is a fungus are based on either a very profound level of misunderstanding or a willful preference of conspiracy theories over widely accepted scientific facts.
"Secondly, sodium bicarbonate or sodium carbonate are not even effective in treating real fungal infections. Ask your local pharmacists to recommend treatment for athlete's foot (a real fungus infection) and they will show you a tube of cream containing a real antifungal drug," Gansler said. "Although this lunacy seems laughable, it is deadly serious. Firstly, any patient with cancer who is counting on this bogus treatment for cancer is putting their life at risk."
In a blog from 2014, the U.K. charity Cancer Research also said there was "no evidence to show that this is true," adding that there was overwhelming evidence showing it starts from people's cells.
"The 'simple solution' is apparently to inject tumors with baking soda (sodium bicarbonate)," the charity wrote. "This isn't even the treatment used to treat proven fungal infections, let alone cancer. On the contrary, there's good evidence that high doses of sodium bicarbonate can lead to serious – even fatal – consequences."
Although the mortality rate of the disease is not yet known for certain, the National Institute of Allergy and Infectious Diseases Director Dr. Anthony Fauci said in March that it was "probably closer" to 1 percent. The death rate from the flu is around 0.1 percent.
"I think that May 1 date, I'm going to throw it out there, I think that May 1 date is going to stick," the mayor pro tem later said, setting out her desired date for reopening the city. "When you have facts and not opinions, I don't see, if we keep going down this route... I don't see how we cannot open May 1. So that is exciting, we've got to start gearing up."
At the time of writing, there are have been more than 3,900 confirmed COVID-19 cases in Nevada and 163 related deaths.
Update 04/24/20 05:48 a.m. ET: This article was updated with a fresh statement from Ted Gansler of the American Cancer Society.
Centers for Disease Control and Prevention Advice on Using Face Coverings to Slow Spread of COVID-19
CDC recommends wearing a cloth face covering in public where social distancing measures are difficult to maintain.
A simple cloth face covering can help slow the spread of the virus by those infected and by those who do not exhibit symptoms.
Cloth face coverings can be fashioned from household items. Guides are offered by the CDC. (https://www.cdc.gov/coronavirus/2019-ncov/prevent-getting-sick/diy-cloth-face-coverings.html)
Cloth face coverings should be washed regularly. A washing machine will suffice.
Practice safe removal of face coverings by not touching eyes, nose, and mouth, and wash hands immediately after removing the covering.
World Health Organization advice for avoiding spread of coronavirus disease (COVID-19)
Hygiene advice
Clean hands frequently with soap and water, or alcohol-based hand rub.
Wash hands after coughing or sneezing; when caring for the sick; before, during and after food preparation; before eating; after using the toilet; when hands are visibly dirty; and after handling animals or waste.
Maintain at least 1 meter (3 feet) distance from anyone who is coughing or sneezing.
Avoid touching your hands, nose and mouth. Do not spit in public.
Cover your mouth and nose with a tissue or bent elbow when coughing or sneezing. Discard the tissue immediately and clean your hands.
Medical advice
Avoid close contact with others if you have any symptoms.
Stay at home if you feel unwell, even with mild symptoms such as headache and runny nose, to avoid potential spread of the disease to medical facilities and other people.
If you develop serious symptoms (fever, cough, difficulty breathing) seek medical care early and contact local health authorities in advance.
Note any recent contact with others and travel details to provide to authorities who can trace and prevent spread of the disease.
Stay up to date on COVID-19 developments issued by health authorities and follow their guidance.
Mask and glove usage
Healthy individuals only need to wear a mask if taking care of a sick person.
Wear a mask if you are coughing or sneezing.
Masks are effective when used in combination with frequent hand cleaning.
Do not touch the mask while wearing it. Clean hands if you touch the mask.
Learn how to properly put on, remove and dispose of masks. Clean hands after disposing of the mask.
Do not reuse single-use masks.
Regularly washing bare hands is more effective against catching COVID-19 than wearing rubber gloves.
The COVID-19 virus can still be picked up on rubber gloves and transmitted by touching your face.