Trump's Top Coronavirus Doctor Says It's Much More Lethal Than Seasonal Flu
Dr. Anthony Fauci, a leading expert on the spread of infectious diseases working with President Donald Trump's administration to contain the COVID-19 outbreak, told Fox News on Tuesday that the virus would be "ten times more lethal than the seasonal flu" with a mortality rate of 1 percent.
The National Institute of Allergy and Infectious Diseases (NIAID) director told the network's Hannity show last night that the mortality rate for COVID-19 was "about 2, 2.5 percent" at the time but was "probably closer" to 1 percent.
He also predicted that around 80 percent of people who catch COVID-19 would "do well" against the virus, adding that around 15 percent of those infected could "get into trouble."
The member of President Trump's coronavirus task force also struck a positive note, saying he believed everyone was doing "really well" in responding to the new coronavirus.
His remarks came after the number of confirmed COVID-19 cases in the United States passed the 1,000 mark and the total number of deaths from the virus in America reached 29, according to the Johns Hopkins University tracker. Eight people have reportedly recovered.
In a round of quickfire questions, show host Sean Hannity asked the disease expert if he believed President Trump's decision to place travel restrictions on China likely prevented the virus spreading to thousands more.
"There's no question that if we had not done that in a timely way, there would've been many more travel-related cases from China," Dr. Fauci replied.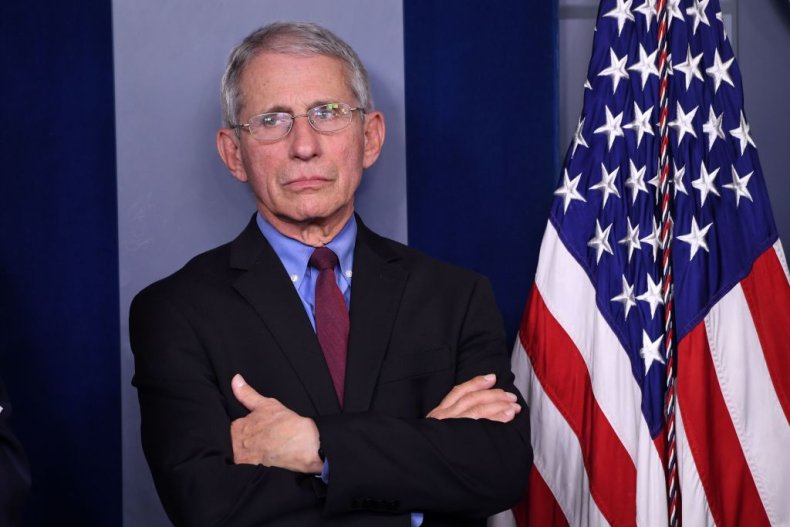 He later added: "There's a lot of scepticism when you do a travel ban, whether or not your really going to interfere with any aspect of an outbreak, because you might delay it but what's going to happen is you're going to wind up having a big outbreak anyway.
"That's true when you have multiple different countries at the same time who have outbreaks and you can't exclude the entire world. But the unique situation with China back at the end of December, the beginning of January, was that they were the sole source of that at first. And to block them from coming in was unquestionably the right move. Even though it was a controversial move, it was the right move."
Asked how dangerous the virus was for people that did not have pre-existing conditions or were not of old age, Dr. Fauci said "about 80 percent" of people who get infected would "do well."
"They'll get sick, they're going to be uncomfortable, they're not going to feel well. But they're going to spontaneously recover," he added. "About 15 percent of them, according to the data from China, Korea etc., those are individuals that are going to get into trouble, and the mortality in that group is very high.
"But to make sure your viewers get an accurate idea about what goes on, you mentioned seasonal flu. The mortality for seasonal flu is 0.1. The mortality for this is about 2, 2.5 percent. It's probably lower than that, it's probably closer to 1. But even if it's 1 [percent] it's ten times more lethal than the seasonal flu."
He later added that he thought everyone was "doing really well" in their responses to the COVID-19 outbreak.
President Trump tweeted a comparison between flu and COVID-19 death on Monday, adding that "nothing is shut down" as a result of the virus.
"At this moment there are 546 confirmed cases of CoronaVirus, with 22 deaths," he tweeted. "Think about that!"
Newsweek has contacted NIAID to obtain further comment from Dr. Fauci and will update this article with any response. The White House has also been contacted for comment.
Speaking to Newsweek by email, Dr. Mike Tildesley of the Department of Life Sciences at the University of Warwick said a challenge of estimating the COVID-19 mortality rate was a lack of data on the number of people experiencing mild symptoms, or no symptoms at all, who are not seeking treatment.
"The estimates that we are seeing for mortality rate may be misleading, as what is really being quoted in many instances is the 'case fatality rate,' which is defined as the number of deaths owing to a disease divided by the total number of people diagnosed with the disease," he said.
"This case fatality rate has been seen to vary significantly country by country, which may at least in part be due to the differences in access to health care and testing. Should the number of people infected but not diagnosed be high, then the true mortality rate could be significantly lower than the quoted case fatality rate."
He added that it was "difficult to say definitively whether the true mortality rate is 1 percent or even lower than that," due to difficulties quantifying the number of mild cases.
Some of Dr. Fauci's comments on the mortality rate of COVID-19 echoed remarks made by a chief scientific adviser to the U.K. government last week.
Sir Patrick Vallance told Sky News that the new coronavirus had a higher death rate than flu but would be "a mild illness" for the "vast majority of people."
"For 98, 99 percent of people, this is going to be a mild illness," he said. "For a small number this can turn into a serious pneumonia, and for a smaller number again this can lead to death, particularly in the elderly and those who have got other coexisting medical problems."
The World Health Organization's Director-General Tedros Adhanom Ghebreyesus said last week that the mortality rate for COVID-19 was 3.4 percent
At the time of writing, the total number of confirmed COVID-19 cases worldwide stands at a little more than 121,000. Although more than 4,300 people across the globe have reportedly died as a result of the new coronavirus, there have been more than 66,200 cases of recovery, according to Johns Hopkins University.
Below is a map from Statista representing Johns Hopkins data on the spread of COVID-19 as of March 11.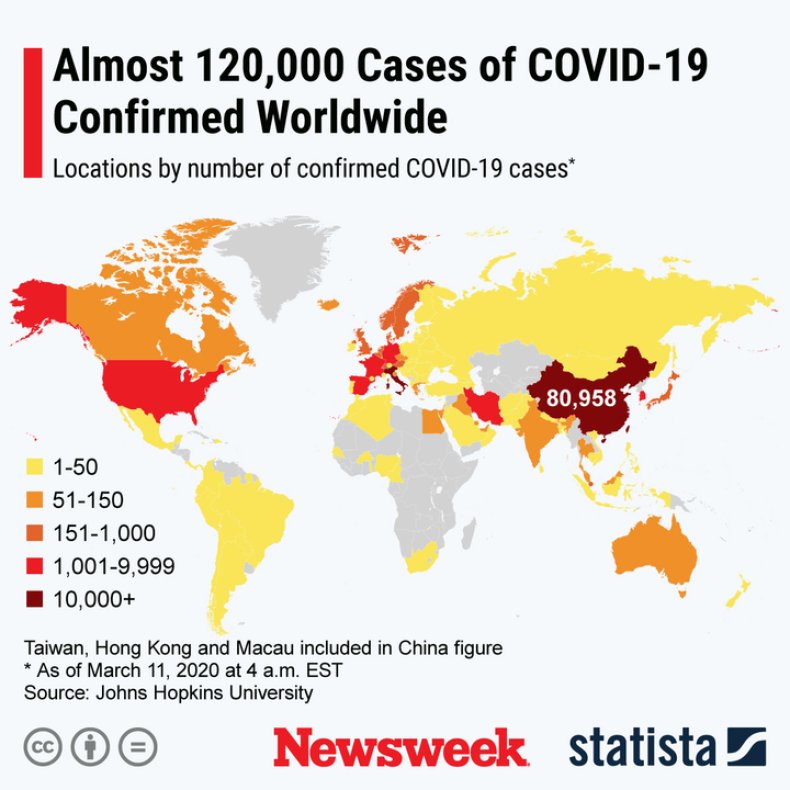 World Health Organization advice for avoiding spread of coronavirus disease (COVID-19)
Hygiene advice
Clean hands frequently with soap and water, or alcohol-based hand rub.
Wash hands after coughing or sneezing; when caring for the sick; before; during and after food preparation; before eating; after using the toilet; when hands are visibly dirty; and after handling animals or waste.
Maintain at least 1 meter (3 feet) distance from anyone who is coughing or sneezing.
Avoid touching your hands, nose and mouth. Do not spit in public.
Cover your mouth and nose with a tissue or bent elbow when coughing or sneezing. Discard the tissue immediately and clean your hands.
Medical advice
If you feel unwell (fever, cough, difficulty breathing) seek medical care early and call local health authorities in advance.
Stay up to date on COVID-19 developments issued by health authorities and follow their guidance.
Mask usage
Healthy individuals only need to wear a mask if taking care of a sick person.
Wear a mask if you are coughing or sneezing.
Masks are effective when used in combination with frequent hand cleaning.
Do not touch the mask while wearing it. Clean hands if you touch the mask.
Learn how to properly put on, remove and dispose of masks. Clean hands after disposing of mask.
Do not reuse single-use masks.