Las Vegas Raiders owner Mark Davis has said he would support a fresh set of protests by NFL players against police brutality and social injustice in the wake of George Floyd's death.
Forty-six-year-old Floyd died on May 25 while in custody of the Minneapolis Police Department.
Video footage emerged of a white policeman kneeling over Floyd's neck for several minutes as Floyd pleaded with officers and shouted that he couldn't breathe, before seemingly losing consciousness.
A number of NBA, NFL and NHL players, coaches and executives have joined a growing chorus of voices condemning Floyd's death and backing protests against racial discrimination.
Davis made clear he wouldn't stand in the way of Raiders players, should they choose to demonstrate when the NFL season gets underway on September 10.
"If they have something to say, I'll stand beside them," he told ESPN on Sunday night.
"I won't stand behind them. I'll stand beside them. And if there's something I don't know, I'm happy to listen to them. We've got to find a solution."
On Saturday, the NFL and league commissioner Roger Goodell added their voices to those protesting Floyd's murder. Goodell's stance, however, was widely panned with critics pointing to the NFL commissioner's handling of the protests that swept football four years ago.
Colin Kaepernick first knelt during the national anthem to protest police brutality and racial discrimination in 2016.
The gesture transformed the former San Francisco 49ers quarterback into a global icon, but split public opinion in the U.S. and contributed to him being ostracized by the league.
Last year, Kaepernick and the NFL settled a lawsuit the Nevada alumnus had filed when none of the 32 franchises offered him a workout after he became a free agent.
While some owners sided with the NFL at the height of the protests, Davis backed his players.
"The only thing I can ask them to do is do it with class," he said in September 2017.
"Do it with pride. Not only do we have to tell people there is something wrong, we have to come up with answers."
On Sunday, Davis reiterated the concept, adding that he had spoken with Nevada Attorney General Aaron Ford and Clark County Sheriff Joseph Lombardo and that the road to finding a solution began at local level.
"I want to get together with players, coaches and community leaders to get the conversation going, to discuss how to go forward," he explained.
"The solutions start here at the local level, with the attorney general, the sheriff and other community leaders to open up lines of communication. That's the beginning.
"Not only do we have to tell people there's something wrong, we have to come up with solutions—as Americans and human beings. I'm trying to be positive but truthful."
As Davis spoke to ESPN, nationwide protests continued in cities across the U.S. including Minneapolis, Washington and Los Angeles.
In a minority of cases, protests have been marred by looting.
Echoing the stance of Killer Mike—the Atlanta rapper who delivered a powerful TV statement on Friday night calling for protesters not to vandalize the city but to take political actions—Davis said he understood the protesters' motives but warned that looting and setting buildings on fire would set their quest for justice back.
"To be honest I'm surprised the resulting violence hasn't been much worse," he said in an official statement published by the Raiders.
"Emotions are high, the temperature is hot and there's static in the air. But burning down your brothers' house is ultimately not the answer."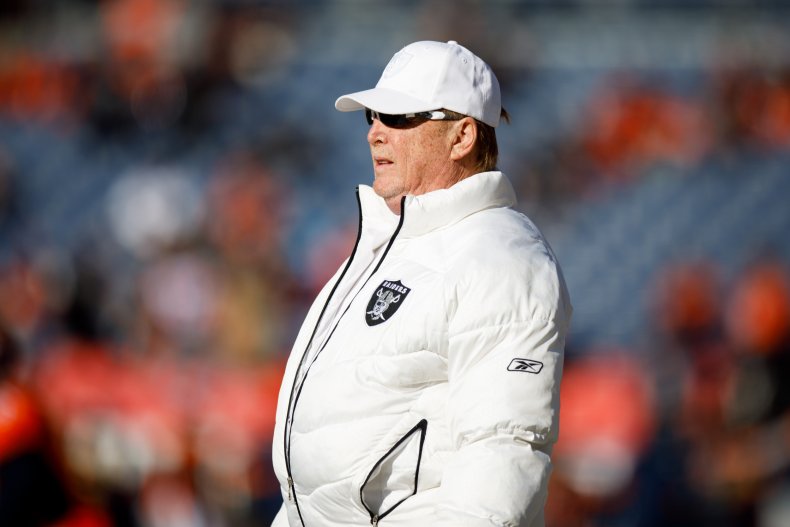 Uncommon Knowledge
Newsweek is committed to challenging conventional wisdom and finding connections in the search for common ground.
Newsweek is committed to challenging conventional wisdom and finding connections in the search for common ground.
About the writer
Dan Cancian is currently a reporter for Newsweek based in London, England. Prior to joining Newsweek in January 2018, he was a news and business reporter at International Business Times UK. Dan has also written for The Guardian and The Observer.