Horace Grant Criticizes 'The Last Dance' Portrayal of Jerry Krause, Says Former Bulls GM 'Got a Raw Deal'
Horace Grant believes The Last Dance did not paint an accurate picture of the late Jerry Krause and that the former Chicago Bulls general manager "got a raw deal" in ESPN's 10-part documentary chronicling Michael Jordan's final season in Chicago.
From Episode 1, The Last Dance cast Krause as the chief villain, with various interviewees describing him as suffering from a short-man syndrome and whose resentful and petty nature was detrimental to the team's success.
Former Bulls head coach Phil Jackson recalled how Krause made clear to him that not even winning a sixth title in eight years would be enough to retain his job. Scottie Pippen labeled Krause a "compulsive liar" after feeling he had been underpaid for years.
Jordan, meanwhile, shared Jackson's disdain for Krause's assertion that "coaches and players don't win championships, that organizations win championships."
Krause died in 2017, meaning he does not feature in a present-day interview during The Last Dance, despite playing a key role in the documentary.
"Me personally, I feel he [Krause] got a raw deal," Grant, a key member of the Bulls' first three-peat said during a roundtable interview organized by BetOnline and hosted by ESPN's David Kaplan. "This man, God rest his soul, is not here to defend himself."
Former Bulls guard Craig Hodges echoed Grant's stance. "Everybody has human frailties and oftentimes those who are insecure in their own point out others' and we want to laugh and joke about it," he said. "But again, as far as the documentary is concerned, what's the old saying? Dead man tells no tale."
Behind-the-scenes footage in The Last Dance showed Jordan and Pippen mocking Krause for his stocky and short figure and in present-day interviews both candidly admitting throwing verbal grenades at the Bulls' former general manager.
Grant, however, felt some of his ex-teammates crossed the line. "As far as the degrading things people have said to him, to his face, I don't think that was fair," he said. "In the 'real world,' your a** would have been fired."
Throughout The Last Dance, Krause was cast as a man desperate to prove that, as a general manager, he was as crucial to the Bulls' success as Jackson and the players.
He convinced Bulls owner Jerry Reinsdorf that it would make perfect sense to break up a dominant team at the end of the 1997-98 season to embark on a rebuilding project.
"[Krause] called me into his office and said 'This will be your last year with the Bulls," Jackson recalled in the first episode of the documentary. "I don't care if you win 82 games and the championship.'"
In Episode 10, Jordan said he believed the players had earned their right to be given the chance to defend their title the following season.
"If you asked all the guys who won in '98 [...] 'We'll give you a one-year contract to try for a seventh,' you think they would've signed? Yes, they would've signed," he said. "Would I have signed for one year? Yes, I would've signed for one year. I've been signing one-year contracts up to that."
While Krause had a bigger role to play than anyone else in splitting up a legendary team, he was also crucial in assembling the rosters that delivered six titles over eight years.
Krause drafted Pippen and Grant in 1987—the Bulls had an agreement in place with the Sonics, who drafted the former and immediately traded him to Chicago—and acquired or drafted every player to feature in the Bulls' six titles runs.
Jordan, was the notable exception as he was drafted in 1984.
Krause also plucked Jackson from the obscurity of the Continental Basketball Association in 1987 to offer him a job as Doug Collins' assistant, before promoting him to head coach two years later.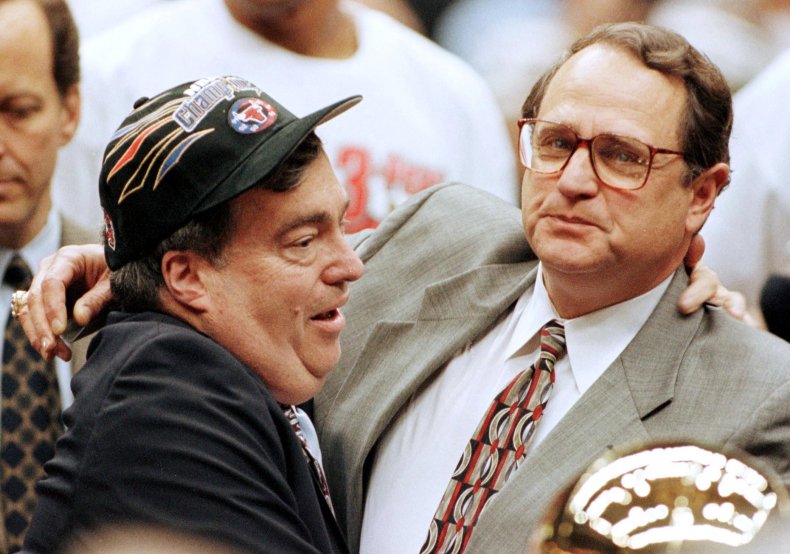 "From the perspective of trading for players and drafting players, he kind of knew what he was doing," Grant said. "He was the general manager behind winning six championships. That should say something in itself."
Former Bulls center Bill Cartwright also featured in The Last Dance and agreed with Grant's view. "I think the big thing is that Jerry, like us, is doing his job," he said.
"It's just really interesting that Jerry makes recommendations as a GM. That's what you do. I can promise you that Jerry Reinsdorf and their group made every decision."
While The Last Dance has proved a phenomenal hit with the audience and earned almost universal claim, Grant has been among its most vocal critics.
During an interview with ESPN 1000's Kap and Co radio show on Tuesday, Grant said "90 percent of the documentary was b******t" and that it had been edited to make Jordan look better.
A day later, Kaplan, the host of Kap and Co, said Pippen was "beyond livid" at his portrayal in the documentary.
"He [Pippen] is so angry at Michael [Jordan] and how he was portrayed, called selfish, called this, called that, that he's furious that he participated and did not realize what he was getting himself into," he said.