Last U.S. Soldier to Leave Afghanistan Commanding Troops Near Ukraine
The United States has sent a few dozen elite troops to the Polish-Ukrainian border, including the last soldier to leave Afghanistan in 2021.
Major General Christopher Donahue, the troops' commander, left the Asian country on August 30, shortly after the Taliban gained control of the capital of Kabul. Six months later, he is preparing for a potential invasion of another nation.
Donahue's arrival comes as tensions between Washington and Moscow are escalating over Ukraine. As part of the U.S. defense plans for a possible Russian invasion, 1,700 U.S. troops will be deployed along the Polish border, under President Joe Biden's order. They will join about 4,000 troops that have been in the country since 2017. But this is significantly less than the over 100,000 troops Russia has stationed near its border with Ukraine, which it insists cannot join NATO.
"Our national contribution here in Poland shows our solidarity with all of our allies here in Europe, and, obviously, during this period of uncertainty we know that we are stronger together," Donahue said Sunday upon his arrival at Rzeszów-Jasionka Airport, 56 miles from Poland's border with Ukraine. He is with the 82nd Airborne Division.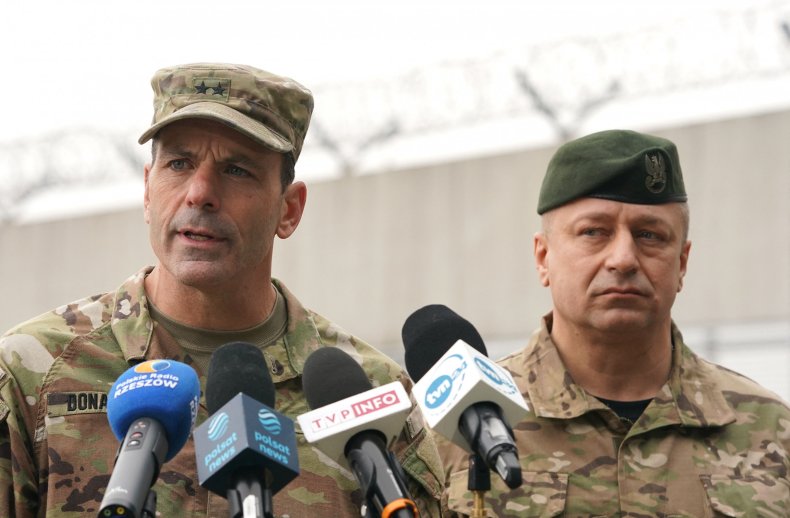 The arrival of U.S. troops in Poland came Sunday as a top aide to Biden spoke about the possibility of a Russian attack on Ukraine. White House national security adviser Jake Sullivan said the potential fallout from an invasion could be catastrophic, prompting Biden to prepare U.S. military forces for whatever occurs.
"If war breaks out, it will come at an enormous human cost to Ukraine, but we believe that based on our preparations and our response, it will come at a strategic cost to Russia as well," Sullivan said.
"The key thing is that the United States needs to be and is prepared for any of those contingencies and in lockstep with our allies and partners. We have reinforced and reassured our allies on the eastern flank," the national security adviser added.
Biden's deployment of the troops is being met with scrutiny from congressional Republicans. Newsweek previously reported that GOP Representative Madison Cawthorn of North Carolina had some choice words for the president after his decision to deploy troops. Speaking on the floor of the House, he said that the deployment should not be tolerated by service members.
"Madam Speaker, the sons and daughters of America are not foot soldiers for your party's inept geriatric despot," Cawthorn said, referring to Biden. "They are not expendable pawns to be dispatched at the whims of an idiot, tossed carelessly around the world to godforsaken caves and bloody sandboxes. They are Americans, worthy of honor and dignity. The only salute from them Joe Biden deserves involves one finger."
The White House did not respond with a comment to Newsweek's reporting of Cawthorn's remarks.
Newsweek has reached out to North Carolina's Fort Bragg, which is home to the 82nd Airborne Division, for comment but did not hear back before publication.
Update 02/07/2022, 11:26 a.m. ET: This story has been updated with more background and information.