How Much Does the NRA Spend on Lobbying? Gun Group Had Record Year in 2017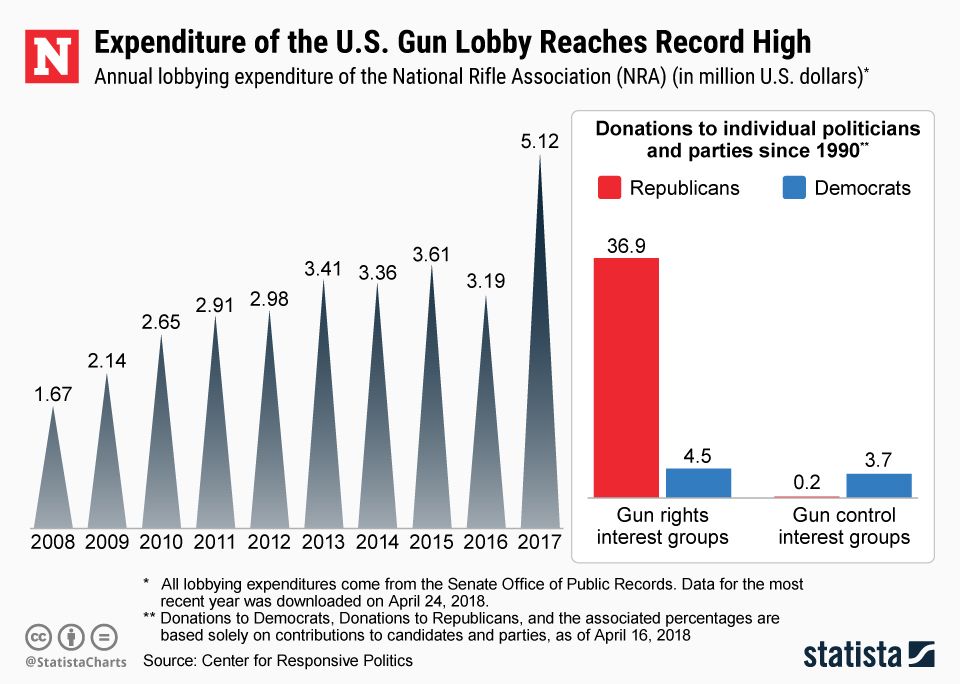 The National Rifle Association, through its lobbying efforts, spent a record sum last year, according to the Center for Responsive Politics.
The NRA lobby spent a total of $5.12 million on its efforts in 2017, the highest amount since at least 1990, the last year for which data was available. The amount is almost double the average of the past 10 years.
The gun rights organization has spent more than $48 million on lobbying since 1998, but much more on outside spending, political donations that are independent of candidate's committees.
In 2017 the NRA's lobbying efforts focused on a number of bills, including the Concealed Carry Reciprocity Act of 2017, which would allow people to carry concealed weapons across state lines as long as they are registered in their home state, and the Hearing Protection Act of 2017, which would eliminate restrictions on silencers for guns.
Data for 2018 shows the organization to be on pace back down to regular spending.
The NRA is slated to have a convention Friday in Dallas, and both President Donald Trump and Vice President Mike Pence are expected to speak. This appearance would mean Trump will have spoken to members of the NRA in each of the last four years, according to NPR. The organization spent around $30 million on Trump's 2016 presidential campaign: $11 million in support of Trump and around twice that in opposition to former Secretary of State Hillary Clinton.
Gun control has seen a renewed national debate this year in the wake of the mass shooting at Marjory Stoneman Douglas High School in Parkland, Florida, in February. Seventeen people were killed in the massacre, one of the deadliest American school shootings in recent history.
Several students who survived the massacre have taken a national stage while advocating for gun reform. The students have become a lightning rod for pro-gun politicians and commentators.
The shooting did not appear to affect the NRA's money-making abilities. The group had its strongest fundraising month in March since 2004.