The House Democratic Steering Committee nominated U.S. Representative-elect Cori Bush of Missouri to serve on the House Judiciary Committee on Friday.
Bush, who been frequently been referred to as a new member of the Congressional group informally known as "The Squad," was elected to represent Missouri's First Congressional District on November 3 after pulling off an upset victory in the Democratic primary months earlier. Prior to entering politics, the congresswoman-elect was a prominent Black Lives Matter activist and community organizer.
"I am proud to have been named to a committee with the power to bring about justice for all," Bush said in a statement obtained by Newsweek. "Every time I step into that committee room, I will bring with me the power of my lived experience. It is a power that comes from the pain of being a survivor of sexual abuse and domestic violence, of having been unhoused, stomped by the police, and forced to live paycheck-to-paycheck."
"But above all else, I will bring the stories of the people of St. Louis and fight for the change we need in Missouri's First Congressional District," she added. "It is on the House Judiciary Committee to affirm the dignity and humanity of Black and brown communities, and I look forward to working with Chairman Nadler and my colleagues on the committee to legislate in defense of Black lives."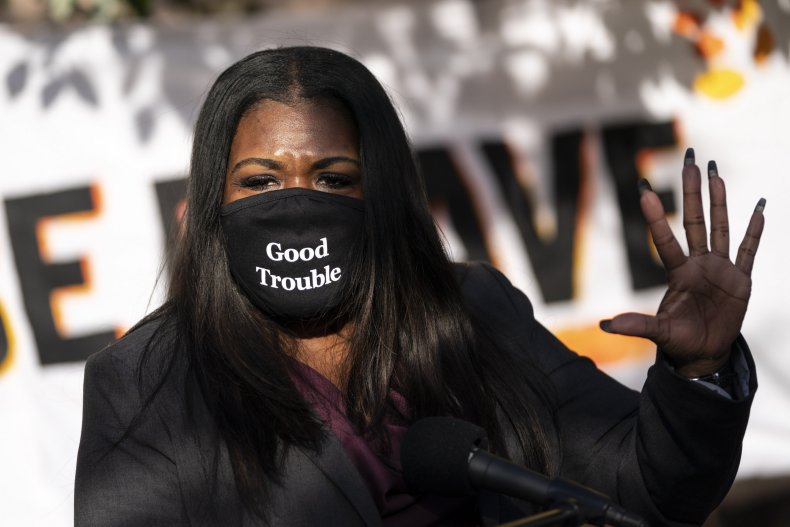 Squad member Rep. Ilhan Omar (D-Minn.) took to Twitter to quickly congratulate Bush on being nominated to the committee. House Speaker Nancy Pelosi (D-Calif.) issued a statement saying that Bush and the 17 other current or incoming House members who were appointed to several committees on Friday represented "the most dynamic and diverse" majority the party had ever seen in the chamber.
The Democratic Steering Committee appeared to snub another Squad member on Thursday, when Rep. Alexandria Ocasio-Cortez (D-N.Y.) was overlooked for an assignment on the House Energy and Commerce Committee. Ocasio-Cortez, Omar, Rep. Ayanna Pressley (D-Mass.) and Rep. Rashida Tlaib (D-Mich.) make up the original four members of the informal group.
"Congresswoman-elect Bush, a civil rights activist and community organizer who has fought for justice on the streets of Ferguson and across the country, will bring first-hand experience as the Committee tackles systemic racism and criminal justice reform," House Judiciary Committee Chairman Jerrold Nadler (D-N.Y.) said in a statement.
Two other incoming Democratic House members were nominated for appointment to the House Judiciary Committee on Friday. Congressman-elect Mondaire Jones of New York, who has also been referred to as a new member of The Squad, is likely to join Bush on the committee, as is Congresswoman-elect Deborah Ross of North Carolina. Although the nominations are expected to be approved, all three will go to the full Democratic Caucus before they become official.