The Latest Threat to Ukraine Comes From Republicans | Opinion
Seven months into Russia's brutal invasion, Ukraine remains firmly ahead in the fight for its sovereignty with a string of recent battlefield successes. However, the relentless bombardment on Ukrainian cities from east to west puts its brave civilians at constant risk. The next few months will be consequential, but a Ukrainian victory is possible with our continued support.
But there is a threat to Ukrainian freedom that exists outside of their borders and even further outside of their control. Despite initial support of Ukraine, Republicans in Congress are turning increasingly against the Ukrainian fight for its independence and survival. And if they gain power in November, a Republican majority in the House can stop their momentum—and with it, hopes for democracies world-wide.
Look no further than Kevin McCarthy's recent statements where he equates Ukrainian aid—which is stemming the Russian invasion and limiting the brutal massacres of Ukrainian women and children—to nothing more than a "free blank check."
The truth is assistance that was pledged and provided by a Democrat-led House, Senate, and White House have provided Ukraine with key military, economic, and humanitarian aid, in addition to invaluable intelligence. McCarthy made it crystal clear that this support for democracy and human rights ends with a Republican majority.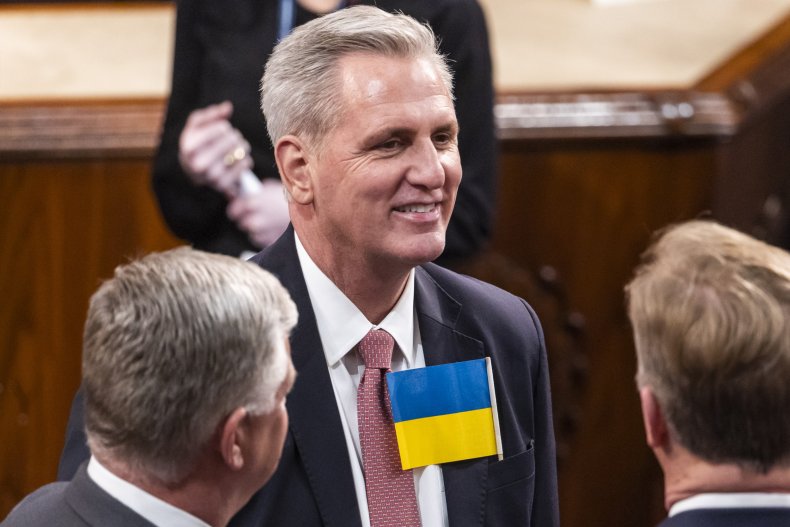 Since the beginning of the year, the House Intelligence Committee has held seven formal Russia-Ukraine briefings and hearings with senior intelligence community and Department of Defense officials on how the United States' support is bolstering the Ukrainian efforts. During those discussions, my colleagues have implored the Biden administration to increase the scope and scale of its intelligence-sharing efforts with Ukraine's government.
In meetings I took last month with presidents, foreign ministers, and diplomats from all over the world on the sidelines of the United Nations General Assembly, the message I received was clear—our continued support is critical to stopping democratic backslides around the world. In a meeting with Andrii Yermak, head of the Office of the President of Ukraine, he implored to me and my House Intelligence Committee colleagues not to waver or a new escalation of warfare will arise—one which spurs Putin to invade further west to neighboring nations.
In other words, Ukraine is not just fighting to defend its homeland, but to prevent a violation of democratic values across the globe.
Democrats will continue passing aid packages until the war is won. But all of Ukraine's hard-won progress could be threatened by a GOP victory in the upcoming midterms. While support for Ukraine in Congress has been overwhelmingly bipartisan, it is uncertain whether a Republican majority would have 218 Republican votes to pass future aid packages.
Would a Speaker McCarthy buck a large chunk of his conference for the sake of democracy? Would he go against voices who have described Ukraine as "vile," and not "our allies"? What evidence exists that McCarthy has ever led in such a courageous manner before?
There is none. In fact, time and time again McCarthy has proven he is but a vessel for the MAGA nation, whose leader, Donald Trump, has bragged, "[i]f Putin likes Donald Trump, I consider that an asset, not a liability."
Past GOP Speakers have been capable of putting what is best for the country above what is best for themselves. Speaker John Boehner squashed extreme Tea Party members to pass a bipartisan budget deal that eased spending cuts and prevented future government shutdowns. Speaker Paul Ryan navigated major debt ceiling and disaster relief legislation with broad Democrat support against the objections of more than a third of his caucus.
Conversely, McCarthy's continued embrace of the most extreme in his caucus indicates he would be no match for this monumental and consequential undertaking. Under his stewardship, support for the Ukrainian resistance would disappear overnight, and along with it, the chance for many free nations to embrace democratic rule.
Too much is at stake for Ukraine and democracies worldwide to allow a MAGA-majority in the House. We must ensure that Democrat-led support endures; it is the best shot Ukraine has at winning this war.
Rep. Eric Swalwell represents the 15th District of California and is a senior member of the House Permanent Select Committee on Intelligence. Follow him on Twitter at @RepSwalwell.
The views expressed in this article are the author's own.