A golden retriever's antics after sneaking out of her owner's house to see her boyfriend has stunned the internet.
Dogs are known to be friendly with their humans as well as other pets, but in this particular case, one wanted to get close to her male friend.
In an hilarious viral video shared by TikTok user Raven Johnson, giant schnauzer Thor could be seen being paid a visit by his girlfriend.
The video, captioned "Thor's girl snuck out of her house to come see him," showed the golden retriever sneaking onto the porch to see her boyfriend.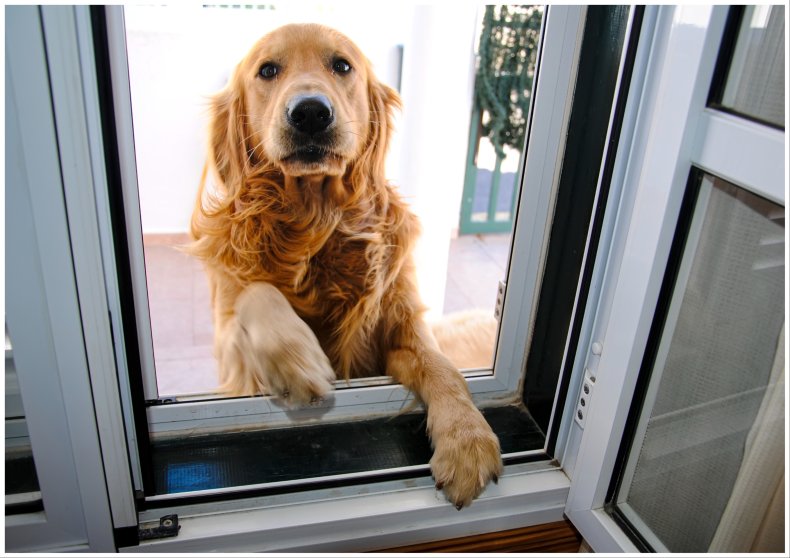 Separated by a screen door, the two dogs looked at one another with friendly curiosity before the golden retriever came a little closer and rolled onto her back.
Appearing enticed by the golden retriever's antics, Thor could be seen following her around but again was not able to get out and meet her due to the screen door.
Johnson could be heard asking her pet: "Thor, do you have a girlfriend? Do you have a girlfriend?"
According to the American Pet Products Association (APPA), dogs are comfortably the most popular pets in the U.S.
The APPA said there are an estimated 65.1 million households in the country that own at least one dog, cats were in second place with some 46.5 million households owning at least one.
The largest generation of pet owners in the country are millennials at 33 percent followed by Generation X at 25 percent and then baby boomers at 24 percent, it added.
Since being shared by Johnson on September 9, the video has been seen more than an estimated 1.2 million times and was liked on some 207,700 occasions.
The overwhelming majority of commenters were stunned at the golden retriever's brazenness and joked about how the pair would have some wonderful puppies.
TikTok user Terry Crews Missle said: "Really just laid it all out, these new dogs have no shame."
Heather added: "She said 'Let's make some golden doodles.'"
While Chars1006 posted: "Love can not be denied. The heart wants what it wants."
Scales commented: "My girl is in heat. I was like this once and I'm 6 months pregnant now."
Newsweek has contacted Johnson for comment via TikTok.
Do you have funny and adorable videos or pictures of your pet you want to share? Send them to life@newsweek.com with some details about your best friend, and they could appear in our Pet of the Week lineup.