A photo of a disgruntled cat meeting Santa Claus for the first time has Facebook users in hysterics.
In a post shared to THIS CAT IS C H O N K Y group on December 18, Noodle was clearly unhappy with her owner Becky Naugle's decision to visit Santa at her local gym.
The Ephrata Recreation Center in Pennsylvania was holding a pet photo shoot, where animals could come and have their picture taken with Saint Nick. Unfortunately, Noodle wasn't in the festive spirit, with cat lovers dubbing the snap "purrfect" and "pure gold."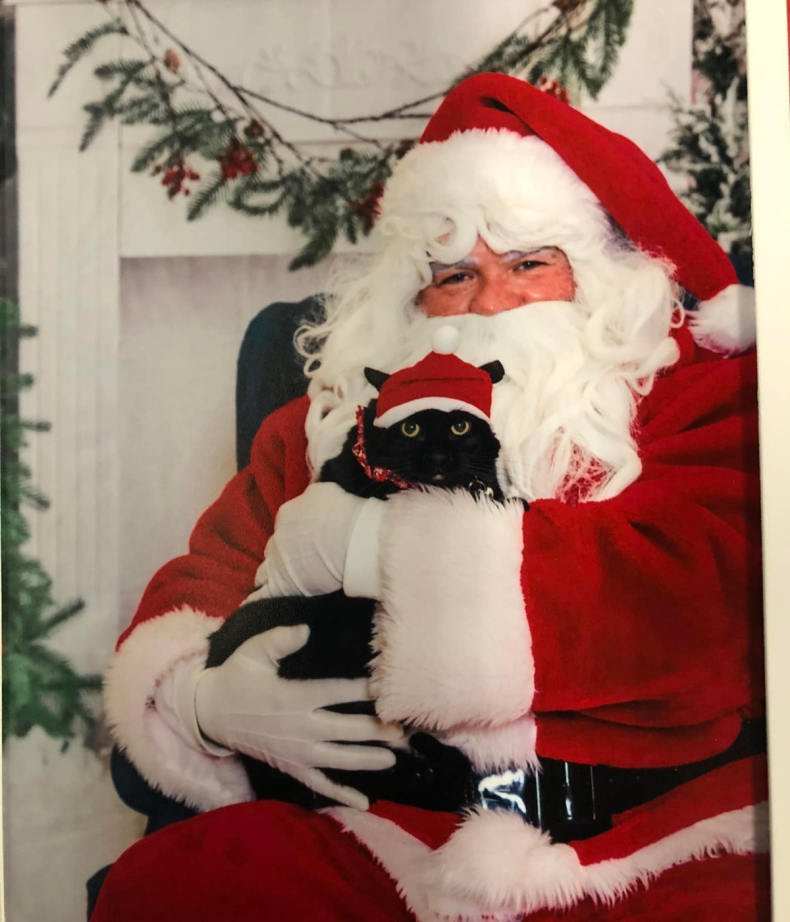 Does Your Pet Know It's Christmastime?
You might feel merry, but is your cat? If you've ever wondered if your pet knows it's Christmastime, then Stephen Quandt, founder of Feline Behavior Associates LLC, has the answer.
"Santa wants to know 'has your cat been naughty or nice?' And the answer of course is nice," Quandt told Newsweek.
"Seriously though, cats are aware of changes in the home like the arrival of a tree, different scents, and even plants like poinsettias (which are mildly toxic to cats, by the way) but that's about as far as it goes."
So, your feline friend might not know it's Christmas, but you can still get them a present.
"Even if they don't know why things have changed in the home, why not let them join in the merriment?" Quandt said.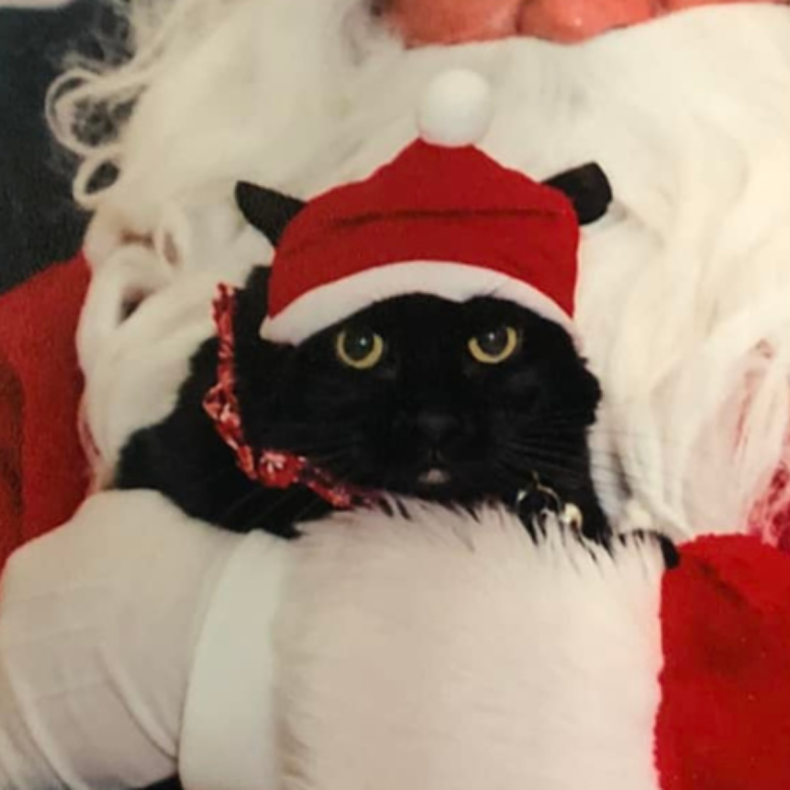 But why do cats seem to have such fervent hatred—or a downright obsession—with Christmas trees?
"The tree represents the great outdoors and cats like to mark territory," said Quandt.
"They love vertical space and they're attracted to sparkly, dangly things so a tree is really the trifecta of cat enrichment."
If you need some help keeping your cat away from your tree this year, here are a few expert-approved tips.
'She Was Big Mad'
Noodle (full name Ninja Noodle Naugle) lives with her owner Becky Naugle and two goldfish siblings in Ephrata, Pennsylvania. After spotting that her local recreation center was holding a Christmas-themed photoshoot for pets this December—complete with Santa Claus—she decided to take the 7-year-old domestic shorthair along.
"Noodle was grumpy but she was very well-behaved," Naugle told Newsweek.
"I took her out of her carrier to put her hat on, and from that point on, she was big mad."
Apparently, Noodle does not approve of hats or being out in public. However, she did sit still long enough to have her photograph taken on Santa Claus's lap.
"It was pretty quick to get the hat on because she didn't really move much," Naugle said.
"She really hates when I put her pajamas on her though so that would have taken a lot longer.
"She didn't try to escape or anything but she just looked p*****."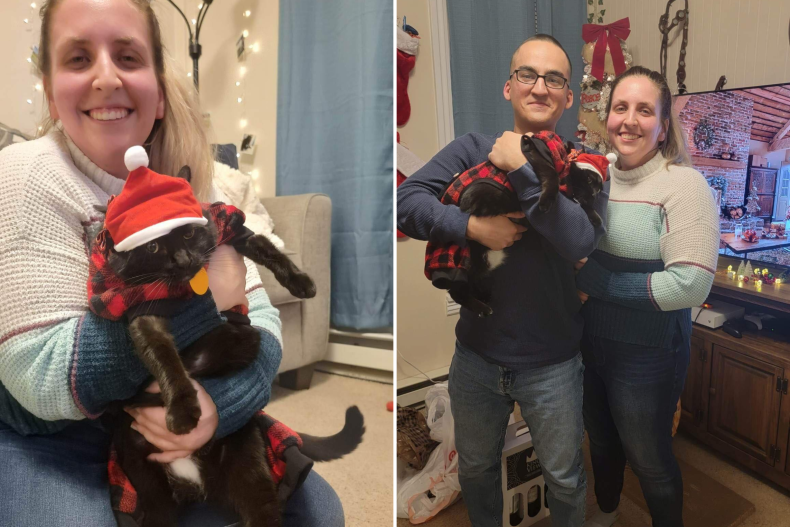 Noodle was the only cat that turned up that day, but everyone agreed that she was the best-behaved pet there. Even though Noodle sulked through the photo session, Naugle plans to take her again next year.
"Noodle may not have enjoyed the experience, but she was well-rewarded when we got home," she said.
"I gave her canned cat food which is her favorite and played with her favorite toy—a rubber band."
Although the photo is hilarious, Naugle said it doesn't reflect Noodle's true personality, describing her as a "very friendly and chill cat."
"Noodle's day-to-day hobbies include going for walks in her stroller, meowing at 2:00 am, zoomies, and sleeping," she said.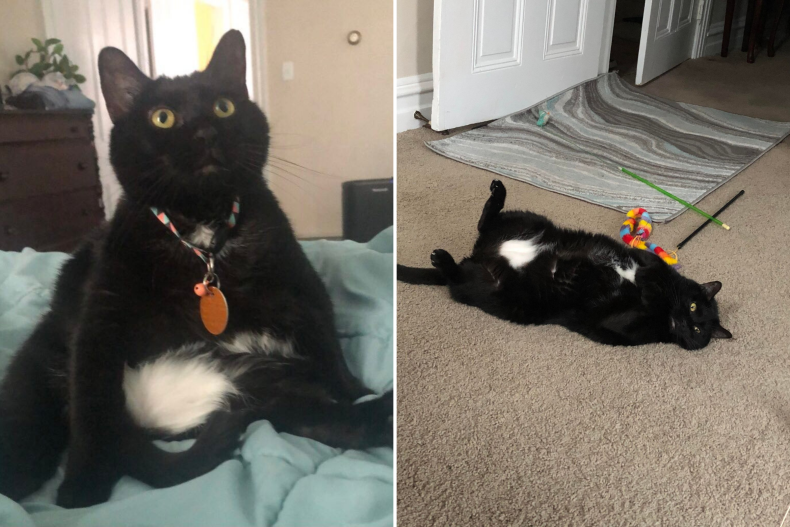 Facebook users couldn't get enough of the seasonal snap, with user Dee Cee writing "Noodle is not a fan."
"Noodle is NOT feeling jolly," agreed Anna Schmidt Kadi.
"I honestly can't tell if Noodle is content or amgry??" said Cybele-Angelique Dupuis Flematti. "It's the perfect expressionless expression!"
"I think Santa was happy to meet Noodle but it was not reciprocated!!" commented Vicki Anne.
"Noodle says your shoes are his new litter box," wrote Noreen Flaada Saukko.
Carlos Galvez suggested Naugle "sleep with one eye open."
Do you have funny and adorable videos or pictures of your pet you want to share? Send them to life@newsweek.com with some details about your best friend and they could appear in our Pet of the Week lineup.