Laura Ingraham Calls Andrew Gillum 'The African-American Male Version of Alexandria Ocasio-Cortez'
Fox News host Laura Ingraham has described Democratic gubernatorial candidate Andrew Gillum as "the African-American male version of Alexandria Ocasio-Cortez."
Commenting on the surprise victory of Gillum over four other candidates—including favorite Gwen Graham—the TV host said Tuesday night's elections "told us a lot" as billionaires George Soros and Tom Steyer put their money behind "far-left Tallahassee mayor" Gillum.
"Gillum is the African-American male version of Alexandria Ocasio-Cortez," Ingraham said, referencing the New York congressional candidate.
"He's young, he's kind of dynamic, and he's running on a platform of universal Medicare, legalize marijuana, and abolishing ICE—exciting. And he's viewed by hard-left Democrats as kind of a savior from the stranglehold that the party's establishment has had on their desires, hopes, and dreams," she said.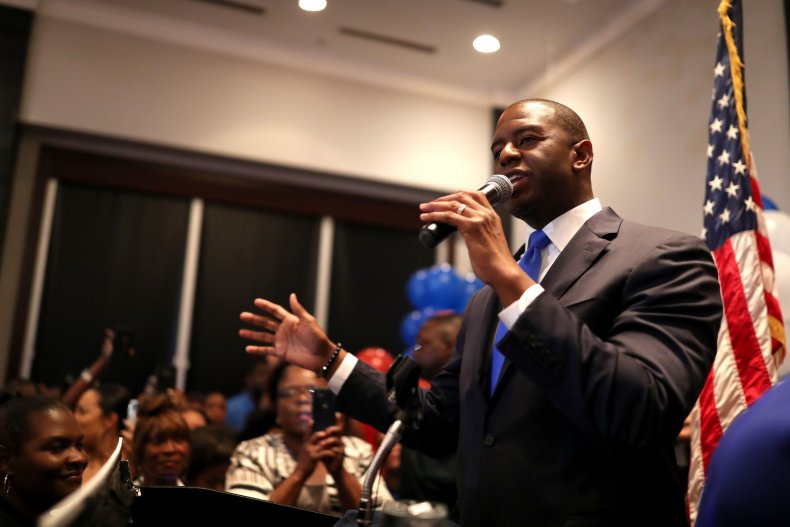 "They picked the perfect guy—his city hall under investigation, FBI, corruption and Tallahassee boasting Florida's highest crime rate three years running. Good going guys—that's something to run on," she added, slamming the Democrat.
Gillum will face Republican Ron DeSantis in the gubernatorial race, the latter having already prompted a backlash for comments he made about his opponent shortly after the election results were announced.
"We've got to work hard to make sure that we continue, Florida, going in a good direction. Let's build off the success of we've had [under] Governor Scott. The last thing we need to do is to monkey this up by trying to embrace a socialist agenda with huge tax increases and bankrupting the state. That is not going to work. That's not gonna be good for Florida," De Santis said, in comments that were widely perceived as racially charged.
Responding to his political rival's comments, Gillum, who counts Vermont Senator Bernie Sanders among his supporters, said he would not be drawn into the gutter with DeSantis, who is backed by president Donald Trump.
"It's very clear that Mr. DeSantis is taking a page directly from the campaign manual of Donald Trump, but I think he's got another thing coming to him if he thinks that in today's day and age Florida voters are going to respond to that level of derision and division—they're sick of it," Gillum said. "What we're trying to offer in this race is a north star for where we want to go as a state."