Laura Ingraham Withstands David Hogg's Advertising Boycott Call After Immigration 'Summer Camp' Comments: Report
Fox News personality Laura Ingraham drew the ire of critics Monday when she called the detention centers that house migrant children "essentially summer camps" and later clarifying and likening them to "boarding schools." Calls for advertiser boycotts materialized in the wake of her comments, but her show, The Ingraham Angle, hasn't had a mass exodus.
As of Tuesday, it appeared none of the major advertisers for the show have pulled out, according to The Hollywood Reporter, despite calls from people like Parkland shooting survivor and outspoken gun control advocate David Hogg.
Hogg, a survivor of the deadly February mass shooting at Marjory Stoneman Douglas High School turned activist, made an appeal for advertisers to quit the show Tuesday.
"If we get these advertisers pulled maybe @Ingraham will have to become a camp counselor and learn how wrong she is," Hogg tweeted and listed a number of her advertisers.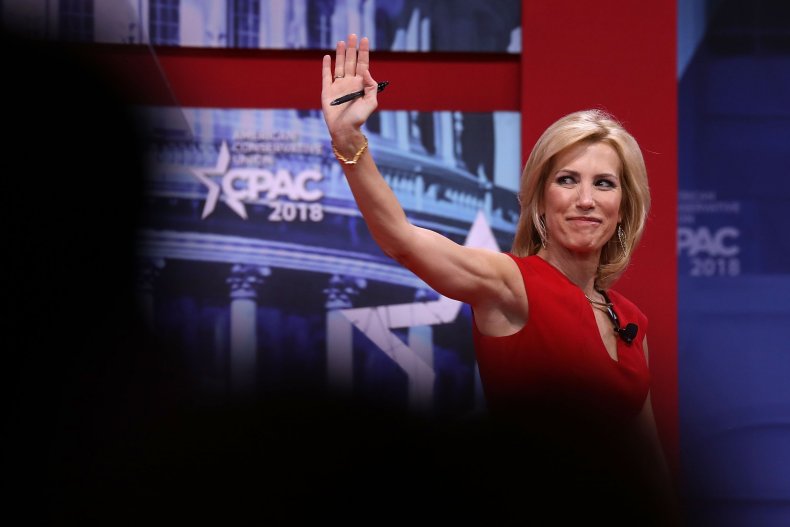 In March, Hogg prompted a number of advertisers to abandon the show after Ingraham tweeted an insult at Hogg, a high schooler, for not getting into several colleges. She later apologized for the tweet, but some advertisers told Newsweek that the barb went too far, especially after he experienced the shooting deaths of his classmates.
Ingraham's show saw a dip in commercial time over its hour-long span after the spat, but according to the Los Angeles Times, allotted commercial time has been rebounding and the price for advertising has gone up.
"There has been zero impact on our business," Marianne Gambelli, Fox News's head of ad sales, told the paper about recent attempts to peel off advertisers. "Many advertisers have returned to our programming, with new advertisers opting in for our powerful lineup."
In a statement to Newsweek, Fox News said it would not be cowed.
"Laura Ingraham's very personal, on-the-ground commitment to the plight of impoverished and abandoned children—specifically in Guatemala—speaks for itself," said Fox News (Ingraham's daughter is adopted from Guatemala). "So too does her strong belief in a commonsense, legal immigration system, which will continue to be a focus of her show. Fox News will never tolerate or give in to attempts to silence diverse viewpoints by agenda-driven intimidation efforts."
As a national backlash to the policy of separating immigrant families trying to cross the border brews, Fox News has found itself caught in the middle. The channel's opinion hosts have, in some capacity, defended President Donald Trump and his administration's "zero tolerance" policy against illegal immigration. But as images from detention centers and audio of children wailing for their parents have come out—other elements of the Fox family have criticized the news arm.
Director Paul Feig who made two films for 20th Century Fox blasted Fox News on Twitter Tuesday.
"[I] cannot condone the support their news division promotes toward the immoral and abusive policies and actions taken by this current administration toward immigrant children," Feig tweeted.
This story was updated to clarify Laura Ingraham's comments on her show.
SaveSave