Fox News Host Laura Ingraham Claims Liberals 'Probably Like Child Pornography' Better Than 'Rudolph the Red-Nosed Reindeer'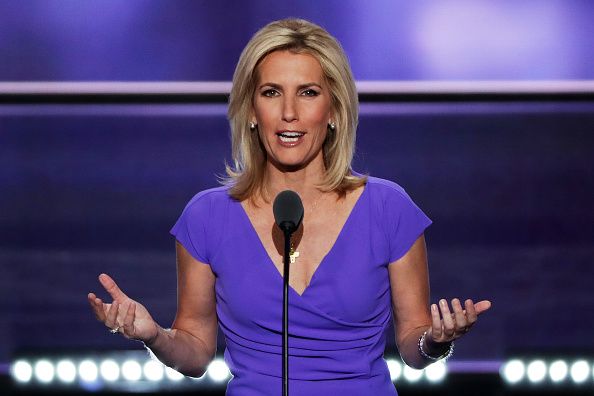 Fox News host Laura Ingraham claims that liberals hate the holiday movie Rudolph the Red-Nosed Reindeer so much that they would probably prefer to watch child pornography instead.
During her Courtside Entertainment Group radio show on Thursday morning, Ingraham spoke about the ongoing outrage many people have over a HuffPost article that calls the popular holiday movie "problematic." The video by HuffPost, which was posted in November, points out that the movie portrays flaws such as bullying and homophobia.
The video sparked debate throughout the internet, and many conservatives like Donald Trump Jr. slammed the video, tweeting that "liberalism is a disease." Ingraham got wrapped up into the debate during her show and called liberals "killjoys" for criticizing the classic holiday movie.
"When you think of the left today, are those the kind of people you want to hang around with?" Ingraham said, according to video posted by Media Matters. "Just, just, just — talking like now beyond politics. They are the biggest killjoys out there, killjoys! They don't want you to enjoy your life. They want you to listen to them, shut up, and sit down."
Ingraham then continued and claimed that in a few years the movie "Rudolph the Red-Nosed Reindeer" could be banned, telling her listeners that they would have to hide the movie if they had the DVD in their homes.
"You'll have to hide it!" Ingraham said. "You can't keep that around the house, oh no. That might as well be child pornography. They actually probably like child pornography better than they like Rudolph the Red-Nosed Reindeer at this point."
She then claimed that liberals do not "really have a problem with pornography at all," and said they have issues with anything that is traditional.
"But they have a problem with anything that in their mind is traditional or even slightly hearkens back to a more traditional time. Because the traditions themselves of family and so forth were enslaving to women, were enslaving to people," Ingraham said during her radio show. "I mean, there's real slavery but then there's the slavery that they have developed in their way of thinking -- that we were all slaves to the patriarchy. So all vestiges of the patriarchy must be destroyed, must be called out. So, you know, the Confederate soldier Silent Sam at the University of North Carolina Chapel Hill, all the protests about that, as if putting that in a dumpster is going to change anyone's life."
In April, Ingraham said she was taking a planned hiatus from her Fox News Channel show, "Ingraham Angle," after mocking prominent gun control activist and Parkland shooting survivor David Hogg. Ingraham tweeted a report that Hogg was rejected from four colleges, which led to Hogg calling on Ingraham's advertisers to abandon the Fox News host.