Lauren Boebert Calls Women 'Lesser Vessel', Sparks Anger
Representative Lauren Boebert (R-CO) has sparked anger online after she referred to women as a "lesser vessel" when compared to men.
The politician spoke with conservative comedian Brad Stine on Monday, October 17, on the Brad Stine Has Issues podcast.
In the interview, Stine asked Boebert about her time in Congress as well as numerous problems facing the U.S. such as inflation, energy independence and social issues.
But it was Boebert's comments about women that raised eyebrows after the Republican called them "the lesser vessel."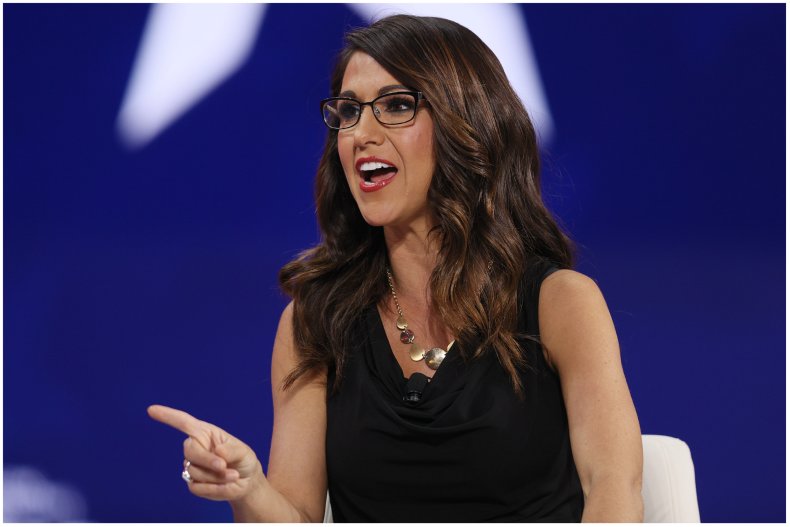 Before making her controversial comments, Boebert had been speaking about transgender participation in sports and gender identity.
She added: "We are created equal, we're not the same. Women are the lesser vessel and we need masculinity in our lives to balance that, that so-called weakness. Just us being more frail and needing that strength in our lives."
Twitter channel PatriotTakes, which claims to be dedicated to "exposing right-wing extremism" shared Boebert's comments in a 15-second clip and has been viewed more than 890,400 times since it was posted on Saturday, October 22.
The Republican's comments were soon blasted online, with many questioning whether she should be in Congress and that she had belittled women.
Democrat House Candidate Adam Frisch, who hopes to unseat Boebert in November, said: "Rep. Boebert is belittling the generations of women fighting for freedom to make their own life choices, whether that's prioritizing careers, families, service or a combo.
"This philosophy of choice has raised my sisters and me and it's how my wife Katy and I are raising our daughter."
Former U.S. Attorney for the northern district of Alabama Joyce Vance posted: "Well then, she definitely doesn't belong in Congress, no matter how you take this."
Boebert's comments were also picked up by those outside the traditional realm of U.S. politics.
Blink 182 star Tom DeLonge was more direct in addressing Boebert, adding: "This woman is a turd vessel. It's been proven at CERN (European Organization for Nuclear Research).
"Women are better than men in every way. Men, well we are known for liking free salsa and chips."
Newsweek has contacted Boebert, Frisch and Delonge's press teams for comment.
Boebert has become popular with the American right, including her repeating the unfounded claim that the 2020 Presidential election was somehow stolen from Donald Trump by Joe Biden.
The Colorado politician backtracked this week after she referred to "President Biden", saying it was a Freudian slip.
Claims of widespread and coordinated election fraud in favor of Biden have been repeatedly dismissed in court.
But Republican anger over fraud claims led hundreds of Trump supporters to storm the Capitol building on January 6, 2021.