Lauren Boebert Claims a Trending Insult About Her Proves 'the Left Hates Women'
Representative Lauren Boebert, a Colorado Republican, claimed in a Sunday tweet that a trending insult directed against her signified that "the Left hates women," as she attempted to fundraise from the controversy.
As of Sunday morning, the hashtag #LaurenBoebertIsSoDumb was the No. 1 trending topic on Twitter, with more than 23,000 tweets as of the time of writing. The hashtag was started by unverified Twitter user @TG2210, who first wrote "Use hashtag and complete the sentence. RT #LaurenBoebertIsSoDumb ________" in the early hours of Sunday morning.
The hashtag began trending after the freshmen congresswoman suggested that President Joe Biden was attempting to take away her guns, a routine talking point from some Republicans that is not supported by facts.
"Yesterday, I put all my guns upstairs. Biden can never get to them now!" Boebert wrote.
Many Twitter users tweeted the hashtag criticizing Boebert for bizarre things she's said about guns and other conspiratorial remarks. After the hashtag became the top trending topic on Twitter, Boebert used the insult as a fundraising pitch to her followers.
"Seeing #LaurenBoebertIsSoDumb trend at number one just proves what I've been saying all week. The Left hates women & I'm their top target. As the 2022 cycle heats up, I need your support more than ever. Everyday is a full-scale attack on me! Chip in now!" she wrote in a tweet, sharing a link for followers to donate.
Raleigh Bowman, a Democratic congressional candidate for Illinois' 5th District, retweeted the hashtag, writing: "#LaurenBoebertIsSoDumb trending isn't surprising, what's surprising is how she even made it into Congress. People like Lauren Boebert, Marjorie Taylor Greene, and Madison Cawthorn have no business being in Congress. It's time Congress works for you! RT if you agree!"
"#LaurenBoebertIsSoDumb she thinks this is a clever tweet," the Twitter user who started the trending hashtag wrote, retweeting the post about guns. Lauren Boebert thinks fetishizing guns means she's not a 'victim.' Reality: Easy access to weapons means US women are 21 X more likely to die by firearm homicide than women in peer nations. #LaurenBoebertIsSoDumb" Sarah Reese Jones of PoliticsUSA tweeted.
But others jumped to the congresswoman's defense.
"#LaurenBoebertIsSoDumb that she won her highly contested congressional seat on the very first try and has already made herself one of the most influential Members of Congress. She's also a small business owner and just 34 years old. I guess that's what Democrats consider dumb..." Brigitte Gabriel, the founder and chair of national security organization ACT for America, tweeted.
"The Left is up on Sunday morning tweeting #LaurenBoebertIsSoDumb as the top hashtag. Amazing they'd say that about a woman who has four kids, a wildly successful restaurant and managed to win a tough seat in Congress on her first try," Buzz Patterson, a Republican congressional candidate from California, tweeted. "The Left hates accomplished women?"
Former President Donald Trump, and many other Republican lawmakers, have increasingly used controversies to rake in donations from followers. Trump infamously brought in millions from supporters as he repeatedly pushed the false narrative that Democrats and President Joe Biden had "stolen" the 2020 election. While the former president claimed that his money would be used to cover legal fees to challenge the election results, much of the funding actually went to pay down campaign debts.
Notably, Trump and other prominent Republicans have often insulted and questioned the intelligence of top Democratic women.
Last April, Trump referred to Speaker of the House Nancy Pelosi, a California Democrat, as "an inherently dumb person" after she did an interview with Fox News host Chris Wallace. The former president's top adviser Kellyanne Conway insulted Representative Alexandria Ocasio-Cortez, a New York Democrat, saying the congresswoman "doesn't seem to know much about anything" during a December 2018 interview.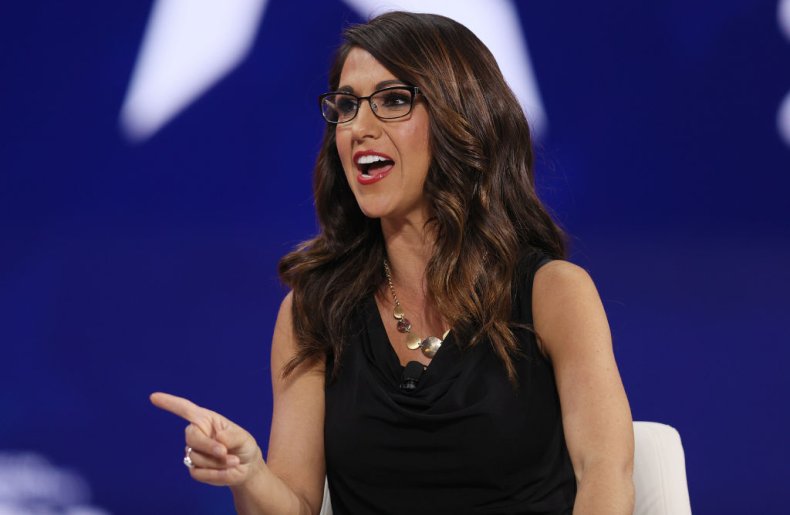 Boebert recently promoted a bizarre QAnon conspiracy theory during a town hall meeting. The freshman congresswoman, who has spoken favorably of the QAnon conspiracy theory in the past, said that recently declassified documents would lead many to Democrats to resign, which would allow Republicans to retake control of the House of Representatives and the Senate before the 2022 midterms.
Newsweek reached out to Boebert's press secretary for further comment.