Lauren Boebert Berates House Speaker in Viral Video—'Lift Your Head'
Colorado Representative Lauren Boebert accused the presiding House speaker pro tempore of ignoring her while she raised issues regarding the border in a speech on the floor on Wednesday.
Boebert, who represents Colorado's 3rd District, scolded the speaker for failing to pay attention to her properly while she was talking about the border crisis and the number of immigrants illegally entering the country.
A clip of the moment was posted to Twitter by the @Acyn account, where it has since been viewed more than 150,000 times.
During a session on Tuesday, Boebert said that the issues on the U.S-Mexico border have intensified ever since ]Joe Biden became president, claiming she has spoken to border agents who "feel useless" in their jobs.
"They said that they used to work all day and go home feeling like they had accomplished something. But since Biden took office, that's no longer the case," Boebert said.
Boebert suggested the only way to fix the record levels of illegal immigration at the border is to return "Trump-era policies," such as continuing to build his flagship wall in order to stop what she claimed was "nearly two million illegal aliens coming into our country."
Boebert then stopped her speech to accuse the speaker of not listening to her concerns and urged her to "lift your head and pay attention" to what's being said on the House floor.
"Maybe that's too much trouble to ask of you, Madam Speaker. But we are here talking about real issues that are impacting America and you still continue to sit and ignore what I'm saying," Boebert said.
"I think that's very reflective of my colleagues on the other side of the aisle who have ignored what's going on at the southern border, who have ignored the children who are being trafficked by cartels, who have smuggled in enough fentanyl to kill every American at least seven times over."
Boebert told the speaker these issues should "concern you" and urged the country to implement policies to secure the southern border and "allow our border patrol agents to do their job."
Boebert concluded: "Madam Speaker, let the record show that you still have not glanced up one time to acknowledge this humanitarian crisis that is taking place in our country."
Biden has been frequently attacked by GOP figures over the number of migrants illegally entering the country from Mexico during his presidency.
On his first day in office, Biden signed an executive order that paused construction on Trump's much-maligned border wall, describing the promise to construct something that stretches across the entire southern border as "not a serious policy solution" and a "waste of money."
Biden also scrapped a number of Trump's immigration policies in favor of what he referred to as more humane processes.
The office of the the Speaker of the House has been contacted for comment.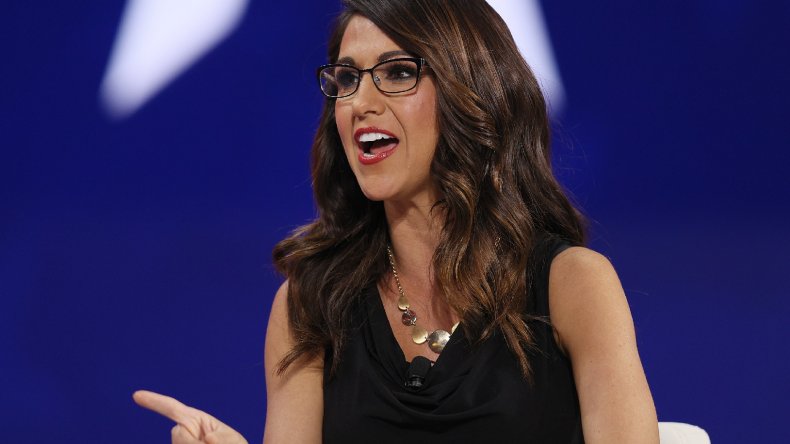 Correction 2/3/22, 1 p.m. ET: This article was updated to remove reference to Nancy Pelosi chairing the session during Boebert's speech. A speaker pro tempore was presiding. Newsweek regrets the error.