Lauren Boebert's 'Jihad Squad' Rant Goes Viral, Prompts Backlash
A video of Rep. Lauren Boebert's fiery speech as the House considered censuring Rep. Paul Gosar has gone viral on social media.
The controversial Colorado congresswoman made the speech before the House voted to censure Gosar for posting an animated video that depicted him killing Democratic Rep. Alexandria Ocasio-Cortez with a sword.
The Republican Accountability Project's Twitter account shared a video of the Boebert's remarks on Wednesday night, amassing more than 800,000 views since.
Boebert "loses it during the debate to censure Paul Gosar, ranting about everything from 'the Jihad Squad' to accusing a Democratic congressman of 'sleeping with the enemy,'" a tweet alongside the clip said.
A clip of Boebert's remarks shared by reporter Aaron Rupar amassed at least another 750,000 views, while a slighter longer clip posted by Tom Elliott has a million views and counting.
Boebert was also trending on Twitter early Thursday.
"This is a dumb waste of the House's time, but since the Speaker has designated the floor to discuss members' inappropriate actions, shall we?" Boebert said in her speech.
"The Jihad Squad member from Minnesota has paid her husband—and not her brother husband—the other one, over a million dollars in campaign funds. This member is allowed on the Foreign Affairs Committee while praising terrorists."
Boebert was referring to Rep. Ilhan Omar, who hit back on Twitter: "Luckily my dad raised me right, otherwise I might have gone to the floor to talk about this insurrectionist who sleeps with a pervert. I am grateful I was raised to be a decent human and not a deprived person who shamefully defecates & defiles the House of Representatives."
Boebert also railed against Rep. Maxine Waters, saying she "incited further violence in the streets outside of a courthouse" over her call for protesters to "get more confrontational" if Derek Chauvin was acquitted in the killing of George Floyd.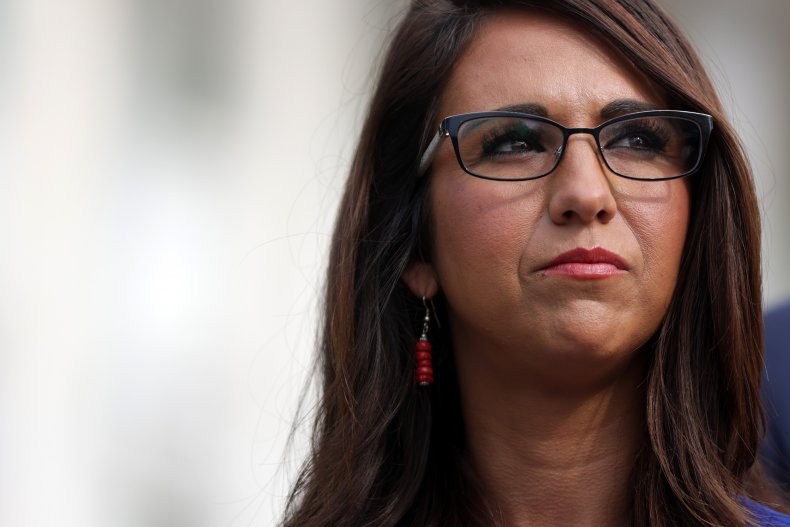 She also brought up Rep. Eric Swalwell's contact with a suspected Chinese spy who targeted U.S. politicians and an unsubstantiated rumor that the congressman had a sexual relationship with the woman.
"The cherry on top—my colleague and three-month presidential candidate from California who is on the Intelligence Committee slept with Fang Fang, a Chinese spy," Boebert said. "Let me say that again, a member of Congress who received classified briefings was sleeping with the enemy! This is unacceptable!"
Swalwell's response referenced reports that the FBI had raided the home of Boebert's former campaign manager."
"Weird. If I had done anything wrong the FBI would have raided my house," he tweeted. "They didn't (and went as far to issue a statement saying I did nothing wrong). BUT yesterday they did raid the home of @laurenboebert's campaign manager. They're always projecting."
Boebert's comments prompted a backlash on social media.
"How is @laurenboebert a member of Congress?" Bakari Sellers, who previously served in the South Carolina House of Representatives, wrote.
"Remember: @laurenboebert is the least-educated member of the House & has been arrested more times than all the members of 'The Squad' combined," Michael Harriot noted.
MSNBC's Mehdi Hasan linked to a news report about Boebert and her husband's brushes with the law, noting a line that said Jayson Boebert had pleaded guilty to public indecency and lewd exposure.
"Lauren Boebert makes Sarah Palin seem downright sensible and smart," political commentator Majid Padellan tweeted.
In commentary, 9NEWS journalist Kyle Clark said: "We hold Republican Congresswoman Lauren Boebert to a different standard than every other elected official in Colorado. We hold Congresswoman Boebert to a far lower standard. If we held her to the same standard as every other elected Republican and Democrat in Colorado, we would be here near nightly chronicling the cruel, false, and bigoted things that Boebert says for attention and fundraising."
Representatives for Boebert, Omar, Waters and Swalwell have been contacted for comment.