Lauren Boebert Supports Controversial 'Mega Prison' for Gang Members
Representative Lauren Boebert has endorsed El Salvador's use of a controversial "mega prison" that strips away constitutional rights for imprisoned gang members.
Republicans including Boebert, a right-wing congresswoman from Colorado, have advocated for harsher laws and punishments for those convicted of crimes, as millions of Americans voice concern about what they view as rising crime in their communities.
The issue became a major point of contention during recent elections, with Democrats embracing criminal justice reform.
Boebert took a new stance on crime that received notable pushback on Sunday, tweeting support for El Salvador's "mega prison" that was built to deal with rising crime in the Central American nation by housing suspected gang members.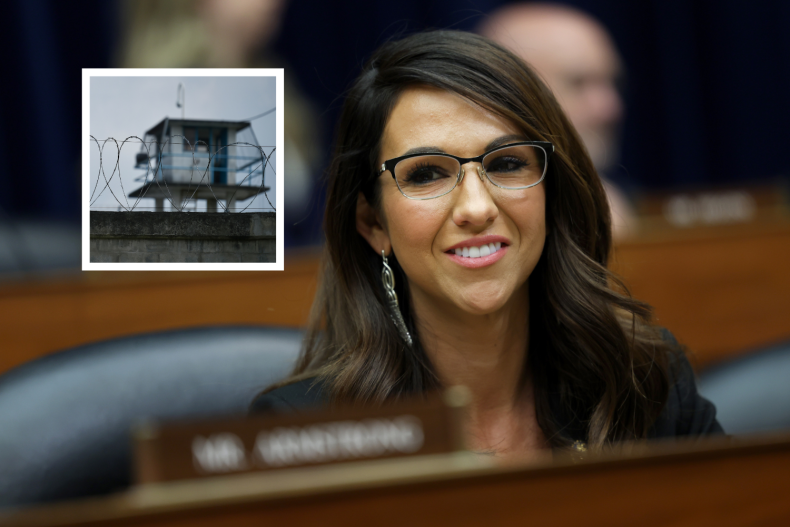 "This is how you handle criminal gangs like MS-13. Much better than having them end up at our Southern Border," Boebert tweeted, alongside a video showing the transport of thousands of prisoners to the facility.
El Salvador's "mega prison" is considered to be the largest across the Americas, holding a capacity of 40,000 people.
However, its use has proven to be controversial. El Salvador's President Nayib Bukele has successfully requested his country's legislature to suspend constitutional rights amid a spike in murder related to gangs, according to Reuters.
This has allowed police to arrest suspects without a warrant and to access private communications, and detainees do not have a right to a lawyer, Reuters added. Critics have said innocent people have been unjustly detained due to these policies.
In the United States, the Constitution guarantees several rights to those accused of a crime, including the right to due process, the right to a lawyer and the right to a fair jury.
Critics slammed Boebert for endorsing the use of these prisons, raising concerns about El Salvador's alleged disregard for due process and human rights.
"Understand. Evidently, this is what the GOP wants in America. The ability to suspend the Constitution for people they don't like by calling them criminals and the ability to arrest, jail, and harm at will without a pesky court to interfere," tweeted podcaster Rick Smith.
Democratic political commentator David Weissman tweeted that Republicans involved in the January 6, 2021, riot—which saw a mob of former President Donald Trump's supporters try to violently block Congress from certifying President Joe Biden's Electoral College victory—should "be treated that way too."
"[Except] for the suspension of constitutional rights, may want to recheck the pure endorsement here," tweeted Isaac Latterell, a former GOP South Dakota state representative. "Also surveillance of private citizens communication without warrant was mentioned."
Others, however, sided with Boebert. Christina Pushaw, a spokesperson for Florida Governor Ron DeSantis, tweeted: "Exactly, not sure how this is 'controversial.'"
Newsweek reached out to Boebert's office for further comment.