Lauren Boebert Tells Buttigieg to Watch 'Thomas the Engine' in Ohio Attack
Representative Lauren Boebert (CO-R) hit out at Secretary of Transportation Pete Buttigieg and called on him to watch "Thomas the Engine" amid the fallout from the train derailment in Ohio.
The firebrand Republican voiced her frustration with Buttigieg during an appearance on the Fox News show Unfiltered, with Dan Bongino, as conservatives continue to criticize the White House's response to the derailment.
During the exchange, Boebert referred to the children's TV series Thomas & Friends, originally known as Thomas the Tank Engine, as essential watching for Buttigieg.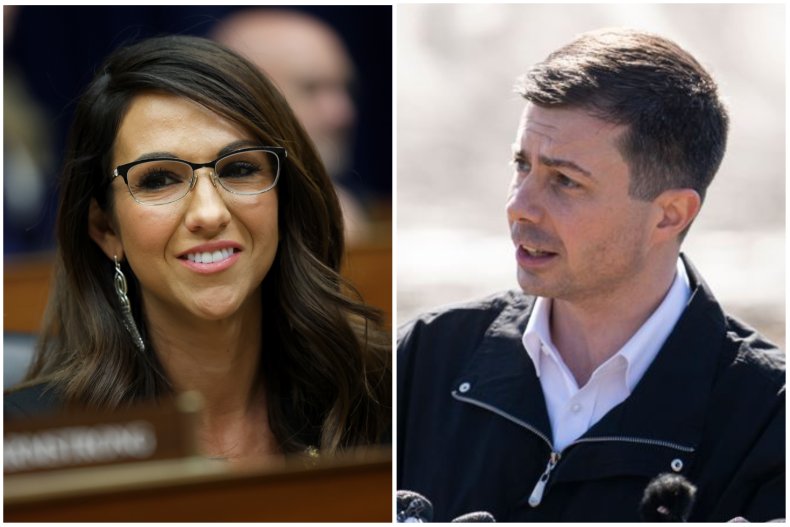 She said: "He (Buttigieg) said he lost his train of thought, while Americans are losing many things under his leadership as the Secretary of Transportation and I think he needs to watch more of Thomas the [Tank] Engine to really understand how our infrastructure works.
"But wasn't Pete Buttigieg saying we have too many white, male construction workers and here he is dressed in cosplay as a white, male construction worker while President [Donald] Trump was delivering real victories for the American people, providing the needs that they needed in that moment and that time."
The clip, shared on Twitter by the account @Acyn on February 25, has been seen some 328,200 times since being uploaded onto the social media account.
According to the Bureau of Transportation Statistics, there were 54,539 train derailments in the U.S. between 1990 to 2021, an average of 1,704 per year.
Buttigieg was the first top member of the Joe Biden administration to visit the town following criticism that it took too long for them to send someone.
But Buttigieg said he was "proud" of the department's response to the train derailment and what they had done "since day one."
In remarks to the press in East Palestine on February 23, Buttigieg added: "My focus is that our freight rail system gets better.
"And anyone who wants to take political advantage of this, I'm calling them to the table."
Former President Donald Trump slammed Buttigieg's visit to East Palestine and claimed he "played to very small crowds."
Trump, who is once again seeking the presidency in 2023, arrived in the village earlier this week where he distributed crates of "Trump Water," his branded bottled water to residents as well as with other water that he said was of "much lesser quality."
He said earlier this week: "We're bringing thousands of bottles of water—Trump Water, actually. Most of it. Some of it, we had to go to a much lesser quality water. You want to get those Trump bottles, I think, more than anybody else."
The Environmental Protection Agency said public water supplies in the area were not contaminated by the derailment.
Newsweek has contacted Buttigieg's office for comment.