Donald Trump Says Buttigieg Played to 'Very Small Crowds' in East Palestine
Former President Donald Trump said on Friday that Transportation Secretary Pete Buttigieg "played to very small crowds" during his visit to East Palestine, Ohio, contrasting it with his own reception that he received when he visited the area.
On February 3, a Norfolk Southern Railway freight train carrying hazardous material derailed in East Palestine. Days later, authorities blew holes in five of the train's 150 cars, which contained vinyl chloride, a toxic chemical, to allow for a controlled burn. On Thursday, Buttigieg visited the town for the first time since the crash, a day after Trump made his own visit.
Train derailments are relatively common in the United States, although the vast majority do not result in death or injury. There were a total of 54,539 train derailments in the U.S. from 1990 to 2021, an average of 1,704 per year, according to the Bureau of Transportation Statistics.
Appearing on commentator Glenn Beck's radio show, the former president mocked Buttigieg for the audience his visit attracted.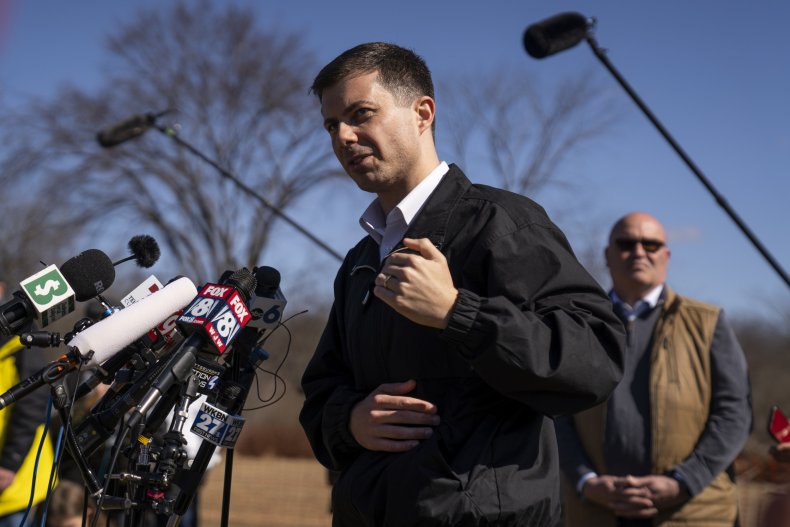 "He came the next day and he played to very small crowds, nobody cared," Trump, who is seeking to regain the presidency in 2024, said on Friday.
A video of the interview was posted to Twitter by Ron Filipkowski on Friday evening and has been viewed over 245,000 times as of Saturday morning.
Meanwhile, the former president's remarks were criticized by other Twitter users, with one commenting: "They both went there for two different reasons. Pete Buttigieg wasn't there for a campaign rally."
While another Twitter user added: "That makes it very clear that Trump only went there for media attention, not to help anyone."
However, Trump's visit to East Palestine did receive praise from others.
Benny Johnson, who hosts a show on Newsmax, said on Twitter: Tens of thousands of pounds of goods, food, water being delivered to the people of East Palestine, Ohio right now before Trump's visit. Trump paid for all of it."
Joe Kent, a former Republican congressional candidate, tweeted: "In the last 24 hrs Trump has called out the DC war machine, called for peace talks in Ukraine & flown to East Palestine to support Americans in need. You may not like Trump, but this is the leadership we desperately need. Don't agree? Where is Biden & where are the other candidates?"
Newsweek has reached out to Buttigieg for comment.
During his interview with Beck, Trump said about East Palestine: "There's a lot of love there, a lot of spirit. They happen to love me...I got a vast amount of votes there as you know."
Asked by Beck what he learned from "the people of East Palestine," Trump responded: "The unity is incredible. The relationship to each other, the working with each other."
He went on to praise the town for its "almost zero" crime rate, and described the local mayor as a "great guy."
During his visit, Trump distributed crates of "Trump Water," his branded bottled water to residents, along with other water that he said was "much lesser quality."
"We're bringing thousands of bottles of water—Trump Water, actually. Most of it. Some of it, we had to go to a much lesser quality water. You want to get those Trump bottles, I think, more than anybody else," Trump said earlier this week.
Despite the Environmental Protection Agency (EPA) having said that local public water supplies were not contaminated by the derailment, many have expressed concerns that water in the area may be unsafe to drink. Authorities have warned against drinking water from private wells while testing continues.
Trent Conaway, the mayor of East Palestine, said on Monday that it was "the biggest slap in the face" that President Joe Biden made a surprise visit to Kyiv, Ukraine, before making a trip to his town.
During a Friday appearance on ABC News, Biden, who has been heavily criticized by Republicans for his response to the derailment, defended himself, though he admitted he didn't think he'd spoken to Conaway.
"I've talked to everyone else there multiple times. I've talked to both the senators, both governors," the president said. "I've talked to everyone there is to talk to. And we've made it clear that everything is available."
Biden also said that "every major agency in the United States government that has anything to do with rail and/or cleanup" had been involved with the emergency response.