Pete Buttigieg's Missed Opportunity With Ohio Train Derailment
In the days leading up to his visit to the site of a catastrophic train derailment that left the small town of East Palestine, Ohio, plagued with highly toxic chemicals, U.S. Secretary of Transportation Pete Buttigieg was, for a time, the most scrutinized man in America.
The week prior, the former Indiana mayor and onetime candidate for president faced mounting questions not only about his delay in traveling to the site of the crash but his demeanor toward a potential visit. A celebration of President Joe Biden's infrastructure packages earlier in the month notably lacked any mention of the disaster, while Republicans like Ohio Congressman Mike Turner took to cable news to accuse Buttigieg of ignoring middle America and its issues.
"This is a relatively frequent occurrence," Turner said in a Valentine's Day interview on Fox News. "Not to this scale, but throughout the Midwest, as we have lots of trains that are traversing with hazardous materials that go through towns, sometimes cities, and could impact the health of the people that are there. The Secretary of Transportation, Buttigieg ought to be on this. He's been ignoring this."
Things reached a fever pitch following a contentious interaction with a reporter from the Daily Caller in the middle of the week that garnered significant attention in the conservative press and right-wing calls for his resignation.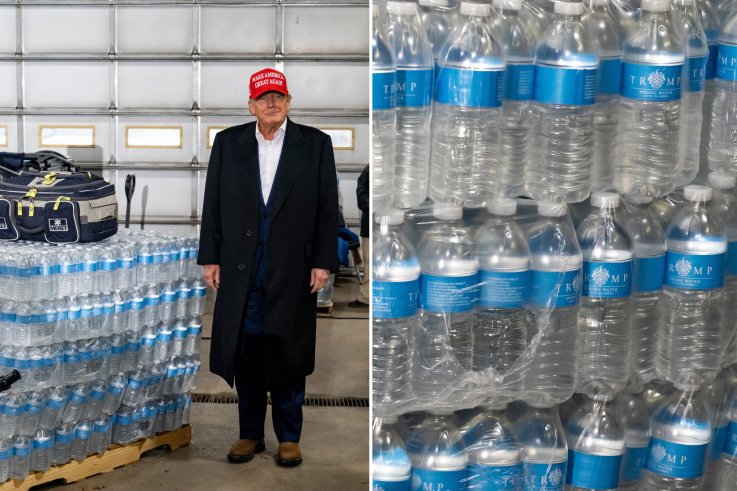 Former President Donald Trump is pictured on the left next to a pallet of "Trump Spring Water" in East Palestine, Ohio on February 22, 2023, with a close up image of the pallet shown on the right.
Michael Swensen; Michael Swensen
When he finally visited the site on Thursday, the U.S. Transportation Secretary's visit was well behind that of other figures like Ohio's Republican Senator J.D. Vance as well as former President Donald Trump, who used the trip to bolster his profile amid a third run for the U.S. presidency.
Trump distributed his own branded bottles of water amid concerns by residents the local water was unsafe to drink.
"A very good move by Trump—and the fact that the Biden admin let him beat them there is malpractice on multiple levels," Fox News radio host Guy Benson tweeted after his visit.
At the end of the day, even Buttigieg's allies openly wondered whether Buttigieg's response to the crisis was a missed opportunity, marking yet another chapter in a Democrat's perceived abandonment of rural America and its issues.
"Buttigieg is not coming out looking good on this," Matt L. Barron, a longtime Democratic strategist in Western Massachusetts who specializes in rural campaigns, told Newsweek. "Remember, this comes on the heels of the summer debacle with the with the airlines where he was slow to react. I think a number of people are wondering if this guy is over his head in this job. You can't be reacting to these things, you should be proactive."
Politically, his slow response isn't likely to help.
In the not-so-distant past, Columbiana County—home of East Palestine—was once a Democrat country. From 1988 to 1996, Columbiana County voters supported Democratic candidates for President, while strategists in the state considered the region a Democratic stronghold for state and regional candidates well into the following decade.
Until 2010, Columbiana County was represented by a Democrat—Linda Bolon—in the state house of representatives, while Ohio's former Democratic Governor Ted Strickland represented the region in the U.S. House of Representatives for five terms, pulling their support from the old coalitions of unionized manufacturing workers that once made up the brunt of the Democratic base in the U.S.
That was until the Democrats started to lose.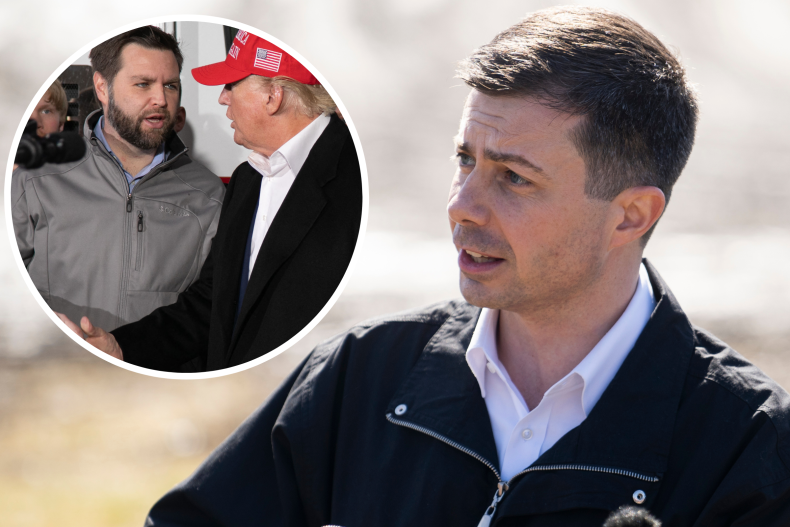 In 2010, Bolon—then serving as House Majority Whip—was narrowly defeated by a Republican, while Strickland's seat would turn over to Republicans just four years after he vacated it to run for governor. In the 2020 presidential election, nearly three-quarters of the county's voters backed Trump for re-election, helping the New York City real estate developer to an eight-point win in the once-competitive state.
"Republicans take rural voters for granted, but Democrats ignore them," Barron said. "And it seems like so much of rural America is just treated as a big sacrifice zone."
Even amid what White House Press Secretary Karine Jean Pierre described as "bad faith" attacks on Buttigieg's response, the perception of inaction and indifference to the crash seemed like an opportunity squandered, giving the Biden Administration's critics an opening to dampen what Democratic strategists argue was a highly competent response by the Biden administration.
In the wake of the disaster in East Palestine, members of the National Transportation Safety Board as well as EPA Administrator Michael S. Regan—the man responsible for coordinating the administration's response—made several trips to the area to assess the damage and help organize cleanup efforts. In news conferences, Ohio's Republican Governor, Mike DeWine, noted Biden had personally called shortly after the disaster to offer federal assistance, which DeWine said he turned down.
Meanwhile, Buttigieg and others have accurately claimed in comments to the press and the public that the disaster could potentially have been avoided if rail safety regulations that had been repealed under Trump were still in place. In the lead-up to Buttigieg's visit, even hosts on Trump-friendly Fox News pointed out the fault for the East Palestine crash could potentially be sourced back to the Trump administration's deregulation policies, which were rolled back under the watch of his Transportation Secretary, Elaine Chao.
Buttigieg—and Biden—simply left their flank uncovered at a crucial time, the strategists said, trying to win over people's minds rather than their hearts. Even if they did everything right from an administrative standpoint, they weren't physically there: giving populist figures like Vance and Trump an opening to claim Democrats simply did not care about rural America, even as their party's policies were arguably to blame.
"Trump did an amazing job of turning this into Joe Biden's fault," Aaron Pickrell, a longtime Democratic strategist in Ohio, told Newsweek. "People don't want to hear an intellectual argument about why something happened. They want to hear that you're going to fix it. And that's the difference here."
"I don't think the administration dropped the ball. I truly don't," he added. "I just think that the outrage machine, talking about it constantly, the constant spin, drowned out all the other stuff [the Biden administration] were able to do. Donald Trump is going to get a lot more attention than the EPA Administrator."